Sean Penn's always leant nervously close to brilliance in a career which has seen him dirty his hands on and off screen; most recently with much acclaim, Milk and Into the Wild immediately spring to mind and display his dexterity. Paolo Sorrentino's This Must Be the Place is another charming departure from expectation as Penn and his fan base escape to a rarely seen realm of fantastical comedy and heart-rending sadness; framed within a whittle- stop tour of modern musical classics.
Duly, it is my responsibility to admit that its a hard task to write about music within a film about music. It easily becomes cryptic;verbose. But simply, Penn's past-it rock star, Cheyenne, relates existential dreariness to the music scene as he embarks upon a period of self-discovery; questioning the validity of a Rock star who may have done it all wrong in the first place.
Cheyenne's muses back to his musical roots deal with a line between genuine artistry and a pseudo intellectualism, or a sense of 'living up' to a reputation given by adoring publics. The movie seems to challenge some of the most memorable elements of the Punk and Glamour Rock, particularly their obsession with image: eye-liner which runs and lip stick which fades, (unless of course you know the tricks: the brand you buy doesn't matter; the singer tells a bunch of giggling peroxide blondes in a lift).
The film seems to devote itself to the promotion of music for music's sake, and fights to unveil the purist base upon which true musicians achieve longevity. David Byrne is played upon as a heroic example of a legitimate star; and one of the most affecting scenes takes place when Cheyenne breaks down in front of him and spews his guts over the falsities of his career:
I was a fucking pop star, I made tonnes of money making depressed songs for depressed kids. Two of them ended up doing themselves in as a result of it; and that's it David, that's it.
The one and only scene in which Penn finally unleashes his Guitar skills confirmed my belief that this film was made in ode to proper music; to classic Guitar-led rhythm. With the aid of a young child who pops up midway through the narrative; a seriously emotive rendition of Arcade Fire's This Must Be the Place is jauntily delivered. Hold up, that should be Talking Heads, as Cheyenne aptly points out. The film never lets you forget where the original talent lies.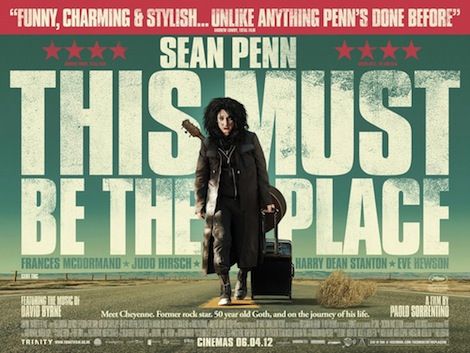 The film is neo-experimental in its entirety and Penn's character is a comic exaggeration of not only himself, but any ageing Rock star. This is purposeful; and doesn't detract from the film's case. Although balanced with plentiful whimsy, there is a continual layer of grit just below the surface, reminding us that this Burton-esque landscape is not only beautiful and funny, but torturous.
Aside from the weighty themes, the film celebrates music and does so happily with gentle inclusions from some greats including Iggy & The Stooges and Jonsi & Alex ; alongside a whole load of self-produced Bryne and Will Oldham tracks under the perhaps suggestive pseudonym of The Pieces of Shit (!), which are innovative, fresh and delightful on the ear.
The movie does delve into the psyche of a mess-head-gone-mad; but on another level it is a lovely kick-back for Penn; a walk-through of key moments in Western Culture which have carved a modern framework: hair-pieces, glitter, even Nazi relatives.
You can listen to a few of the tracks below, courtesy of Spotify.