Despite the constant criticism of the website, the layout and the programme release times, Field Day has always had moderate success because of its brilliant line ups. This year was no exception to any of the rules, with brilliant bands such as
Phoenix, Caribou
and
Atlas Sound
contrasted with the perennially difficult to use and read website, stages that were too small and too close and the problems with releasing the stage times (no one got the official programme before 9AM, though people had unofficial semi-accurate ones off of the internet).
Bands Seen:
Anna Calvi (part), Is Tropical, Memory Tapes, These New Puritans, The Fall, Matthew Herbert, Hypnotic Brass Ensemble (part), Atlas Sound (part), Caribou, Golden Apples (part) and Phoenix.
Bands I would have seen:
Holly Miranda, No Age, More of Atlas Sound, Amiina, Max Tundra, Mount Kimbie, Gold Panda, Hudson Mohawke, Pantha Du Prince, Yuck, Toro Y Moi and Factory Floor. Field Day it is different to most other festivals. How can I say this politely...? Field Day is a hipster festival. Not just the bands (though chillwave on the bill is always a good sign), but the stalls and most of all the festival merchandise itself. What I'm meaning is the tea towels that make no sense, the signs up everywhere with stupid little statements on them (on top of the main stage – "Be Like The Ant In The Days Of Summer"). It could be seen as zany but, to me at least, was just a poor attempt at trying to be different. That being said, it was in no way a bad festival, just a poorly organised one that had a good line up.
We started off the day in the sunshine watching part of
Anna Calvi
(
5.5/10
). I'd never heard of her, but there was nothing else on so we tried it, catching the last 15 minutes of her set. She was good, just not my kind of thing. She was a bit Kate Bush, a bit Florence and The Machine but slower and more atmospheric. An alright performance, a bit still and without stage presence, but alright.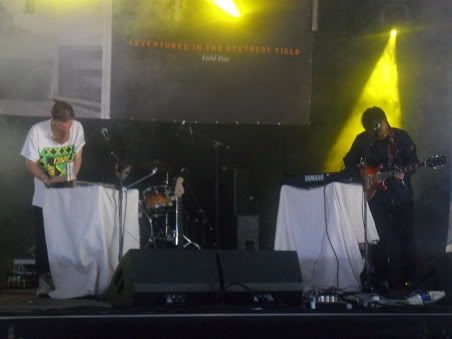 Next up were
Is Tropical
(
7.5/10
), the first band there I really wanted to see. An energetic set, as expected, with their trademark bandannas across their mouths. It was a good set – When O When was brilliant – but they seemed to be on far too big a stage. It would have been better, in my opinion, if they were on a smaller stage that was packed out than playing a big stage that was only half full.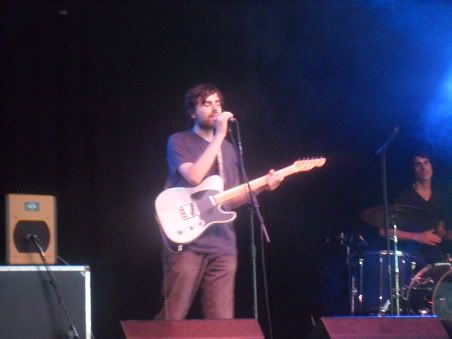 After that was
Memory Tapes
(
5/10
). Let me get this straight – I fucking love
Seek Magic
. It's one of my favourite ever albums. Considering Dayve Hawk is such a recluse and I wasn't sure if I'd ever get to see him again, I had to see Memory Tapes over about 4 other bands that clashed (including Mount Kimbie and Holly Miranda, both of whom I was gutted to miss). So it was a great disappointment to find out that the live show consisted of him, a guitar, a backing track and a drummer. It, unfortunately, ended up sounding like karaoke. Without even a bassist, it was a real disappointment; despite the fact that the set itself had a real interesting feel to it (he skipped between songs at a relentless pace, revisited riffs and made a good mash up of the album).
After missing
Gold Panda
because the Bloggers Delight tent was so stupidly small (every band had people packed out beyond the limits of the tiny tent), we went to watch the ever impressive
These New Puritans
(
8/10
). Benefiting from the extra space benefited to them over the Sunrise Arena at Latitude where I saw them last, they took up the stage and performed an excellent set. My only criticism would be the very noticeable omission of 'Attack Music', one of the best songs on the album.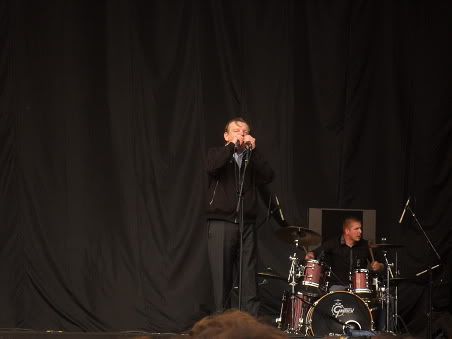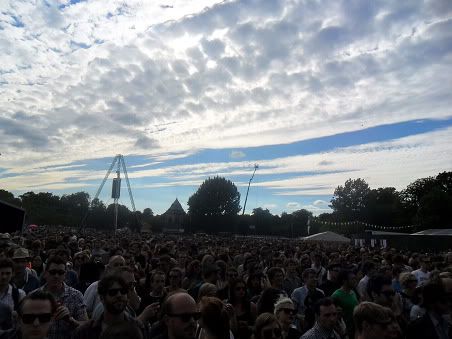 Afterwards we took in an excellent set from
The Fall
(
8/10
) with the ever grumpy Mark E Smith actually not being as pissed off as he normally is. The Fall wouldn't be where they are if Mark E Smith was a genial guy that got on with everyone, so the mild annoyance that he gave off was welcome. The fact he was entertaining the crowd and mucking around with microphones (and I swear I saw him smile at one point, honest) proves that this is one of the better Fall shows. That in combination with the fact they had a huge crowd turnout made this a very successful set that was worth missing No Age for.
After The Fall we went to watch the always surprising
Matthew Herbert
(
9/10
). Now, I must admit I had only heard of Matthew Herbert before, never heard him, so I was not sure. But after seeing that he had a tent and a ladder on the stage convinced me to stay – this set was either going to be really good or really bad. Luckily it was the former, with Herbert flying across stage to different components of his massive set up in both the tent and up the ladder to produce such an amazing sound and set that is unforgettable and unmissable.
We then went across to the main stage again to catch the last 10 minutes of
Hypnotic Brass Ensemble
(
7/10
) who produced some of the most interesting music – 8 people up on stage, half shirtless, half of the time rapping or getting the crowd chanting in a call and response style. One of the people even had a sousaphone. They were a bit of a novelty, but impressive nonetheless.
After that we caught a small part of
Atlas Sound's
(
7/10
) set. It was going to be him or Caribou, but as he started (or was due to start, there was a delay on his stage) 20 minutes before, we thought we'd try his stuff first. He was good, just him on stage with an acoustic, a harmonica and a looping pedal. He was his usual self, making bits up, growing songs slowly but surely and creating that distinctive sound that he has. After soothing renditions of Walkabout and Shelia he moved onto something I didn't recognise, a song that I didn't remember from
Orange Ohms
,
Let The Blind...
or
Logos
. As is his tradition with song writing, most likely this was a new song (the refrain went along the lines "don't suffocate your children" or something similar) that he had made up on the spot.
While good, he wasn't the most engaging, so we went over to catch as much of
Caribou
(<7/10) as we could. By this time the main stage was completely packed so we were a mile out and so it was annoying to see that all four members were huddled in the centre of the stage. Don't know if they were sharing equipment or what, but apart from watching Snaith nod his head a bit, there wasn't a lot to look at. That being said, they were very tight, as expected, and Odessa was especially good.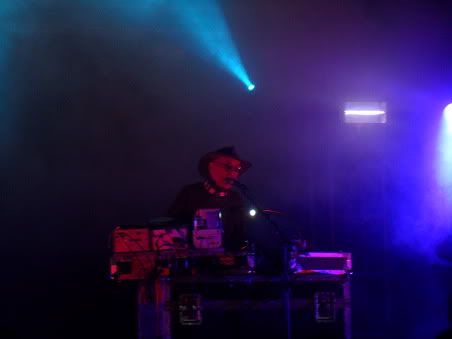 Missing the last song or two, we went over to watch the incredibly odd
Silver Apples
(
5/10
). Now I just don't get it. Maybe it was because I'd never heard of him before or what, but for those of you not in the know, this is a one man band (the man being about 60 I guess, they started in 1967) and it ends up finding the link between The Normal, cheesy synths and krautrock. Really interesting but not my thing.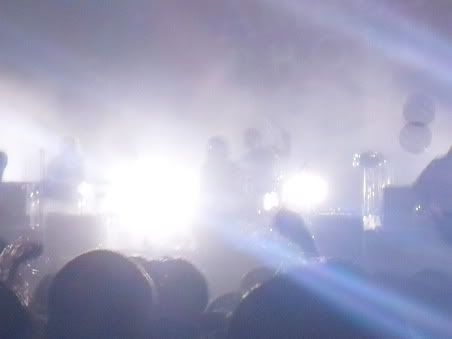 Finally we finished with
Phoenix
(
9/10
) who were impressive as expected. They went through their entire new album, as well as a few of their older ones, ending on '1901'. The fact that they weren't afraid to go into some of their instrumental numbers, and skitting forth between those and the catchy sing-along songs ('Girlfriend' was excellent) meant for an excellent set. A real good end to the day and the perfect headliners. Well, the festival itself. Despite the clashes (there will always be clashes) it was a good day of entertainment. My apologies to those I didn't see (gutted about Mount Kimbie especially), but for all the good music, the festival itself was fairly poorly laid out. For example, Mount Kimbie who would have drawn a huge crowd, were stuck in a tiny tent that couldn't accommodate more that 150 at best. Field Day will always be worth going to because of the line up, but the fact that they simply cannot organise themselves and can be so short sighted will always be a letdown.