The latest edition of 'Food Corner' is brought to you by Anja McCloskey.
Vegan Tahini Chocolate Brownies with Chocolate Peanut Butter Frosting
Since I have become vegan my biggest challenge has been to convince my friends and family that vegan cakes can taste really nice. I seem to meet a lot of scepticism. Well, this is the recipe to win them over! Tahini, which is a sesame paste, is a fantastic binding agent and there is chocolate galore for egg and dairy loving cynics. By using only powdered sugar, it gives this chocolate brownie a fluffy texture that melts in your mouth. If you don't like this cake, then I am not sure you like cake at all!
Ingredients
For the cake:
-3/4 cup flour
-1/2 cup icing sugar
-1 teaspoon baking soda
-2 tablespoons baking cocoa
-1/4 cup soya milk
75 g dark chocolate
-1/3 cup hot coffee
-2 big table spoons of tahini

-For the frosting:
-1/4 cup peanut butter
-1/4 cup soya milk
-2 table spoons cocoa powder
-1 1/4 cup icing sugar
Making the cake
Step 1
Mix all of the dry ingredients in a bowl and set aside. Always make sure you mix the baking soda with the flour before adding the other dry ingredients. Heat the soya milk in a pan and pour over the broken up dark chocolate in a bowl. Add the hot coffee and tahini and loosely mix together once the chocolate has melted.
Step 2
Mix the chocolate paste in with the dry ingredients using a hand mixer.
Step 3
Spoon the dough into an oiled bread baking tin and bake for 20 minutes at 180˚C. You want the dough to be slightly soft still to retain that fluffiness.
Making the frosting
Peanut butter is scrumptiously delicious with chocolate and to really make this brownie cake hit home, I like to coat it in chocolate peanut butter frosting.
Step 1
Mix all of the ingredients thoroughly in a bowl, until it becomes a smooth paste. Add soya milk to thin or icing sugar to thicken, if the consistency is not quite right.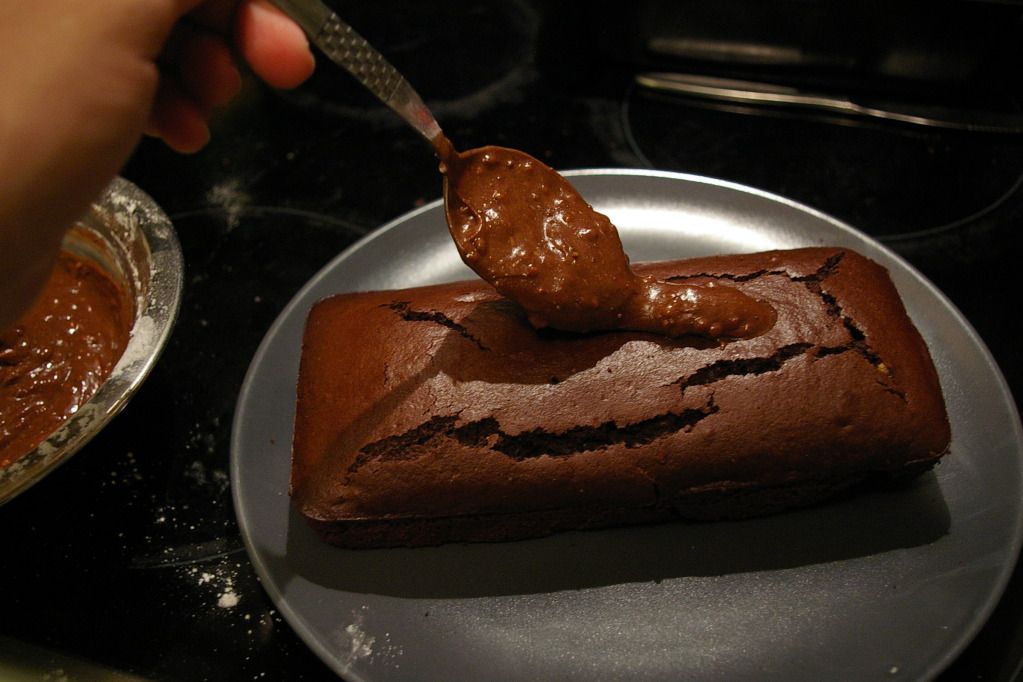 Step 2
Use a spoon or a knife to evenly spread the frosting onto the top of the cake, once you have taken it out of the breadbin. Ta Dah! And most importantly, enjoy the finishing thing...