Directly behind music on the list of things we love, is food. We spend ages rating lasagnes out of ten and trying to find the 'best new' up and coming food groups. In fact, "did you get your five a day" is the first thing the editors ask each other in the morning, so you can tell we take food very seriously.
With this in mind, we asked our friend Chairman Kato to talk us through one of his favourite recipes, and to tell us what his favourite food place is so that we can stalk him in a more efficient manner.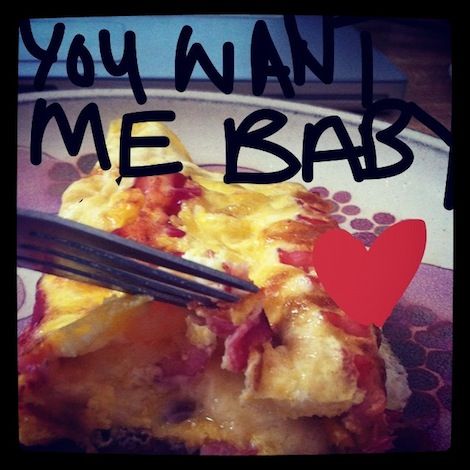 Ingredients:
- 2 medium eggs
- A mound of grated cheese about the size of a small pencil case (see note below)
- 1 tbsp of butter
- 1 tsp of groundnut oil
- 5 slices of pancetta
- A pack of heavy duty black bin liners
- Some gaffer tape
- Some newspaper
- 1 dictaphone
Recipe:
- Take your bin liners and cut them down one side so they open up. Use the gaffer tape to cover up all your windows so they are completely blacked out. There should be no natural light entering your house.
- Open up the newspaper and lay it down on the floor until it is completely covered.
- Turn your phone off.
- Lightly beat the two eggs together. Season them with a bit of salt and pepper but don't go overboard because the pancetta will bring plenty of salt to the table. I'm thinking of your blood pressure here.
- Approach your oven. Bow to your hob, but keeping your eyes on it the whole time. Remember what Bruce Lee says in Enter The Dragon? "Never take your eyes off your opponent, even when you bow."
- Put the hob on a high heat. You should have it so high it should scare you a little bit.
- Stick your pan on the hob and let it get nice and hot.
- Stick the butter in with the oil. The butter is for flavour, the oil is to stop it burning. Who is your daddy?
- Stick those rashes of pancetta in the pan and spread them out evenly. This is important for the even distribution of meaty goodness and flavour in your creation.
- You will only need to cook those badboys for about a minute because of the high heat. So as they are shrinking get the egg ready, we are going in.
- Pour the egg in. If you have the heat right the egg should start bubbling up and expanding straight away, making a nice hissing noise that makes for a good percussion sound (hence the dictaphone).
- The egg by now should have enveloped the pancetta. There should be a little bit of liquid egg on the surface. You do not need to get rid of this, do not fear the liquid.
- Now, regarding the cheese.....I haven't told you what cheese you should use because really, you should find out yourself. I have spent many months working on this recipe and experimenting with different cheeses until I finally found the right one. You expect me to tell you what that is? You want the shirt of my back too?
- Throw your chosen cheese into the middle of the omelette. Now, using your spatula, fold one corner into the middle. Don't wait for the cheese to melt, it already is.
- You should have a half-folded omelette by this point. Take the folded edge and turn that over too, so the whole omelette is now rolled.
- Turn the heat down low and just let it sit there for a minute. At this point the cheese will be melting inside. You are a champion.
- Remove the pan and serve the omelette onto a plate. A bit of sour cream on the side wouldn't go amiss here. A good high mountain oolong like an Ali Shan or Tsui Feng will make an excellent accompaniment, drink wise.
- Turn the lights off. Enjoy. When you wake up on the floor get yourself up to bed and sleep the rest off. Hopefully your housemate will be at work so that when he/she gets back it will all be cleaned up and she will be none the wiser
My favourite place to eat is...
My favourite place to eat is 'Shanghai' on Kingsland Rd, Dalston:
I go here so much it is almost embarrassing. It's situated on Dalston's high street but strangely it feels like its best kept secret. They chose to retain the features of the preceding eel shop, immediately marking it out from the sort of bland fare you might expect to encounter on Gerrard Street. They have an eclectic array of mains with amusing titles like 'Shanghai Devil' but my advice is to order a bunch of hot appetisers or, better still, go when they are serving dim sum. Their beef and coriander cheung fun is unbeatable and I have seen many a bass face from those who I have dropped the holy 'salt and pepper soft shell crab' on. My dad loves this place and he should know, he's Chinese. I also ate next to Neneh Cherry there once. What more do you want?