The latest edition of 'Food Corner' is brought to you by Evy Jane
Food is a big deal in my family. My parents have a natural food/farmer's market/grocery/deli, and I grew up working there. There were big stacks of straw bales where feral kittens lived and I would hang out at the store every day packaging spelt pretzels and getting crushes on the produce clerks.
I tend eat in a very neurotic way: I will go through a phase where I'm obsessed with soft-boiled eggs and blue-green algae paste and fibre crackers and, then a couple weeks later switch to sampling every varietal of noodles (sweet-potato noodles are amazing). right now I'm into chia seeds. I also like to wrap just about everything in seaweed.
Jeremiah and I both eat a lot of popcorn: cheesy popcorn, garlic popcorn, sriracha popcorn...we like to get jazzy with popcorn. Sometimes when I'm cooking I pretend I have a cooking show and I mutter to myself in a french accent. lol just kidding I never do that.
Ze recipe I will show you to prepare today, it is a chicken breast stuffed wis provolone and kalamata olives! hah. sorry, annoying. It's a pretty hefty meal, one that I cook for an easy treat. When my friend (Taal Mala) got literally run over by a bus, I brought him this chicken and I'm pretty sure that's why he has recovered so fast.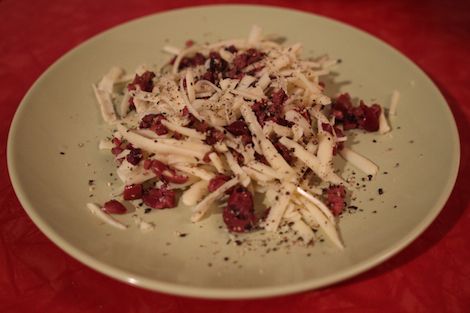 Ingredients
• 1/4 cup shredded provolone cheese, preferably aged
• 3 tablespoons chopped California Ripe Olives
• Freshly ground pepper, to taste
• 4 boneless, skinless chicken breasts, (1-1 1/4 pounds total)
• 1 large egg white
• 1/2 cup plain dry breadcrumbs
• 1/2 teaspoon salt
• 2 teaspoons extra-virgin olive oil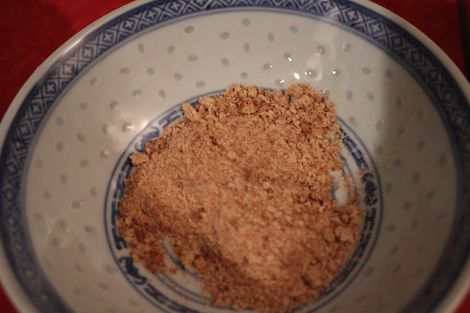 Preparation
1. Preheat oven to 400°F. Lightly coat a baking sheet with grapeseed oil.
2. Combine the provolone, olives and pepper in a small bowl.
3. Lightly beat the egg white with a fork in a medium bowl. Mix the breadcrumbs and salt in a shallow dish.
4. This next part is sorta weird and tricky. Cooking meat freaks me out, so I can't eat it very often. I'm a raging hypochondriac and the idea of having salmonella (or a worm in my brain from eating bad pork) is something that crosses my mind far too often.
5. Cut a horizontal slit along the thin, long edge of a chicken breast, nearly through to the opposite side. Open up each breast and place one-fourth of the cheese filling in the center. Massage the breast in a counter-clockwise motion. Close the breast over the filling, pressing the edges firmly together to seal. Blow the breast an air kiss. Repeat with remaining chicken breasts and filling. Hold each chicken breast half together and dip in egg white, then dredge in breadcrumbs. (Discard leftovers.) Wash yer hands, you freak.
6. Heat oil in a large cast-iron pan over medium-high heat. Add chicken and cook until browned on one side, about 2 minutes. Transfer chicken to the prepared baking sheet, browned-side up, and bake until it is no longer pink in the centre or until an instant-read thermometer registers 170°F, about 20 minutes.
****
I'm no angel but I like to buy free-range local non-medicated chicken, and I also make my own breadcrumbs with old whole wheat bread. With the leftover egg yolk you could make mayonnaise or pudding. I made vanilla pudding for dessert.
EASY PEASY LEMON SQUEEZEY YOUR LOVER WILL NEVER LEAVE U NOW AND YOUR ALMOST DEAD FRIEND WILL BE A-OK.
Favourite place to eat:
GUU IZAKAYA, japanese tapas and attractive wait staff. They play our music sometimes, too.