The latest edition of 'Food Corner' is brought to you by Tadzio Pederzolli of HOLY.
Forthcoming Live Dates:
02/05/12 - Brighton, The Hydrant
03/05/12 - London, Black Heart (Camden)
04/05/12 - Leeds, Fox & Newt
05/05/12 - Norwich, Olives Café
I think food is the most amazing thing in the entire world. When I wake up I think about what I'm going to eat for breakfast. While I'm eating breakfast I'm thinking about lunch and so on…I'm obsessed with food and always have been! Since adopting a vegan lifestyle, I have chosen to not feed myself with anything that can suffer and feel emotions. I don't consider any animal "food" as well as any product that is the cause of exploitation and death to living things. This is something incredibly important to me. It makes me feel happy about what I've just eaten and how my daily choices can change another being's life.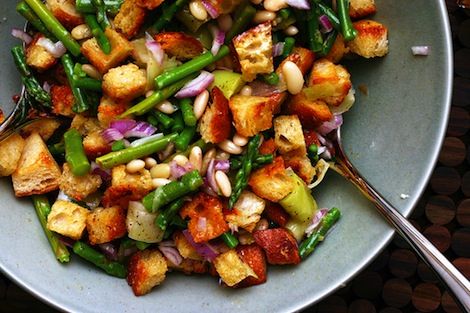 Panzanella
This is a typical Italian food. The great thing about panzanella is that it is traditionally and naturally vegan. It takes just 5 minutes to prepare and you don't have to turn on the oven to cook it. So it's perfect for those hot summer days.


Ingredients:
-Day-old bread
-Cucumber
-Fresh tomatoes
-Basil leaves
-Red Onion
-Olive oil & vinegar
-Salt & Pepper
Recipe:
Take the day-old bread and lightly moisten it under the faucet. It should be moistened all the way through. If it's too wet, gently squeeze excess water from the bread with your hands and set aside while chopping vegetables. The bread should crumble, not clump/collapse or get soggy. Cut the cucumbers and tomatoes into pieces and add them to the bowl. Thinly slice a red onion and chiffonade the basil (or shred it with your hands). Add vinegar and olive oil and mix completely (start with a small amount of each, like 1 T. of vinegar and 3 T. of olive oil) and add more to taste. Taste before adding salt and pepper. The salad can be served immediately or chilled for 30 minutes in the refrigerator before serving. Buon appetito!


Best Place To Eat:


Mum's house is always the best place for everything!