Platform: PC / Mac
If the Football Manager series has taught me anything, it's not to go into football management. The newest edition, Football Manager 13, has only compounded that belief.
My first experience with Football Manager came at University. My housemates and I would huddle over our laptops, managing our respective teams, only looking up to call each other over when we had scored incredible goals.
I am issuing a public apology here, sorry boys. The only reason I went an entire season unbeaten was because… I reloaded my game if I lost a match then played it again. And again. And again. Until I won.
The reason I am telling you this now? FM13 now has a network game that is fully integrated with Steam. This means you can now have games where you and your friends manage different clubs in the SAME game. No cheating possible. I will not be participating.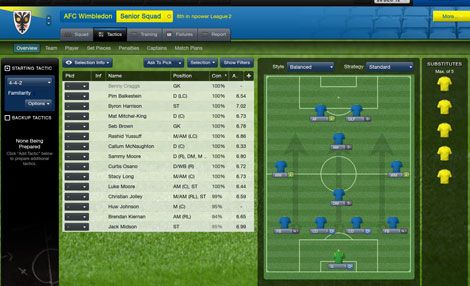 Anyone familiar with the series will notice two new game modes in the menu: Football Manager Classic and Challenge mode.
Football Manager Classic is a less time consuming version of the game, designed to allow players to complete a season in around ten hours. This is achieved by delegating manager responsibilities, such as match preparation, to support staff. Other features, such as individual player training, have been removed entirely. There are no team talks and matches are shown in a highlights only fashion.
Challenge mode was introduced in the handheld version of FM12 and has now made its way to the PC version. This mode has the player choosing a short scenario, usually half a season, which will test their abilities as a manager. Players are able to choose from relegation battles, winning a competition with team of young players, dealing with an injury crisis or remaining unbeaten for an entire season.
New modes aside, the original Football Manager we all know and love to cheat at is represented in Career mode. Sports Interactive have blessed us with the biggest database of all time, featuring over 500,000 players and staff. This means plenty of free agents for aspiring managers to sign whilst attempting to get Billericay Town into the Premier League.
The tone system, previously used to harangue your team after the worst 45 minutes in footballing history, has been added into press conferences, dramatically altering the way you can deal with the press. "Mr. Manager, Phil Brown has said your side have no chance of staying up this season. Could I get a response?" Click aggressive tone and give Phil Brown and the reporter a piece of your mind.
So, the board fired you for your comment about Phil Brown, never mind. Three months down the line and there's an opening at a super rich Russian club. You're back on your feet and living it up in Makhachkala.
A new financial feature, country tax regimes, will make your job much easier over here. Players will now be motivated by the amount of money they are earning AFTER tax. That means the mercenary players will be obliged to move from a team in England and it's 40% taxation to Russia where it's around 10%. With the signing of Robin Van Per$ie you can now go ahead and dominate the Russian league.
Visually, Football Manager has never been groundbreaking. It still isn't. The updated animations do not provide the visual involvement of games like FIFA or Pro Evolution. There are no spectacular overhead kicks and no 40-yard screamers either.
Football Manager's strength is in its depth. Just about anything that is possible in the footballing world, is possible in this game. Player regeneration constantly refills and rejuvenates the game. Bizarre transfers keep every league enjoyable. Financial takeovers or crumbles galvanize and condemn teams. Have a stand or even a stadium named after you if you're successful enough.
If you consider yourself a passionate football fan this game might be too much for you. Rage quitting is a fine art. The satisfaction of beating Tottenham, even if I have to replay the match 100 times, keeps me coming back for more.