Ahead of the release of his debut album Channel Orange, Frank Ocean has released a statement regarding his sexuality. The Odd Future man admits to having fallen in love with a man in the heartfelt statement.
The statement/letter was supposed to be in the liner notes of his album, but it seems he was keen to set the record straight as soon as possible.
BASEDGOD WAS RIGHT. we're all a bunch of golden million dollar babies. my hope is that the babies born these days will inherit less of the bullshit than we did. anyhow, what i'm about to post is for anyone who cares to read. it was intended to fill the thank you's section in my album credits, but with all the rumors going round.. i figured it'd be good to clarify...
The full statement reads: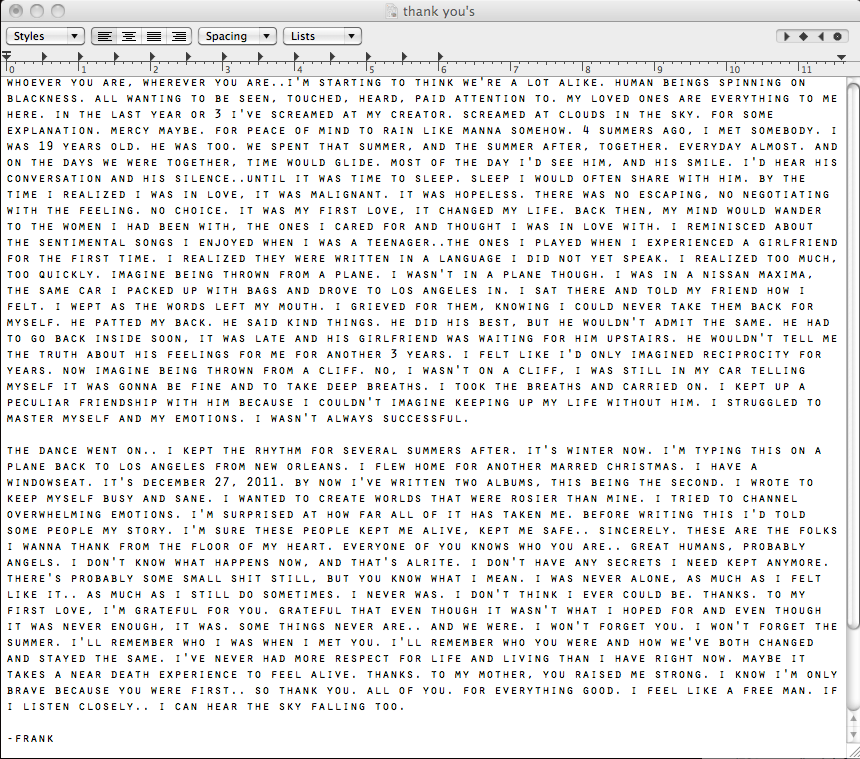 My Big Brother Finally Fucking Did That. Proud Of That Nigga Cause I Know That Shit Is Difficult Or Whatever. Anyway. Im A Toilet.

— Tyler, The Creator (@fucktyler) July 4, 2012
Proud of frank.

— Earl Sweatshirt (@earlxsweat) July 4, 2012