You wait for ages for a new Frank Ocean album, and two come along at once. Well... sort of.
The first of the two albums is called Endless, and is being dubbed as a "visual album" (I guess that's because it is?). It features contributions from the likes of Jonny Greenwood, James Blake, Arca, Sampha, Jazmine Sullivan, and Alex G, as well as an Isley Brothers cover.
It can be viewed over at Apple Music (watch it here).
So that's good, but what about this second album we mentioned? Well according to Rolling Stone and Apple Music, more new music is coming this weekend, though it's unlikely to be under the Boys Don't Cry banner that we all expected.
Read more: Watch Frank Ocean and Tyler the Creator go drag-racing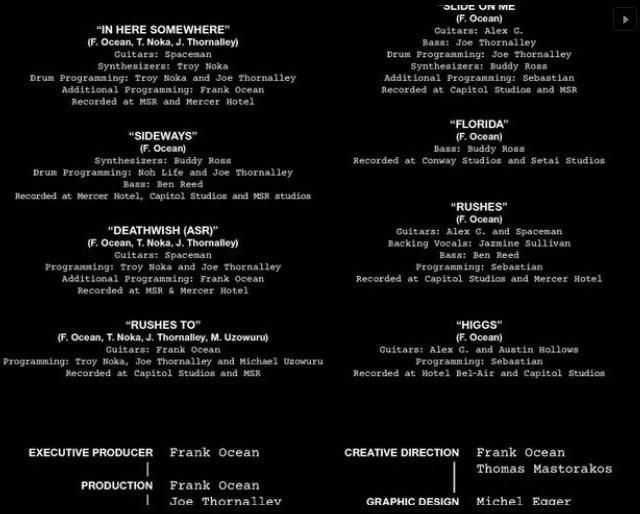 Tracklisting
01. Device Control
02. At Your Best (You Are Love) (Isley Brothers cover)
03. Alabama
04. Mine
05. U-N-I-T-Y
06. Ambience 001: 'In a Certain Way'
07. Commes Des Garcons
08. Ambience 002: 'Honeybaby'
09. Wither
10. Hublots
11. In Here Somewhere
12. Slide on Me
13. Sideways
14. Florida
15. Deathwish (ASR)
16. Rushes
17. Rushes To
18. Higgs