Looking back,
Friendly Fires
' debut album was pretty… massive wasn't it? A perfect indie-inspired - though firmly electropop - dancefloor crossover, an album that contained a staggering success rate in terms of infectious singles. It's even more impressive given the saturated, and oft-generic market involved, an album grandiose in ambition, sound and more importantly in its execution. It seeped into popular culture; who hasn't been out and about and moved some kind of appendage to a Friendly Fires track? So, no pressure for the St. Albans trio in respects to the follow-up album,
Pala
, which is due to be released May 16 and named after a Aldous Huxley novel. It was produced by Paul Epworth and recorded in Sussex, New York and a remote country-cottage in Northern France (frontman Ed Macfarlne described the France experience as akin to becoming a hermit). The 405 were invited for a first listen at a listening party for Pala in East London. These occasions always posses a slightly odd feel to them, as everyone tries to absorb each track in one listen, whilst attempting to enjoy them at the same time. So please bear this in mind as we run through a track-by-track on this basis.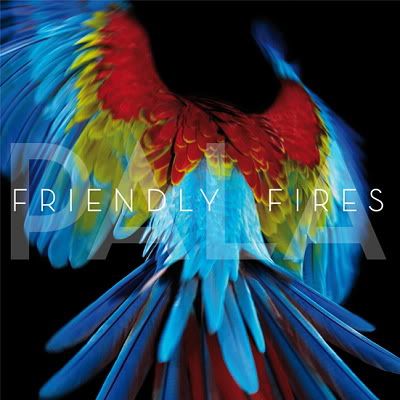 1)
'Live Those Days Tonight' Ah, we start in familiar territory – this is the first single due to be released in early May, and if you are a fan of the 'Fires you'll have heard this by now. It's big, it's loud, it's immediate, it's dancey – and it feels so right as summer attempts to rear its fiery head on a glorious sunny day. 3 mins through we're treated to a breakdown, and for a minute get the classic build-and-release from scratch, before a teasing moment of silence and the inevitable explosion in a bubble of serotonin in a strong chorus. An opener declaring FF's energetic dance-orientated intentions?
2)
'Blue Cassette' More classic Friendly Fires. The chorus has a very rhythmic, drumming-heavy chorus, as we hear echoes of 'Jump in the Pool' whilst Mcfarlene croons 'As I can hear your voice'. Again we get a moment of silence followed by an instant drop later on, as the appropriate lyrics 'Can't stop the drumming machine' repeat as the drums continue to pound.
3)
'Running Away' A track that swaggers so much it threatens to make Dirty Harry look like a Mark Corrigan. Right from the off those 70's influenced disco-drums saunter in conjunction with a short intro of some synths. If you've heard the new Holy Ghost! album (which you really should have), you'll get a similar feel. The chorus features some astonishingly high-pitched vocals whilst being extraordinarily catchy… but then a quiet patch surfaces as some MASS (yup, capitalized in our notes) feedback, followed by a small breakdown, and an outro of 'doo doo doo's' to belt out at home. Ridiculously easy to dance to.
4)
'Hawaiian Air' Someone in the corner of the room has their permanent marker out and is writing 'SINGLE' in giant all over this. Pounding drums again, the track races at a startling pace and frequently feels restless. Again, its got a pause/drop thing in the middle, but it's done with some mighty aplomb… the backwards swooshing moment before the crescendo is like falling gracefully, euphorically into a black-hole. 'Hawaiian' vocals fade-out, and this is one of the highlights of the album. You can almost hear Jo Wiley declaring a 'festival moment'. BIG.
5)
'Hurting' Another swaggering start with an excellent underlying groove, the room visibly moves from the first note. A lovely little subtle, yet bass-heavy moment as some light synths bubble along casually. Yet another 'stop /drop', sure it does work, but on every song? Possibly a tad over-long, and abruptly and jarringly ends which actually works in its favour.
6)
'Pala' Wow, there's actually a few seconds of silence between these tracks which is welcomed, such has been the unrelenting pace, noise and kinesis thus far. Pala is a slower-paced, more minimal affair in comparison. In fact… yes, we're definitely in ballad territory here ladies and gents. Some cool, almost 90's, R'n B drums emerge as the track grows throughout.
7)
'Show Me Lights' Get yourself a sub-woofer for this one and enjoy the big bass here. Daft Punk-ish possibly? One of the more moodier chorus's, almost aggressive; well, as aggressive as a band like Friendly Fires are likely to get. 'Show me' this… 'Show me' that… he keeps demanding over and over, though cannot quite work out what he wants us to show him. A smart, simple drum/vocal outro.
8)
'True Love' A four-to-the-floor disco-inspired number, and a more minimal start with a funky-bass oozing gracefully over. We've mentioned Holy Ghost! once already, but Alex Frankel from HG! actually appears in this track, and his influence is apparent. A very good chorus, we get another 'hands-in-the-air' moment during a break and a synth-piano… and then we're back into it. With A LOT of noise. 'All that we wan, is to feel true love' is repeated anthemically throughout the second half.
9)
'Pull Me Back To Earth' Something a bit different now, with a twangly guitar start and a less straight-up dance number (an aesthetic that has dominated so far, more electronic than their debut). Crashing guitars accompany the chorus, rather shoegaze heavy – a genre they've always flirted with in their debut. Following another breakdown, the hazy guitars wash around until the end.
10)
'Chimes' A light xylophone opening, but back to some more four-to-the-floor beats fairly quickly. More downbeat vocals, lower than what we're used to, but anticipating going somewhere. 'Can't stop chasing your love?... as Macfalrne's voice aches. The track is subtle, patient in approach comparative to most tracks so far. Twinkling outro.
11)
'Helpless' MOAR four-to-the-FLOAR. Some almost Sun God (a Cut Copy track) Bass/Drum rhythm going on. A prolonged period of silence… and yes, you've guessed it, another drop. This album is starting to contain more drops than a Rob Green blooper DVD. The ending though is slightly new territory, featuring some rather disorientating sounds and containing that spacious feel. So there you have it. There is a little confusion at the end, as the album is on a loop though some are not sure whether it's a twelfth track that sounds a bit similar, but turns out it's just the first track again. That could leave the conclusion that there's not too much variety on the album – though it is always hard to distinguish between songs on just one listen, especially given the staggering pace and bombastic energy. What's for sure is that we're going to hear a lot of material over the summer from the album, as it's choc-a-bloc full of good-time, catchy, superbly-crafted pop numbers, with more emphasis on the electronic and less on shoegazey textures than their debut. It's bold, brash, whack-up-to-11 stuff produced with a brimming confidence. It'll be interesting to see which tracks stick and end up in the public sphere of partydom – early contenders are Hawiaan Air, Running Away and True Love.