"Got your mother in a whirl / She's not sure if you're a boy or a girl"
You may think that androgyny and the tendency to play fast and loose with gender representation in popular music really only took hold in the glitter-strewn glam years of the early 1970s. The roots of music as a safe space to explore identities go much further back, though: right the way back to rock 'n roll's nascent years in the 1950s.
Little Richard's performance and appearance were as dramatic as his music when he broke through in the middle of that decade. Having appeared, pre-fame, as a drag performer in vaudeville groups, his use of makeup and flamboyant costumes carried over into his solo appearances. While his sexual orientation would always remain ambiguous - unsurprisingly, with the conservatism and homophobia of the time conflating with the singer's own on-off religious commitment - his was probably still nevertheless one of the most valiant and earliest examples of a pop star playing with the margins of gender identity.
As the '50s gave way to the more enlightened '60s, more mainstream (invariably male) artists began to step outside of strictly "manly" roles. Although the Stones dressed in drag for the 'Have You Seen Your Mother, Baby' promotional video, though, this didn't feel like a genuine pushing of the boundaries: more in the tradition of British panto dames than any attempt to smash boundaries.
It was in the '70s that things really started to get interesting. Bowie reclined on a couch in a dress for the cover of his The Man Who Sold The World album at the beginning of the decade, definitively announcing by the combination of the image and the title that yes, he was a man and yes, he was dressed in a garment more usually associated with a woman. And yes: he looked utterly at home and utterly magnificent doing so.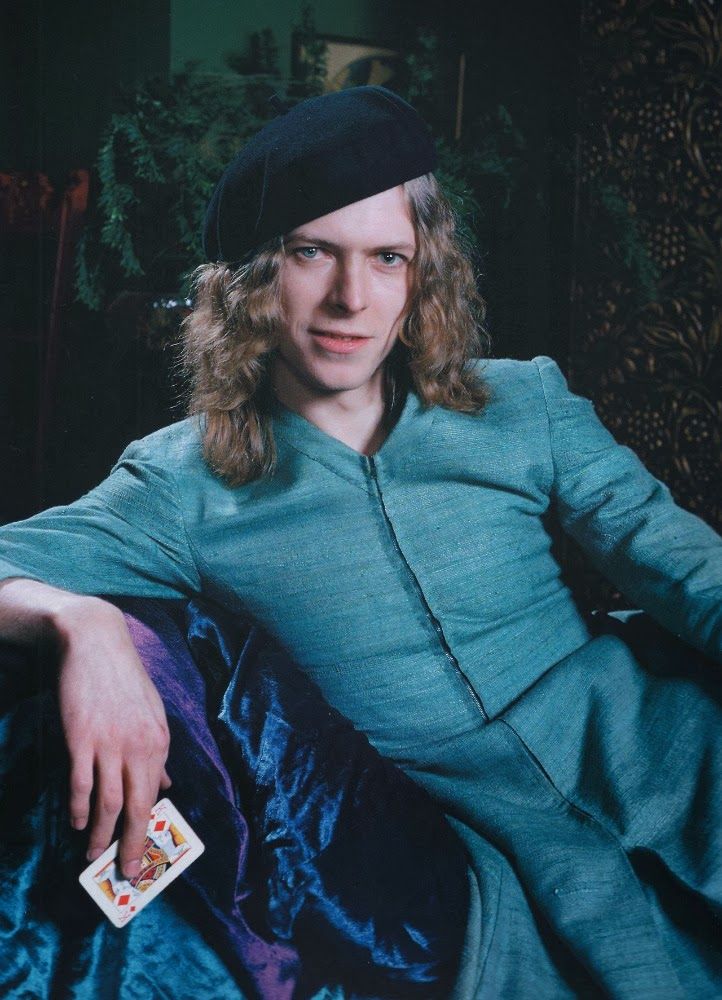 This was also the decade of Genesis P-Orridge, who, first with COUM Transmissions and later in influential industrial outfit Throbbing Gristle openly confronted and subverted many aspects of conventional society, not least sexual mores and gender identities. In the late '90s Genesis and his second wife Lady Jaye undertook a series of body modifications and aimed to become one "pandrogynous" being called Breyer P-Orridge, adopting gender neutral pronouns to refer to themselves, a pursuit that Genesis was to continue even after Lady Jaye's death in 2007.
Ironically given the context, it is probably another manifestation of the inbuilt sexism of much of the music industry that it seems to have taken until the '80s for women in music to also begin to step out of their allotted gender roles. It seems reasonably tame now, but Annie Lenox's cropped shock of red hair and sharp (male) suits in early Eurythmics videos made an impact precisely because it stood out as unprecedented. An echo of this can be found today in the much cooler Janelle Monáe, whose adoption of the tuxedo as her standard garb still marks her out as a stylish anomaly.
It's also hard to remember these days, but when Culture Club first appeared on Top of The Pops in 1982, sitting rooms around the country - and even the following day's newspaper headlines - genuinely resounded with cries of "is that a boy or a girl"? Boy George was only accepted into the nation's embrace by playing a sexually-neutral, neutralised version of his real self, famously claiming that he preferred "a cup of tea" to an actual shag. It was still, it seemed, okay to look sexually ambiguous, just so long as you weren't actually having any non-heterosexual sex with anyone (compare and contrast with Frankie Goes To Hollywood, whose gay anthem 'Relax' was banned by the BBC for being, well, too gay). George's friend Marilyn, meanwhile, looked both extremely feminine and stunningly beautiful; his looks leaving a greater impression than his handful of hits, now mostly forgotten ('Calling Your Name', anyone?)
Country singer k. d. lang inspired Madonna to exclaim "Elvis is alive... and she's beautiful," and the androgynous lesbian released an album called Drag in 1997 - the title a reference to the smoking theme of many of its songs, but undoubtedly with a glance also to the word's other meaning. Lang looked stunning in a pinstripe suit and appropriately smouldering stare, on the cover.
Nowadays, there are artists continuing in the lineage of musicians genuinely living out and exploring their sexual and/or gender issues in their art and image, from Dead or Alive's Pete Burns and his ever-evolving physical presentation to Against Me!'s frontwoman Laura Jane Grace, whose band's 2014 album Transgender Dysphoria Blues tells of the issues around her transition and coming out as a trans woman. Planningtorock is the solo project of Jam Rostron, who recently changed her name from Janine to the more gender-neutral Jam, and who also modifies her vocal to deepen and neutralise it as she sings her terrific anti-misogyny and pro-equality and sexual freedom pop songs, with album titles like 'Misogyny Drop Dead' and 'All Love's Legal': making her position eminently clear.
Alongside this, though, barriers genuinely do seem to have been - if not broken down, then at least perhaps lowered - sufficiently that even huge, mainstream, multi-million-dollar pop acts feel that they can toy with their sexual identities. When Beyoncé mused 'If I Were A Boy' in 2008, and presented herself as male (albeit a very feminine, very Beyonce male) in the accompanying video, to a resounding lack of attendant gasps of horror or outrage, then perhaps it was an illustration of distance travelled.
In the track 'Prince Johnny' from her wonderful new self-titled album, St. Vincent's Annie Clarke sings of a troubled friend who prays to be made "a real boy", while she herself, similarly, prays "to make me a real girl." "We're all sons of someones," she proclaims. She might equally have added that we're all "daughters of someones too". Maybe this decade's mothers and fathers will be less exercised, less "in a whirl" about whether or not their own, next-gen Rebel Rebels are boys or girls. We can only hope so.