Future Islands
are a prime example of a band that do what they do because they love it. They're not interested in pandering to other people, or becoming Oprah rich, but fortunately that level of success is accessible to them because they're good at what they do.
In Evening Air
showcased that brilliantly. Brooding, dark, atmospheric and intense are all words that accurately describe this Baltimore based band, but you'll know that if you've listened to them. However, if you haven't been exposed to their brilliance yet, read our interview with the guys and get acquainted.
Hello! Firstly, could you introduce yourself to our readers?
William: My name is William Cashion and I play bass in Future Islands. I also enjoy swimming and daydreaming and occasionally I earn money by seating people in a restaurant and delivering chips & salsa to them. Sam: I'm Sam, I write the words and sing them too. Gerrit: I'm Gerrit, I program and play the synths.
Musically speaking you've described as 'post-wave'. How do you feel about that tag and how would you describe your sound?
William: We're too noisy for new wave and too pussy for punk. Sam: We've always had a hard time describing our sound and that's why we call our music post-wave. I've always said, 'the new wave crashed and we came out of the rubble'.
What I like about what you guys do is how you journey between euphoric and dark sounds quite naturally. How do you feel about that balance, was it something you set out to do?
Sam: That sounds great to me. Personally, I try to toe that line, as far as our stage show goes, between strength and fragility. However, when we're writing it's not really a matter of going for a particular sound or balance of powers. We just sort of write and find those zones through the music, or find new spaces, where the music takes us. Looking at your touring schedule, it's pretty intense! What's the best part of touring for you? What band member is the most annoying to tour with and do you find visiting different countries actually shapes future lyrical/musical content for you? William: The best part of touring is visiting new places, seeing old friends... You gotta take the good with the bad, and touring is always a little of both. Touring definitely has a huge impact on our songwriting, it sometimes shifts and changes the way we play our songs. Sam: I agree with William, we're really lucky that our art is portable. We've had the ability to see so much, in the last few years, just doing what we love. And yes, touring does affect the songs because it affects our lives, and the songs are about our lives. Gerrit: I love visiting new places, seeing old friends and making new ones, playing our music to new audiences. Touring makes me think a lot differently about music. I am taken away from comfortable zone and given all of these new ideas.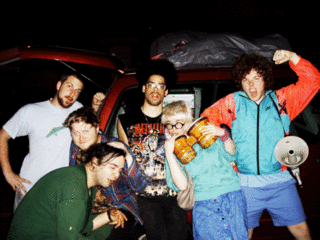 You've been getting a lot of praise recently, especially with the release of 'In The Fall', but you've actually been going for quite some time now. Firstly, how do you think your sound has changed since the early days? Secondly, would you have prefered overnight success, or are you happy with building things up naturally?
William: I think most musicians would prefer overnight success. But it hardly ever works out that way. We've always pushed ourselves to have new songs for tour, to play more shows than are expected of us, and always stay focused on what's next. Sam: There have been many times when I wished that our big break would roll in, or thought, "maybe they'll finally understand what we're doing". But nothing that's worth working for is that easy. And then again, I feel like it's made us stronger, as friends and as a band. I think if we had this attention on us a few years ago it would've been unwarranted. We've worked hard to create something memorable and we feel deserving of any praise that comes our way. As far as our sound goes, there hasn't been such a drastic change over the last 7 years. We've just, more or less, been refining our sound, and learning through doing. The trends of music don't really phase us, we just believe in our music and its relevance and keep moving forward. Gerrit: Overnight success generally breaks musicians in half. We've lost our minds gradually therefore skipping out on any sort of major mental crisis. Our sound has evolved into something a little more passionate, moving away from the total house party vibe even though we still love it.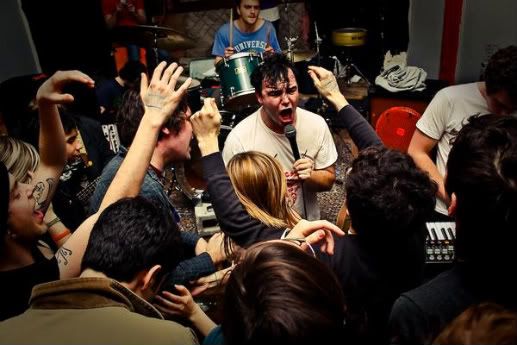 Can you tell us about Wave Culture?
William: We got a tape duplicator from our friend Roburitto and we decided to start a tape label. We released 2 Future Islands releases (Little Advances & Wave Like Home), plus a "best-of" compilation of Art Lord stuff. Since we released those tapes, we've threatened to release stuff from other bands, but haven't found the time to do it yet. This is embarassing to us and we're trying to work on it. Hopefully at this point next year we'll have released way more tapes and things will be going a bit more smoothly!
A lot has been said about the Baltimore scene over the last year or so. How do you feel you fit in amongst it all and how did the Wham City thing come about?
Wiliam: We met and played with Dan Deacon on his first tour, a short, six day tour along the east coast. Dan used to frequent Greenville, NC where we were going to school, often times bringing his friends along with him to tour, bands like Videohippos, Height, Bow & Arrow, OCDJ, Santa Dads, and Blood Baby. We came to become friends with alot of these bands and it just made sense to move up to Baltimore. There was (and still is) a lot of stuff going on there, creatively and otherwise. Wham City was a warehouse space that we never lived in, and never played a show in, but we'd sometimes sleep on their floor/couch when we were on tour.
What records/bands are you excited about at the moment?
William: Lower Dens, Double Dagger, Beach House, Lonnie Walker, EAR PWR, Toro Y Moi, Reptar, Javelin... so many more... Sam: I'm always bad at this...we're driving through Wyoming at the moment and have been on the road for a little over a month now. Before we left town I was listening to some Fats Waller, Bascom Lamar Lunsford, Grand Invincible, some old Living Legends stuff, Coltrane, always Morphine, and some Eno ambient works. My room is a pretty chill zone. Gerrit: We played our first show with Wye Oak and they are really awesome. Playing with Lower Dens every night is great. Beach House, Double Dagger, every band ever, except new country stuff. Its really weird.
What's been the most enjoyable experience you've had since the band started?
Sam: That's a tough one because we have new fun stories everyday. For me, I think one of my favorite times was in February of 09', when we traveled to Europe for the first time. I don't know, it just felt so crazy at the time. I hadn't dreamed I would ever be there, and then we're there playing, with people singing along with our songs.. Blew my mind. And just to accomplish that and be there with my two closest friends. Really good stuff. Gerrit: Way too many to write down but its pretty nice right now. We're driving through Wyoming, the sun finally came out and we are listening to Danzig. Pretty enjoyable. William: Definitely too many to name... We always have a good time at buffets and thrift stores on tour. I'm really into going to the beach. I always love going to the beach in Wilmington, NC or the Outer Banks of NC while we're touring down that way in the warmer months.
Lastly, what does the rest of 2010 have in store for you?
William: A big tour of the UK & Europe, followed by a big tour of the South-eastern US, plus a split 7" with Lonnie Walker in November... Working on new songs. Sam: Work. Happy to be working. Gerrit: Prettyboy Resevoir
You can visit the band by heading to http://www.myspace.com/futureislands