Sam Duckworth is hitting the road for one last time as Get Cape. Wear Cape. Fly, and he's kindly agreed to document it for us. Expect tears, folks. Cold, salty tears.
Day 1 - En Route to Manchester. 12:25 28/08/14
So after 10 years of Get Cape... it was inevitable to wake up with a cold right? Partly due to last minute panic, and mostly due to the notting hill carnival rain, thankfully it's shifting pretty quickly. Berocca, sleep and fruit, who would've thought.
So on to the final tour...
I've spent the last few months re-writing this set from scratch. It's essentially Chronicles plus selections from the rest of the catalogue, but built for party. I've always struggled with the balance over the years and having a bit of perspective away from get cape.. has really helped to hone this into what its supposed to be. It's certainly more "bass music" than before, as that influence has grown, but at the same time its breathed a whole new lease of life into the 2/3rd album tunes and is the realisation of the origins of the project.
I did a warm up show for my friends at le pub on Sunday and the show went really well. I've got some videos of the tracks coming for you over the upcoming days but in the interim, here is a compilation video from the night:
First show tonight is at the Night and Day in Manchester, with Sean Mcgowan (who will be joining me on the whole tour) and the fantastic Cape Race who will be stripping it back for a one off.
Manchester has always been a great city for me, with my earliest shows at the Phoenix, defining the early years of this project. I'll be swinging into the Richard Goodall gallery to pick up the screen print for the tour. Jody and the family here, have helped me in numerous ways over the years, putting me in touch with artists and incredible posters for every tour and for my first solo album. Thankfully the window of time is tight and thus I won't have to worry about selling all my equipment to buy posters...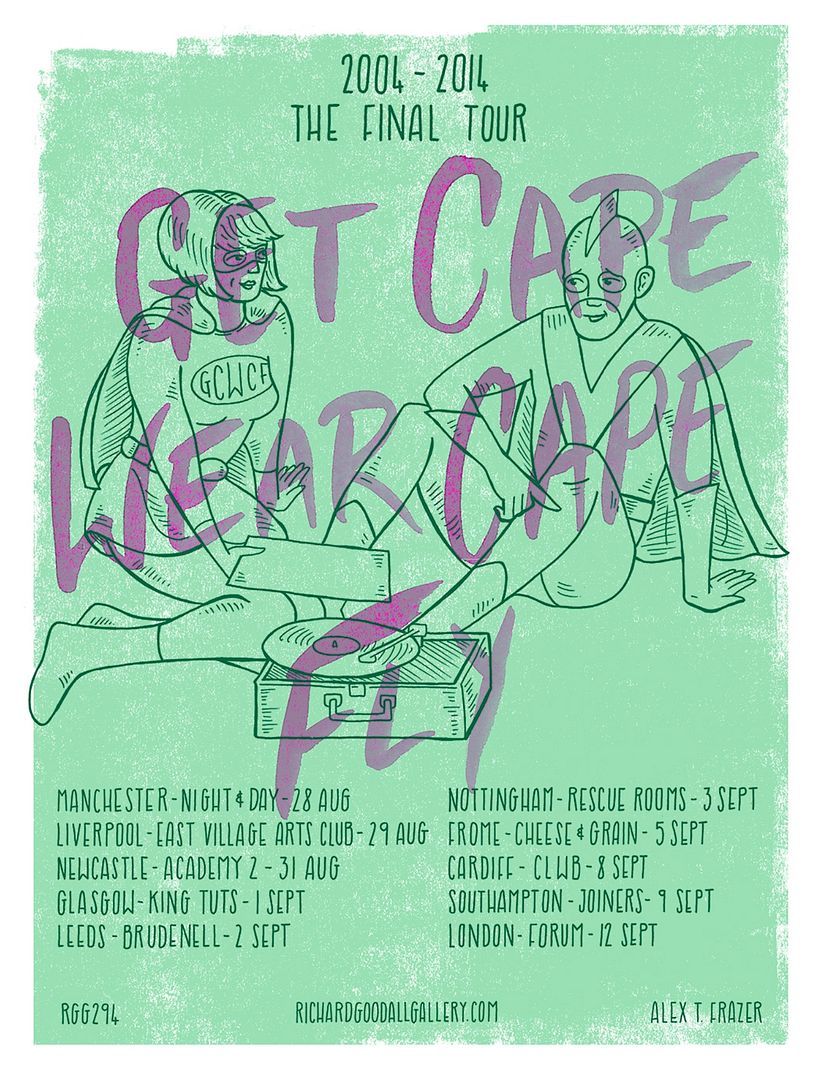 I'm off to take some night nurse and have a kip in the van before soundcheck. I'll be updating this every day and keeping you in the loop, for those of you interested. Thanks to those of you who have been in touch in regards the tour, looking forward to meeting and catching up with you at the shows.
Sam
P.S. Here are the tour dates for those thinking of coming:
All dates with Sean Mcgowan
28/8 Manchester Night and Day plus: The Cape Race (Acoustic set)
29/9 Liverpool East Village Arts Club plus: Ed Poole
31/8 Newcastle Academy plus: Phil Saunders
1/9 Glasgow King Tuts plus: Beerjacket
2/9 Leeds Brudenell plus: Jack Lawrence
3/9 Nottingham Rescue Rooms plus: Osind
5/9 Frome Cheese and Grain plus: Rob Lynch
8/9 Cardiff Clwb Ifor Bach plus: Ieuan Williams
9/9 Southampton plus: Tim OT