This year Glastonbury Festival celebrated its 40th birthday and it would be an understatement to suggest they went all out. To mark this momentous occasion, The 405 decided to head down to Pilton to blow out the candles and to drink as much cider as possible. Below you'll find a selection of highlights from team 405. Feel free to share your highlights with us!
Ryan Barham
With the sun shining, dust instead of mud and flip-flops replacing wellies, this was the hottest Glastonbury I've ever been to. A more relaxed atmosphere in the crowds thanks to not battling the elements all weekend thankfully didn't mean the bands took it easy. So many played stunning sets in the searing heat. Opening the festival proper on the Friday was
Rolf Harris
, who walked on stage to a heroes' welcome and a rap of "When I say Rolf, you say Harris", his set had kangaroos in the crowd bouncing, everyone singing to 'Sun Arise" and the best overheard quote of the weekend about the aforementioned rapper: "Is that Rolf Harris? I didn't realise he was black". Following on from this set, I decided to watch bands more in keeping with The 405 -
Bombay Bicycle Club
entertained a heaving John Peel tent and debuted some new songs in a full electric set, they grew in confidence throughout and everyone left the tent singing that riff after they finished with 'Always Like This'. After Gorillaz ended their set, I walked into the midst of the unknown (or Shangri-La) at around 1.30am and came across a very drunken
Frank Turner
playing acoustically in Strummerville, slurring all his words and talking nonsense between songs but it was still fantastic with the collective singing to 'The Real Damage' and 'Father's Day' drowning out the heavy basslines from a nearby dance tent. And then he played 'Dancing Queen' which went down all too well with the wasted masses. Saturday saw
Two Door Cinema Club
open the Other Stage, playing their second set of the weekend – clearly still on a high, they were enthusiastic and genuinely pleased to see people up watching and clapping along to them at 11am. Newly-reformed
Reef
followed them and had everyone screaming 'Place Your Hands', although possibly in an ironic manner.
Wild Beasts
were up to their usual high standard with songs from both albums getting an airing. But then it was time for
The National
, there was a lot of fuss made about them having the same sunset slot that turned Elbow into household names the other year, and they did not disappoint. A career-defining set with songs from
High Violet
getting the biggest crowd reactions but Matt Berninger's walks into the crowd during 'Mr November' and 'Squalor Victoria' showed a band simultaneously raising their game and upsetting security whilst also becoming the new favourite Glastonbury band. Everyone was starting to smell, burn and hayfever was causing havoc by the last day, but there was a great triple bill to start -
The Joy Formidable
,
Frightened Rabbit
and
The Hold Steady
, with the latter two starting a real love-in with Frabbit's Scott Hutchison singing the refrain from 'Southtown Girls' during the end of 'Keep Yourself Warm'. With the pathetic England performance, it was up to
Broken Social Scene
to cheer everyone up and how they did it – sometimes a six-piece, at other times anything up to eleven, the brass sounded tremendous. Following on from them was
Julian Casablancas
, who appeared to be dressed as Michael J Fox in 'Teen Wolf'. He opened with 'Automatic Stop', and the fans were already excited about the possibility of more Strokes songs. Not to do his solo material a disservice as everyone danced and sang along to that but when he broke into 'Hard To Explain' and 'The Modern Age' the crowd went so wild, drowning out his band with the sheer volume of their singing. He ended the set singing his Christmas song to fit in with the joyful atmosphere of what was a triumphant festival.
Lauren Down
So it is that time of the year again…I have the post-Glastonbury blues, made all the more poignant by the scorching weather over the Festival's 40th birthday weekend. And with more music, comedy, cabaret, circus acts, poetry readings and political talks than even the most dedicated of reveller could hope to cover, I have painstakingly whittled the festivities down to my top 5 moments. At the top of my list it just has to be
Ray Davies
, who was of course supposed to headline at the very first Glastonbury (or Pilton Pop, Blues & Folk Festival as it was originally called), in 1970 with The Kinks. As the familiar guitar strums of 'Days' rang out over the sun kissed crowd gathered around the Pyramid Stage, Davies struggled to hold back the tears - dedicating his performance to the late great Pete Quaife. A veritable afternoon of hits followed that had everyone from the barrier to the flags in the distance dancing and singing along classics such as 'Lola', 'Victoria' 'Sunny Afternoon', and 'You Really Got Me'. Not forgetting the eye watering moment he nearly had to leave the stage to keep to the afternoons schedule before there was obviously a unanimous decision that Jack Johnson could wait, and Davies came back to play 'Waterloo Sunset' and 'All Day and All Of The Night'.
Up next, well its got to be the Friday afternoon 'Special Guest' slot that saw the crowd over at the Park Stage swell in anticipation of the rumours. Michael Eavis himself stepped out onto the stage to introduce the guests as "superstars" before
Thom Yorke
took to the stage for a most unforgettable performance. Running through tracks from The Eraser, his ethereal voice trickled over a goose-pimpled crowd as the sun set. He was soon joined on stage by band mate Jonny Greenwood to deliver a blistering set of Radiohead classics including 'Street Spirit (Fade-Out)' and the epic sing along that saw the crowd continue to sing 'Karma Police' after it had finished, in turn inspiring Yorke to pick up his guitar and join in – a simply indescribable, incredible moment. Number three on my list was a particularly contested place but I think it has to go to
Muse's
headline performance, particularly to their encore. Although my love of their musical output has waned over time, what they do well is put on a Stadium show, and you can't get a much better Stadium than the Pyramid Stage on a Saturday night. The Teignmouth rock stars play through a set that included 'Supermassive Black Hole', 'New Born', 'Feeling Good', a brutal 'Stockholm Syndrome' and a tune-up that turns into 'House of the Rising Sun', with the hundred thousand strong crowd singing along. Striding around the stage like Freddie Mercury Matt Bellamy, drummer Dominic Howard and bassist Chris Wolstenholme, who nonchalantly puffs a pipe between songs, pull out all the hits even though they don't quite pull out all the theatrical stops. They left the spaceships and fireworks at home, but being the gadget loving, futuristic prog-rocker that Bellamy is they do have a ridiculously large effects pad, a neon glowing keytar, and double necked guitar, both ends of which he plays simultaneously during Resistance. The real treat comes in the encore as through the darkness a shadowy lone figure can be seen to strum his guitar, the lights come up, the face becomes recognisable as do the chords…it The Edge and he's playing 'Where The Streets Have No Name' and then, like a strange vision of U2 in a parallel universe, he is accompanied by Bellamy and the rest of the band. Finally they close with a dramatic 'Knights of Cydonia' as the wild screams of the crowd seem to deafen even the most ear-plugged of security guards. Number 4 and the list is becoming increasingly difficult to juggle…I might have to be cheeky and sneak in a few extra but for now I've made the decision to put Nouvelle Vague here. Guest vocalists Mélanie Pain and Nadeah Miranda accompanied the duo behind the group, Marc Collin and Olivier Libaux, over on the West Holts stage. The energetic, manic and eccentric performance from Miranda enticed audiences away from the surrounding bars to the front of the stage, where the sultry smooth French vocals of Pain kept them there. Playing through their new wave versions of The Clash's 'Guns of Brixton', Dead Kennedy's 'Too Drunk To Fuck', Violent Femmes''Blister in The Sun', Buzzcock's 'Ever Fallen In Love With Someone (You Shoulnd't Have)' and finishing off the beautifully wild and sexy performance with a sing a long to Joy Division's 'Love Will Tear Us Apart'. Wow, here we are at number 5 already and I'm not sure what to include: the subtle harmonies and wistful romanticism of the Ivor Novello nominated The Leisure Society; the expansive modern pop of Sweden's Miike Snow; seeing Slash perform 'Paradise City'; hearing one of LCD Soundsystem's final performances; the hushed harmonies of Beach House; dancing the Waltz at the Silent Disco with my friend Mike into the wee hours of Friday morning; the craziness that is Shangri-La or indeed Gorillaz amazing headline set on Friday night. I'm really tempted to put Gorillaz in here, because it truly was awesome seeing Albarn accompanied live by Mick Jones and Paul Simonon. The number of guest spots from Mark E Smith and Lou Reed to the epic finale that saw Snoop Dog join Albarn for 'Clint Eastwood' was simply staggering and so brilliant but I think they were just pipped to the post by
Stevie Wonder
. Few, we finally made it to number 5 and it's a difficult decision but even though musically I prefer the Gorillaz, Stevie Wonder is a legend, as was his performance. Bursting with enthusiasm and naughty jokes his set included hits that have spanned his entire career from 'Superstition', 'I Just Called to Say I love You' 'Higher Ground' to 'For Once in My Life.' Finishing Glastonbury's 40th birthday celebrations in style Michael Eavis joined Stevie on stage for a rendition of Happy Birthday, the man sure can organize a festival but he sure can't sing! And as hundreds of lanterns lit up the sky over Worthy Farm, this was truly a magical ending to Glastonbury's 4th decade and the perfect prelude to its 5th.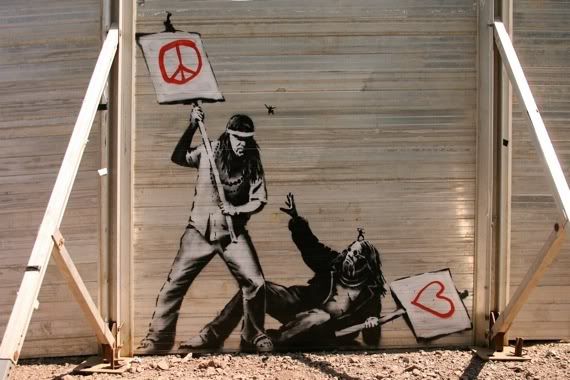 Hannah Morgan
Some of my music-based highlights...
'Tie Me Kangaroo Down Sport' sung by
Rolf Harris
to the tune of Land Of Hope And Glory, with the whole of the Pyramid Field waving their arms in time to the music.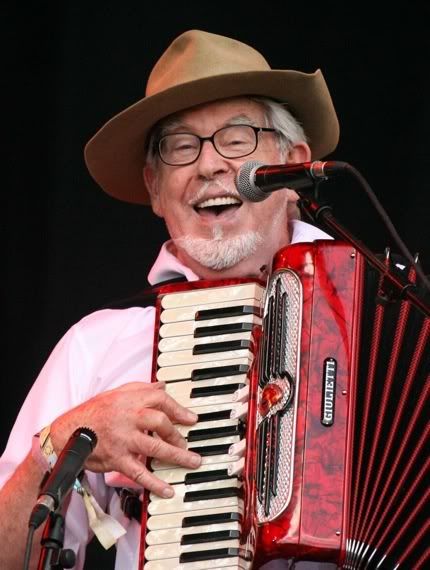 'Taps' played by the
Flaming Lips
; they pledged to play it every time they gig until the war in Iraq is ended. Now they don't know whether they'll ever be able to stop playing it. Wayne asked everyone in the crowd to raise one hand in the peace sign, and the whole field was silent as he played this traditional military tune on a bugle. 'Ballad of Me and My Friends' sung by the crowd at
Frank Turner
on Friday. He didn't have to sing a single note throughout the whole song. Truly incredible. 'Days' sung by
Ray Davis
in memory of the late Pete Quaife – the original Kinks bassist who passed away on the 23rd June. I'm not sure I've ever seen a more moving thing in my like. The whole crowd was singing along, but not in a 'I'm going to shout the lyrics as loud as I can!' sort of a way. Rather, there was a soft murmur of melody spreading out from the front of the crowd as everyone was hit by the emotion coming from the Pyramid Stage. 'We Come One' –
Faithless
. I have the Glastonbury Highlights DVD and this track from 2002 is almost a religious experience simply watching it on screen. Actually being there for it was indescribable. Maxi Jazz began his set with the words 'Last time I played here it was pitch black – I had no idea there were so many of you!' and seemed utterly overwhelmed by the whole experience; there were tears, come the end. But it didn't stop him putting on one hell of a show. 'Where The Streets Have No Name' – Muse, featuring The Edge. While I'm not a huge U2 fan, this is undoubtably one of their better tracks, and it was a lovely nod to the band after they had to unexpectedly pull out of their own headline slot.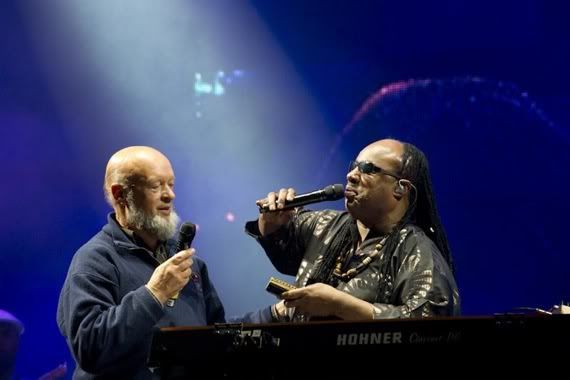 'Happy Birthday To You' sung by
Stevie Wonder
and
Michael Eavis
. Bless him, Eavis really can't carry a tune, but the response of the crowd to seeing him on stage closing the festival seemed to blow him away. He genuinely doesn't realise how much Glastonbury means to some people, which just makes him all the more special.
Top non-music moments...
The car-park on Tuesday night, having a quiet drink at the back of the car, sharing memories from previous years and watching the first of many (many) sky lanterns start to drift across the site Sitting in a whale at midnight on Wednesday, drunk on cider and happiness, as it finally hit me that I was back at the festival at long last. Finding a bar in the 'back-room' of a chalk-sculpting tent in Greenfields. Squishy sofas, super-cheap booze and a fantastic atmosphere. On a similar note, finding secret cider being served at one of the juice stalls near the Other Stage. Secret cider is the best kind of cider. Tent hopping in Shangri La from midnight til 5am on Friday. Swapping my possessions for other people's, dancing under a full-size Navy Helicopter, being administered a shot of tequila from a syringe and taking copious amounts of nitrous oxide. Climbing the Ribbon Tower in The Park at 6am and watching the sun start to burn away the mist over the site. Drinking rum and coke at 5am in the Bimble Inn watching the guys from Lamb DJ with a drum kit and double bass. Getting a friend into the Snake Pit without him having to queue up for a temporary tattoo because mine was deemed to be awesome enough for two (well, 10 actually) by the doorman. Finding the Bad Idea Bar – run by Secret Garden Party, tucked away in a cluster of trees and needing a special pass to get in, this was definitely where the party was happening on Friday as people climbed the central pole of the tent in order to get free drinks by reaching the top and successfully bring down a balloon.
Anna Mellor
Stevie Wonder
- There was a specific moment in this set which is the reason why it is the highlight of my entire festival and that is when Michael Eavis joined Stevie on stage. The whole of the crowd was singing 'Happy Birthday To You' and there was such a wonderful feeling of celebration. Everybody there was so grateful to Michael Eavis for what he has created. A true moment of Glastonbury magic.
Laura Marling
- The progress in Laura Marling as a performer since I first saw her at Glastonbury in 2008 has been incredible. She started so young, shy and fragile and then this year at Glastonbury it was obvious how much she had matured. The atmosphere of the Park at sunset was perfect for the performance and the audience also included a proposal (with a yes!)!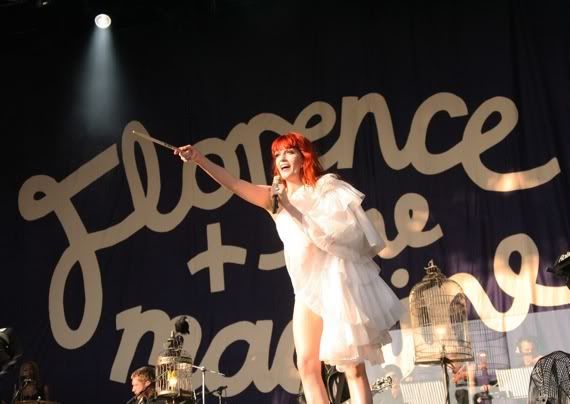 Florence and Dizzee
- Glastonbury was not short of collaborations this year and this isn't probably the one you would immediately think of but for me it was brilliant. Of course they performed 'You Got the Dirtee Love' and the sing-a-long and dancing of the audience was incredible. They are both really good pop performers and so together it was such a moment.
Ellen and the Escapades
- This lot were the winners of the Glastonbury Emerging Talent competition and too are a band from my home town of Leeds which I have followed for ages. They are brilliant live and at Glastonbury they didn't fail to perform.
The Middle East
- A beautiful new band and definitely ones to watch in the future. The highlight of there set was 'Blood' but the highlight of the gig and the realise this is in my top 5 is because of the audience. We were grazed by the presence of Laura Marling, Marucs Mumford, Ben Lovett (Mumford and Sons) and King Charles among others I'm sure. It was a wonderful thing to share new music with people who have inspired me so much and I know the Mumford boys have had a big part to play with The Middle East's success over here so that was really special.
Images
Header images of each section courtesy of Andrew Allcock. Stevie Wonder image courtesy of Simon Wagner. Florence/Rolf Harris/Thom Yorke images courtesy of Jason Bryant. Slideshow courtesy of Hannah Morgan. All images courtesy of http://www.glastonburyfestivals.co.uk