Welcome to the murky depths of
'God Don't Like It'
. No it's not some undeground goth club or a Pandora style 'other-world' but a man with an idea, a devilish vision if you will. The man in question is
Anthony Chalmers
. He's a music promoter, DJ, manager, press agent and part of
Robot Elephant Records
. Essentially he's the guy that will put you to shame and backs up the idea that there isn't enough hours in the day. Ideally we'd give him an extra 12 hours just to get through his work load but more on that later.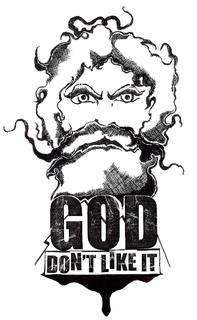 We deal with numerous promoters on a daily basis and what I noticed from day one with Anthony was his passion. Sure the financial element is gonna always be lurking somewhere in the background in this business, it has to, but he doesn't bow down to that shrine.
"People tend to pretty much either go and see their old favorite bands, stuff that is getting current hype or their friends bands. It's very hard to convince people to go and see stuff that is amazing but a bit under the radar. Also getting the right bands is never easy!"
. I think any promoters out there would identify with that but it doesn't stop him. Looking at his listings page (click
here!
) you'll notice that his diary is pretty rammed right now, which backs up just how passionate he is about music. When questioned about hard cash for promoting a terrible band, he was pretty honest
"This hasn't happened before but of course not if they were shite! Well, depending on the amount of money!"
. You have to applaud that level of honesty. His passion also extends to DJ'ing, though he'll claim he's not a very good one
"Haha I'm not a good DJ! I just play whatever new records I have that I think will go down well with the type of music for the night etc. I host a lot of DJ nights but don't always DJ as I don't have much dancing music"
. With such an investment in music you would think the future would hold all sorts of worries for him but far from it...
"t's a funny one ages before I worked doing music stuff a friend of mine Sofia (co-founder of End of the Road festival) told me that she didn't really work in the music industry and I wasn't sure what she meant but now it seems to make sense to me. I work from home booking bands and doing shows etc but I don't really know anything about the future of music or what it holds, whats going on at major label and the big companies I just don't have a clue! Well I could give my penny's worth on bands finding other sources of income and being more savvy with their fan base but I think people much better informed than me have talked about before!
". As an online publication, we can totally relate to what he's saying. It's interesting that when the chips are down it's people like Anthony, or your local record store that will survive. Not the out-of-touch corporate types.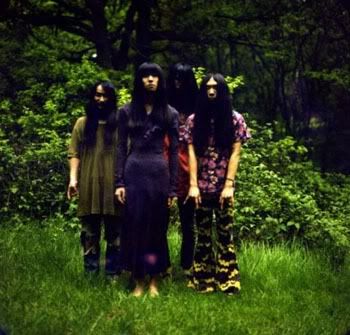 Anyway, we wouldn't be doing our job well if we didn't grill Anthony about musical tips for this year...
"Hyrst who I'm hopefully going to be managing are going to do really well, Veronica Falls, Esben & the Witch, Bo Ningen, Drum Eyes, Kristin Mclement, Zun Zun Egui to name a few."
. And the best band you've ever put on?
"Probably has to be Bo Ningen just the most exciting live band, brilliant songs, lovely guys, I just LOVE LOVE LOVE LOVE LOVE them. After that probably Sons of Noel & Adrian and then Drum Eyes."
So there we have it. A young guy, full of passion, full of drive and great taste to match. Regardless of whether God likes it or not, I'm not sure he would be able to stop him right now.
Upcoming Shows
21 Feb 2010
- Not Squares + Too Young To Love + Kosmic Onion Field @ Old Blue Last
23 Feb 2010
- God Don't Like It DJ's with Wild Palms @ White Heat
25 Feb 2010
- Jookabox + Maria and the Mirrors + Mat Riviere @ Queen of Hoxton
1 Mar 2010
- Scary Mansion + Blue on Blue + Hyrst @ Old Blue Last
2 Mar 2010
- Thus:Owls + Scary Mansion @ The Black Heart Camden
7 Mar 2010
- One Fathom Down + Magic Aids @ The Macbeth
25 Mar 2010
- Gangpol & MIT + Agaskado Teliverek @ Queen of Hoxton
30 Mar 2010
- Alcoholic Faith Mission @ The Wilmington Arms
8 Apr 2010
- Shutter @ Old Blue Last You didn't think we would end this feature without telling you about the origin of his name did you?
"It's an old blues and gospel traditional, I was listening to quite a lot of Blind Willie Mctell at the time and he does a duet with his wife of it. GREAT song, and it's also Rock and Blues music etc is Devil music so God Don't Like It etc."
You can visit
God Don't Like It
by clicking
here!
Art work by
Sarah Hutchinson Burke