This year three senior members of The 405 headed out on an adventure to
Green Man Festival
in Wales. Being the first time any of us had been to the festival, we were interested in finding out why so many people had suggested we took the 3-4 hour car journey. Yes we had rain and yes we had the fear of our tents failing on us when we needed them the most, but this isn't a weather review website, it's a music & art one and when it came down to those elements, Green Man had it all. What you'll find below is our individual top five moments and a summary of our experiences at a festival we all decided is one of the best in the UK. Look out for our video review next week!
Oliver Primus
5.
Darwin Deez
Before his electric set at Green Man I had written him off as a 'style over substance' sort of act and even as I type this I'm not sure much has changed. The majority of his songs sounded rather one-dimensional and at times quite sloppy but what he lacks in songwriting ability he sure makes up for in terms of charisma. The dance routines between songs had the crowd all smiling and it was one of the first Green Man experiences I had without the aid of an umbrella. Fun, fun, fun. 4.
First Aid Kit
My first experience of First Aid Kit was when they toured with Fanfarlo and that was a great show but I never expected them to be able to top that performance. I was wrong. Whilst I delicately abandoned my girlfriend whilst she fawned over Billy Bragg, I stood in the distance of the Green Man pub area whilst the new sisters of folk brought grown men to tears. Touching stuff. 3.
The Tallest Man On Earth
Whilst the majority of the Green Man population headed to the main stage for Mumford & Sons, team 405 headed up the hill to witness the breathtaking musical stylings of Kristian Matsson, aka The Tallest Man On Earth. We all had extremely high hopes for this guy and he smashed it off the park. Mixing moments of joy with moments of sadness, Matsson took the entire crowd on an unforgettable adventure. 2.
Megafaun
Before we even got to Green Man we decided that a top five moments approach to the review would probably be the best way to avoid arguments. With that said, I had envisaged what my top five might look like and believe me, Megafaun didn't make the cut. Don't get me wrong, I really like them but just look at that line-up. When a band enters the stage wearing NBA jerseys, you know you're in for something good. What really stood out for me was how charismatic they were and god damn do they have a sense of humour. Mix that with a set full of really strong songs and you have a recipe for extreme beauty. 1.
Beirut
I find it really hard to describe what I felt whilst experiencing one of the most exciting bands around but what I will say is that if you get a chance to see them, do it. Let me put it this way, I have a list of bands I must see before I die and after seeing Zach & Co on a very wet Friday, that list just halved.
Conclusion
I've been to a lot of festivals and after years of experimenting I had it in my mind that Latitude was the one to beat. It has the bands, the location and up until a few years ago, it had the right atmosphere. Even with the torrential rain we experienced, Green Man still managed to destroy those ideas. What makes it so special is that they have the balance of people right. You never feel crowded, the people are lovely and waking up every morning surrounded by such beauty is nothing short of inspirational. I'm already excited for next year. My only gripe would be to ban the person who sold the rain a ticket.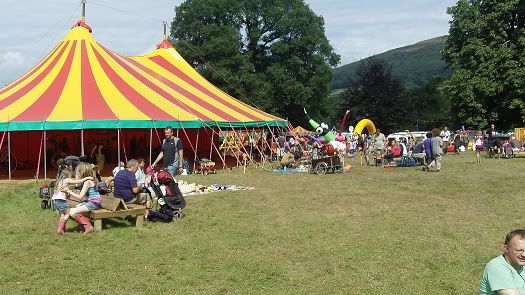 Wil Cook
5.
Leonard Cohen - Bird On A Wire Screening
As a baby my mother played the songs of Leonard Cohen to me in the crib, as I've grown older these songs have become touchstones for living. For some reason, despite being geekily fanatical about every band I've ever loved, Leonard Cohen has always just been. Tony Palmer's lost tour film offered a fascinating insight into the inner workings of the man's mind and a great start to the festival. Although a million stupid questions ruined the Q&A afterwards just getting to see this film, and being able to walk off into the dark holding a signed copy of it, was a great experience in itself. 4.
First Aid Kit
While the rest of team 405 sloped off to watch Billy Bragg, my girl and me slow danced in the mud to the music of these beautiful Swedish sisters. Looking up to see the raindrops falling from the sky freeze in the air around me as 'Hard Believer' stopped time was one of those quiet times that you'll never be able to explain fully in words. So I won't. 3.
The Flaming Lips
The Flaming Lips bring the whole party with them. I think I was stunned in equal measure by their laser hands and the fact that it had stopped raining. Also made special by touching Wayne Coyne in his giant bubble, well he trod on my face, but it was the most glorious face stomping in all of human history. Waking up on Sunday morning only one song was still batting around my brain, 'Do You Realise'. 2.
The Tallest Man On Earth
For just one guy on a stage with an acoustic guitar Kristian Mattson sure does bring a full sound. Songs like "The Gardener" and "Pistol Dreams" take over your whole world as he plays. It's a testament to just how great a performer he is that you don't ever wish for a full band. Saying that, when he calls out Megafaun and Jaw Lesson for a rendition of Gillian Welch's "Everything is Free" I am literally moved to tears. Its one of those moments that you know you will remember forever, and these days, with youtube, you really can. 1.
Megafaun
The biggest surprise of my weekend, Megafaun are a massive presence on stage, their charisma and humour alone deserves a main stage billing. Instead, the lucky people inside the Far Out tent were left feeling like they are now privy to a small piece of insider knowledge…Megafaun are THE shit. Catch them while you can.
Conclusion
Every review will start "Despite the weather…" and I guess its only natural, having proved our commitment to a good time by standing in the pouring welsh rain for hours at a time, it feels like we earned it. With a million and one festivals springing up each year its hard to know how to approach them and which to choose, whether its all about the music or all about the experience. Some, like Green Man, are pitched as being more than just a music festival although ultimately, every festival experience is what you choose to make it. You will always end up being yourself in any situation. For me, Green Man 2010 was the perfect size and scale. It had just enough great bands to sustain my excitement for three solid days and was full of people happy enough to be happy, smile at strangers, and sure as shit not let the rain get them down. Some of my personal highlights had nothing to do with the music but the people and our surroundings, being able to take a walk alongside the river in the morning for example, or the kid that had jumped head first into the mud only to join a long queue for the shower or the spontaneous kids cricket match. It's a tight ropewalk for festivals these days, between intentions and achievements (I'm pointing at you, Latitude) It seems that the organisers of Green Man are doing it just right, a great weekend, despite the weather.
Will Slater
5.
Flaming Lips
Although I didn't get the greatest experience out of the Flaming Lips' set that one could reap (unlike Wil, I didn't receive the honour of having Wayne Coyne step on my face) I still felt the euphoria of their set, which climaxed with the performance of 'Do You Realise'. It's been a while since I have involuntarily looked like an awestruck cartoon and felt close to the strangers around me. I grinned like a silly child when I saw confetti in my wellies as I removed them back at the campsite. 4.
Sons of Noel and Adrian
Sons of Noel and Adrian played firstly on Friday, performing a soundtrack to Germaine Dulac's surrealist classic, 'The Seashell and the Clergyman', which was mesmerising. It was their Sunday set however, that was the truly stunning cinematic event. This time they played their own songs with films made specially to accompany them. The most captivating of the films contained footage of images superimposed over each other to confuse the viewer's sense of proportion; the perfect compliment to the Sons' mystifying folk tales. 3.
Megafaun/The Tallest Man on Earth
Both of these outfits played beautifully. But the moment of magic was when the Tallest Man was about to finish his set and invited his good friends, Megafaun, to gather round the microphone with him and sing Gillian Welch's 'Everything Is Free' together. This was the most sentimental part of the festival; the friendship between these musicians was potent, as they verged on resting their heads on each others shoulders and having their arms round one another. They all looked as though they were about to burst into tears (quite amusing, as Megafaun are like a bunch of hulking bears) and it was clear that there was nowhere in the world that they would rather have been. This vibe leaked into the audience and provoked a loving response for the very special collaboration that brought the Tallest Man on Earth's set to a close. 2.
Beirut
I had been waiting to see Beirut live ever since I heard the first note of the first song of theirs I'd ever heard. It was finding out their confirmation in the lineup that prompted me to buy my ticket for Green Man, and thus a few long months of fantasising ensued. I actually lost sleep for some nights imagining how they were going to open the show and it was the fact that they did so exactly how I thought, by blasting through 'Nantes' with a spine-tingling effect, that's earned them this position. What's kept this ever so important set from reaching no.1 however, is the bitterness I feel that they were supporting a band as mediocre as Doves as the headliners. It was made clear by the general responses of the crowds from the mention of the two bands in the same sentence. As the headliners, Beirut could have made the night even more spectacular and, as I like to imagine, add 'The Penalty', 'Brandenburg' and 'My Night With the Prostitute From Marseilles' to the set list, which I felt were missing. 1.
Sam Amidon
The moment that felt most special to me was leaning against the barrier of the Green Man Pub stage, soaking from head to toe in spite of my rain poncho and not giving a damn about it as I watched my favourite folk musician of all time, Sam Amidon, give a packed little garden a show that was intimate, unpredictable, endearing and hilarious all at the same time. Amidon brings age-old stories and ballads, which have no known authors, passed down by word of mouth for over a century, to a modern context. He does this while giving far-fetched, yet whimsical, analogies for a certain song's purpose that will have you scratching your head and questioning whether or not he thinks what he's saying makes sense. As Brad Cook from Megafaun put it, "he's badass". It's always an extremely warming treat to listen to him and this was the most unforgettable happening of the festival that I will always remember with a longing to relive. Low Point: I would complain about the relentless rain, but I like to think that having lived in Britain for over twenty years I'm more than used to it. It should be a matter of time before my fellow countrymen evolve into amphibians anyway. So, that aside, it would either be the Q&A of the moving new Leonard Cohen film, 'Bird on a Wire', being sabotaged by morons asking stupid questions to undermine the producer, or falling flat on my face twice in a row while trying to get up the slopes by the main stage. In that incident however, the kindness of Green Man was shown once again because in spite of the hilarity of my misfortune, a stranger helped me up and asked if I was okay.
Conclusion
I speak as someone without much festival experience, meaning that prior to Green Man I have just been to Reading a couple of times. This festival has confirmed my tiredness of some of the big festivals that just shove a load of popular names in one arena with nothing else going on, showing them up as soulless, stressful, overpriced wastes of time. At this festival I've seen shows that each have a unique sentiment, that attract generally easy going crowds and individuals, who are kind enough to cover you with their umbrellas if it's raining while you want to use your phone or roll a cigarette. And it's all within a naturally stunning, creatively utilised space. I noticed someone announce that Green Man is king. It's true, right up until they burn him on Sunday night that is.