In one of the most diverse years of music to date, it is still hard to beat the guitar. What makes the instrument so special is its ability to shape the tone of holder's voice. Depending on the tone, technique or effect used, the sounds emitted by a guitar can drastically affect the entire construction of a song. This may all seem obvious, but it remains an integral reason why the guitar remains such a beloved instrument.
Due to the diversity of the instrument, it is hard to gently constrict bands to a label. As such, many have taken to using the term "guitar band" when referring to any band that uses a guitar. It, in itself, seems a tad constricting, but for the sake of playing along, a reflection on guitar bands seems to be in order.
In 2015, the guitar found itself being molded and shaped by many, with some incredible results. A number of groups also set themselves up to shred through 2016 with guitar-centric projects. Whether reflecting on 2015 or anticipating the new year, the guitar will be a mainstay that will continually facilitate some of the very best songs.
5 guitar bands that ripped in 2015
5. V - Wavves
On V, the fifth studio album from Wavves, not one second of its 31-minute runtime is wasted. This is likely no surprise coming from Nathan Williams, a man who seems to be among the busiest people on the planet right now. But from the opening soar of 'Heavy Metal Detox' to the anthemic peaks of 'My Head Hurts' and 'Tarantula,' V is an expertly crafted blare of sugary, blistering pop punk. It does not hurt that Williams released another exceptional collection with Cloud Nothings, No Life For Me, had a solid debut with Spirit Club and put on one of the best tours of the year. But V was arguably the biggest success of Williams' career to date and it will probably be earning repeat listens for some time.
4. Sometimes I Sit And Think, And Sometimes I Just Sit - Courtney Barnett
In what was almost inarguably the finest debut statement this year, Courtney Barnett proved that her unique blend of intellectualism and stream-of-conscious could hold up in a full-length LP. Sometimes I Sit And Think, And Sometimes I Just Sit is as unflinching as it is his hilarious. The near four-minute rip that is 'Pedestrian at Best' is one of the year's very best songs. Barnett was recently nominated for Best New Artist at the Grammys and, with a piece of work as strong as this, it is hard to imagine her living the ceremony empty handed.
3. The Most Lamentable Tragedy - Titus Andronicus
In terms of sheer scope, few records could match the magnum opus from Patrick Stickles and his ferocious band of New Jerseyans. Titus Andronicus is a band that previously compared modern life to the Civil War on 2010's The Monitor, yet the sprawling 29-track epic that is The Most Lamentable Tragedy is their best and most ambitious record to date. Having returned punk to a true art form, the impact of this band and tracks like 'Fired Up' and 'Dimed Out' truly cannot be understated. The whole record features the ebbs and flows of an larger-than-life masterpiece, yet it never loses the intimacy that makes punk such a beloved genre.
2. The Things We Do To Find People Who Feel Like Us - Beach Slang
The earnest sincerity of the Philadelphia punkers in Beach Slang made for one of the year's best LPs, plain and simple. The Things We Do To Find People Who Feel Like Us is full of towering hooks, and heart throbbing highs that make even the most pessimistic misfit feel like they are not entirely alone. The voice of James Alex, the band's middle-aged frontman, has the intimacy of a well-seasoned uncle, who has tattoos and tells you stories over a cigarette on the porch. And amongst the shredding guitars and bruising rhythm sections, the tender touch of 'Too Late To Die Young' is one of the finest musical creations of the past 15 years. For anyone that has ever felt alone, out of place or misunderstood, Beach Slang are there for you and they will never let you feel alone again.
1. Time To Go Home - Chastity Belt
From its chill-inducing opener 'Drone' to the icy rollick of its title track, Time To Go Home is a nearly perfect sophomore outing from Chastity Belt. Hailing from Walla Walla, Washington, the group made a name for themselves with their jangly, hilarious feminist-imbued tracks on 2013's No Regerts. Songs such as 'Seattle Party' and 'James Dean' showcased a band that clearly possessed innumerable gifts with a great deal of room to put together something great. That something manifested itself on Time To Go Home, a record so well crafted that it stands firmly alongside Kendrick Lamar and several others as one of the best of the year. Julia Shapiro's once hilarious lyrical musings are more like hot barbs, delivered through her confident and powerful voice. With guitar riffs beautiful enough to bring about goose bumps and some of the best lyrics of the year, Time To Go Home rightfully sits high above much of the competition.
5 guitar bands to watch in 2016
5. Radiator Hospital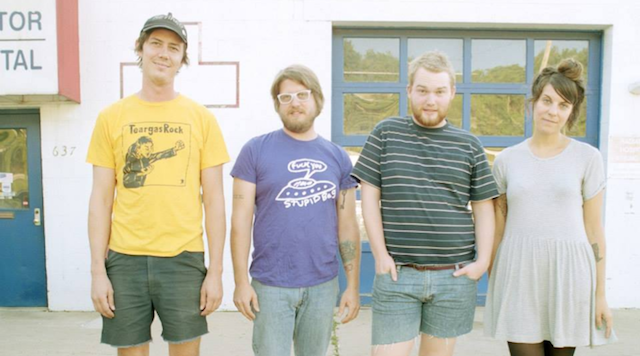 Since 2010, the power-pop outfit Radiator Hospital has been flying just beneath the radar. With a penchant for coupling sugary hooks with heartbreaking lyricism, bandleader Sam Cook-Parrott has already amassed a tremendous discography, including 2012's Some Distant Moon, 2013's Something Wild and 2014's Torch Song. 2015 was a relative down year for Radiator Hospital, with the only release coming in the form of a split 7" with Martha from Pity Me, just outside of Durham. As a result, it would not seem unreasonable to expect that a new, larger release could be inbound from the band in 2016. Given Cook-Parrott's already hefty collection of tracks, which have always seemed to show steady improvement as the years have gone by, 2016 should be the year that Radiator Hospital finally emerges as the true power it has always been.
4. Blood Sister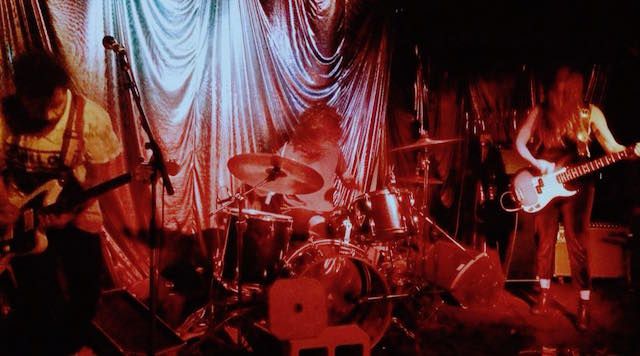 After several years on the New York City DIY circuit as a member of Night Manager, guitarist Ezana Edwards moved back home to San Francisco and wasted almost no time in forming Blood Sister, a project as indebted to the lo-fi fuzz revival as it is to 80s cult culture, with the likes of "Liquid Sky" turning up in their videos. But thankfully, the adherence to an aesthetic is only surpassed by the group's excellent music. A host of singles such as 'Why Would You' and 'BART SIMPSON' predated the release of the band's self-titled EP, which spawned their best track to date and maybe the most underrated song of 2014--'Ghost Twin.' The tracks are full of distinctive imagery, tones and ideas, making Blood Sister one of the most interesting bands to emerge from the cacophony of heavily distorted guitars saturating the market. And now, with Edwards having recently moved back to New York, Blood Sister seems poised to surge forward and deliver a proper LP in 2016, which could provide some of the most interesting songs in the new year.
3. Spirit Club
Despite a solid debut LP, Spirit Club went relatively unnoticed this year. A noticeable amount of pre-release hype was largely met by silence from most of the major media outlets, in spite of exceptional tracks such as 'Still Life' and 'Carousel II." But for Spirit Club, which is made up of Wavves' Nathan Williams, his brother Joel and Andrew Caddick, the desire to put out an even better follow-up and force people to pay attention is the goal. Their second LP was already being written and recorded weeks after the May 2015 release of their self-titled debut, with seven songs already completed by late August. This upcoming record will also have the additional benefit of being produced by longtime Wavves collaborator Dennis Herring. As evidenced by the two Wavves albums Williams released in 2015, when he sets his mind to something, amazing results can emerge. The second Spirit Club LP should prove the same thing, only this time, the slinky, sludgy beauty of the band will have ample opportunity to evolve and build upon their praiseworthy debut.
2. Hockey Dad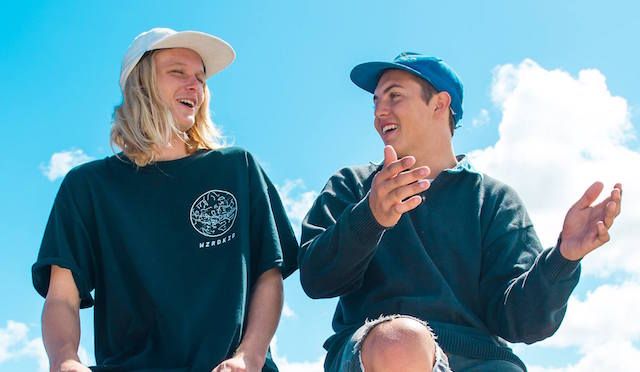 This young duo from Australia, comprised of Zach Stephenson on guitar and vocals and Billy Fleming on drums, has only two small releases, yet have found themselves teetering on the edge of monumentally blowing up. Their 2014 EP, Dreamin', found themselves laying down some of the alluringly beautiful surf rock of the past five years, which is certainly saying something when one looks at just how much music of that stripe has been released lately. As evidenced by tracks like 'I Need A Woman' and 'Can't Have Them,' they have found a very particular and very appealing sound that has plenty of room for expansion beyond the seven songs they've released thus far. If a full-length Hockey Dad record is put out in 2016, look for it to become one of the year's biggest breakout successes.
1. Twin Peaks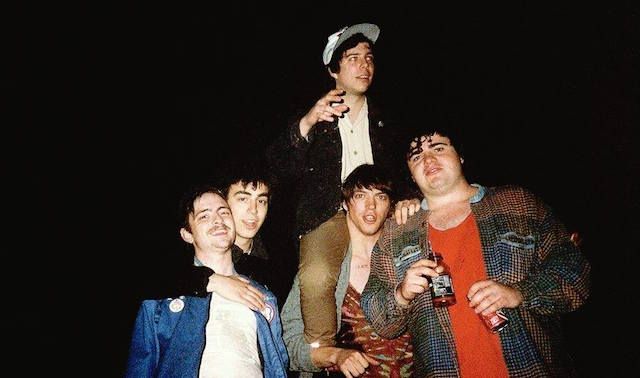 After just a few years on the road, Twin Peaks has become one of the best live rock bands in the world. Their frenetic performances have earned them praise from countless outlets, as they leave audiences sopped in sweat with big grins plastered on their faces. To date, the group has released two LPs to draw from during these shows--2013's Sunken and 2014's Wild Onion. And while the band is proud of those records, "neither of them really got to get put in the oven, they both felt like they came out of the microwave," according to vocalist and guitarist Cadien Lake James. So, with the band's forthcoming LP, Twin Peaks has made sure to take their time to craft the best possible collection. The album was recorded in Massachusetts, mixed in New York and will find its way to hears sometime in 2016. Everyone in the band--from established members such as James, guitarist and vocalist Clay Frankel, bassist Jack Dolan and drummer Connor Brodner, to relative newcomer Colin Croom--are ecstatic about the prospects of their new record. Sunken and Wild Onion were solid releases that enabled the group to become a premier on the live circuit. Now, with a potentially exceptional record en route in 2016, Twin Peaks could find themselves as one of the year's biggest rock acts.