Digital music is a massive market, with worldwide expenditure passing £5.5bn this year, over a third of the industry's entire revenue. With that proportion continually rising, there are now a staggering 500 unique music services available, with Spotify and iTunes dominating the subscription based streaming and the download markets respectively. Microsoft's effort was its relatively toothless Zune platform that failed to gain a meaningful foothold and was left floundering for some time - its bespoke hardware was discontinued in October 2011, followed by an announcement in June that the plug was to be pulled on the entire service.
Finding itself lagging behind, especially in Apple's wake, must be something that sticks in Microsoft's craw as it's a company that prides itself on being a market leader either on outright merit or by default, relying on loyalists habitually buying their products. Failing that, it positions itself as an innovator, and that's very much the case with Xbox Music, a new service that shows Bill Gates and co. are far from giving up a share of the music market, despite the Zune debacle. Bundled with the recent Xbox dashboard update, it's an overhauled approach, seeing Microsoft wise up by combining the core streaming and download selling points of their main rivals in a one-stop service that extends to PC, tablet and smartphone, synchronising content across devices via the cloud.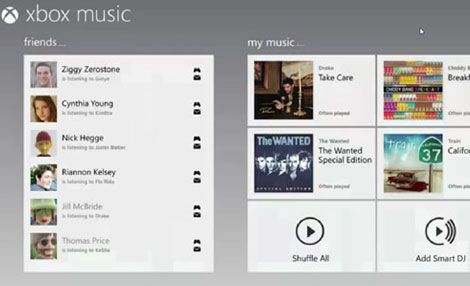 Xbox Music certainly sounds like a smart enough approach, albeit one based on blatantly second hand ideas, but Microsoft now have a fresh start, distanced from the tainted Zune brand and allied with the trusted Xbox one. This may give them some leverage in the marketplace, as will the decision to make Xbox Music the default music player for the revitalised Windows 8 OS launched on the 26th of October. But is it actually any good? Well, from a 360 user's perspective, the short answer is no.
First, the basics: the app's interface is split into 4 main areas: My Music, where playlists are stored and artists can be pinned for quick access; All Music, showing new releases, top artists and songs; Music Videos (via Vevo) and a Recommended section, which picks new artists based on your listening history. So far, so obvious. A Smart DJ feature (culled from Zune) creates playlists based on a chosen artist or genre, but that's about as advanced as launch features get; there's a sad paucity of ideas otherwise.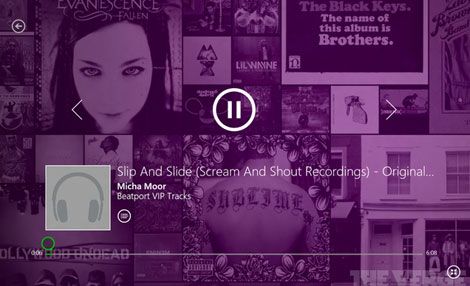 But, it's just a music player, right? Essentially, yes, and to that end it's fine. Presentation is slick enough and fashionably minimalist: album cover art and artist photos are displayed in subtle pastel colours when songs stream, artist and track info in the corner of the screen, and the images are combined with old-school visualization as opaque geometric shapes shift over one another. It's all very smart and tasteful, and streaming performance is flawless. Browsing can, however, be a tad ponderous – it's occasionally laggy and lack of a keyboard makes searching take far longer than on PC but, short of plugging in a USB one, that's unavoidable on a console. It's also sometimes difficult to ascertain album track running orders, though those casually interested in an artist's top hits have dedicated playlists, another idea courtesy of Spotify.
Now to the rub: cost. There's a free month as a taster – although this is a very "Microsoft" notion of gratis, as users have to have an Xbox Live Gold Subscription (roughly £30 a year) for access in the first place. The freebie then automatically reverts to the £8.99 a month subscription, a price pitched at £4 more than the basic – ad free - Spotify Unlimited package (although their Premium tariff, required for the mobile access which is integral to Xbox Music, is £9.99). So a year of access to Xbox Music on the 360 would set you back roughly £130, and the service simply doesn't justify that level of investment. There's no sign of the much vaunted free, ad-supported streaming via the Xbox - it seems that this is reserved for Windows 8 – and that's the real killer. Despite its name, Xbox Music seems destined to be most ineffective on that very platform.
On the positive front, there are 30 million tracks available initially - roughly double that of the old Zune Marketplace - so there should be plenty to satisfy even the sniffiest of music hipsters. Microsoft also plan further support to allow users to "scan and match" songs they already own to their Xbox Music catalogue equivalents, allowing them to appear in libraries across devices. So it's clear that there's a substantial amount of weight being thrown behind the new venture, which will also include social media integration in early 2013 yet, predictably, this is another already established idea half-inched from Spotify's social collaboration with Facebook.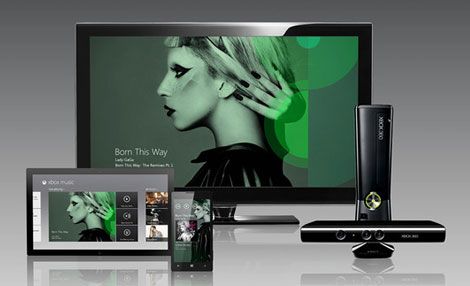 Microsoft are really banking on the increasing popularity of ownership decentralisation, their selling point relying on users being happy to pay a flat rate for access to content across platforms, rather than just the content itself. Xbox Music is just starting out, and its fortunes really rest with Microsoft's longer term strategy. With decent Android and iOS apps, the platform could easily offer real value for money eventually for those owning a Windows 8 PC, a mobile device, a tablet and a 360 - probably a sizeable chunk of the market within, say, 18 months. Then it's easy to picture streaming music at the office, downloading something you like which automatically appears on your iPhone for the journey home, then streaming it on the 360 when you get in. However, should Microsoft pull rank and restrict access to, say, their own hardware (their smartphone's a relative bit player in the Android and Apple dominated market) they may find themselves with another Zune on their hands. For the 360 owner though, it's clearly best avoided for now.