Scandinavian festivals are pretty alluring, aren't they? The music line up is always solid with its fair share of homegrown artful indie and soulful synths. There's consideration for the finer details, in its typography and craft around its various spaces. But Heartland Festival is something else. Set in the lush grounds of Egeskov Castle, a preserved Renaissance water castle, it not only boasts a pretty powerful lineup but an opportunity to take a step out of the doldrums of everyday life to experience island life instead. Funen to be exact, Denmark's third largest island. So when we're not wading through the greenery to the stages, there's time to head to Svendborg quay with its Dawson's Creek jetty and even take the ferry out to Ӕro with its Instagram worthy colourful beach huts.
On our first night on the island and our tent amateurishly pegged alongside a group of keen Van Morrison fans slugging back cherry wine ("we only drink it because of 'Cyprus Avenue'") we head through the verdant garden maze and into the heart of the festival.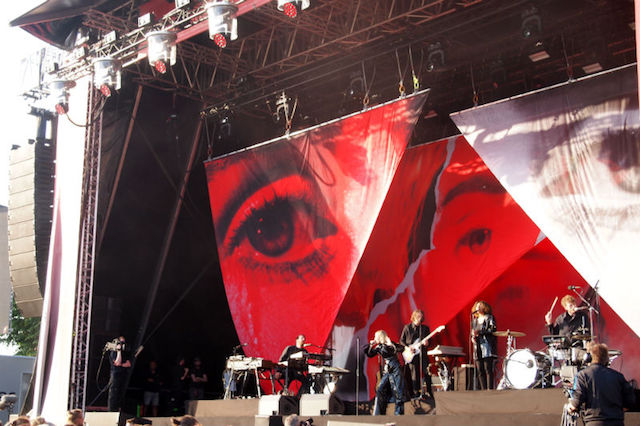 The last time we caught Swedish songwriter, Lykke Li was in a dusty festival field somewhere in the Suffolk countryside back in 2014. The singer's knack for dishing out dancefloor fillers made a fine alternative to the humdrum drone of garage rock duo, The Black Keys instead opting for the electro stomp of I Never Learn. Ironic really considering in the past four years, the model-turn-musician has definitely been studiously applying those lessons learnt in latest release, So Sad, So Sexy. It's not surprising then that new numbers pepper this evening's set which continue to be, well yes, sad and sexy.
From the heartache and intimacy of 'Two Nights' ("Two nights in a row, now I know that's it's broken") to those Rhi Rhi RnB breakdowns in 'Deep End', the only respite is for a brief costume change from the maxi Matrix trench into a bolero variant. Both in shiny black PVC. In the fading sun over the Greenfield stage, she dances around the stage, hands pounding out the air drums and then back tinkering at the synth deck. Wounded Rhymes hard hitter and set closer, 'I'll Follow You' conjures up a crowd sing-along which doesn't stop until she returns for an encore of shining anthem, 'Utopia'.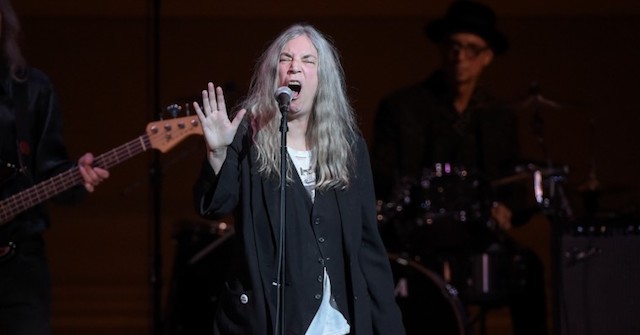 The excitement is palpable for the next act. Over forty years of activism and music making is no mean feat, after all. Sometimes it's difficult to even make a plan for the weekend and stick to it whilst rock and roll icon, Patti Smith has been solidly shaping the portrayal of women as people since the early origins of the punk rock movement. Funny then to hear her confessing that tour life isn't always a poetic vision. "The moon has been really full, I haven't slept for three days and didn't even have a chance to brush my hair", she tells us. "When I was in my dressing room, I found some of my breakfast on my knee like old egg. I was looking at this peacock (on the Heartland estate) and it was like "You're in my space. Brush your hair or something". But that's what Smith does best: taking up space with that untameable lyricism and head of hair.
There's rebel rousing defiance in 'People Have The Power' and worldly reflection as she recites eco-aware poetry over tentative guitar strums: 'The red coral reef, all the life that swarmed around it red, as ruby red as blood'. Into the Best Of set goes Canadian-American mega band, Buffalo Springfield's 'For What It's Worth' and Aussie climate change crusade, 'Beds Are Burning' but both stay true to Smith's ethos of wising up to what's going down. She salutes the Parkland Five and those who marched ("God bless our young people") and rightly slams the government for its dismissal.
If Smith is the Godmother of Punk, it feels only right that she can turn her hand to The King's 'Can't Help Falling In Love' and smack straight into The Boss' 'Because The Night' thereafter. She jokes about us "having to keep her awake" at this point but honestly, Smith is just coming into her regency. She intros her band including her son, Jackson Smith on bass but ever the equalist she's quick to add that "he has his own identity". As if the rock royalty medley wasn't enough, cue the distinctive rumble of ramblings sparring around the midnight skies. Suddenly, we're surrounded by 'Horses' which slips into a seamless medley of 'G.L.O.R.I.A' (the first outing for the track which will no doubt feature in fellow Heartland headliner, Van Morrison's set tomorrow afternoon) and back into the head crashing of Johnny with a defiant parting word from Smith. "We are all Johnny. We are all fucking free. Don't forget it". We ride off into the night high on hope and hedonism.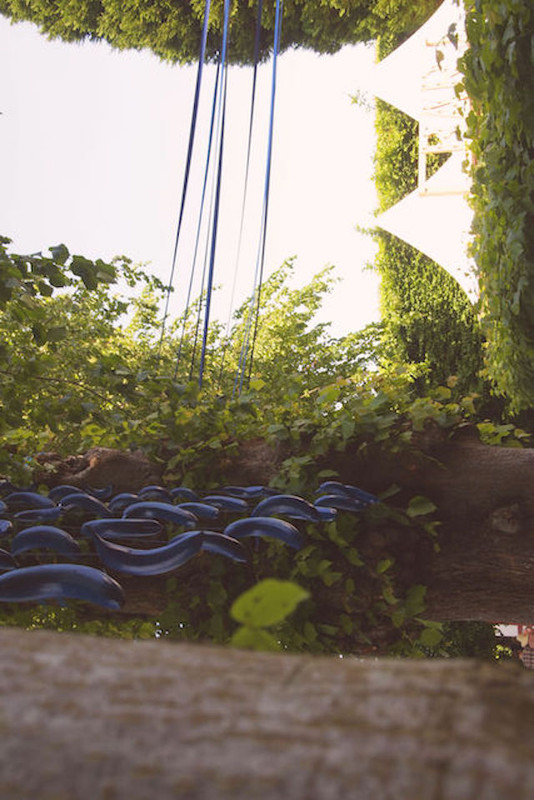 It's not all big gun musical legends here at Heartland though. It's a Scandi festival after all so there's an opportunity for reflection and self-awareness in the Talks tents. Within its cavernous shade, we find CBE and Turner contemporary artist, Tracey Emin sparring off the literary wit of award-winning Danish writer, Peter Hoeg. Sadly, technology is against them which makes moderator, Luise Faurschou's attempts to theme the dialogue around video titbits a bit redundant. Thankfully our speakers are more than capable of carrying the conversation alone so instead, it's a sprawling dive into everything from vivid birthing anecdotes, mountain goats and individuality.
There's some interesting assertions from Emin on motherhood and the possibility that a woman's gift to the world can be something other than another human. "I am not a mother. I'm never going to be a mother, I never wanted to be a mother. All I wanted was to be creative with every part of my body". There's an extended analogy off the back of one shard of a clip the tech team seem to have recovered which shows two mountain goats practically sideways on a monolithic concrete dam face. Emin is quick to make the connection with art. "One of the jobs of the artist: art leads science, art leads music, without our art we aren't human, those things make us who we are, stop us from being like the goats grappling along the dam".
The parting note from the pair feels fitting in the middle of a Danish isle with a small fledgling community of artists and creative types, and the importance of this for the next generation: "When you're young and you're isolated, David Bowie comes into your life. He's different, I'm different and you know it's ok. You need to identify with like-minded creative people when you're young". Thankfully, a set up like this weekend's Heartland has collaboration and community at its core. We head out of the circus tent and into the hazy twilight fade contemplating human connections.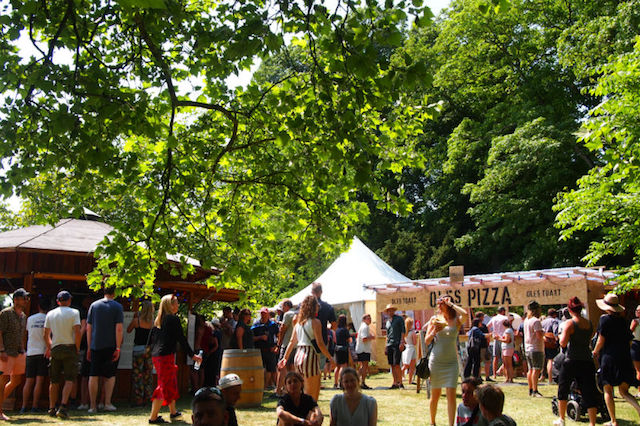 Tonight's early hours headliner set is quite the deal for Danish native, Mø who, it turns out, is actually from around these parts. Born in Ubberud, a small village to the west of Odense on the island, it must be funny performing songs penned right here where she spent so many of those nights "doing like your mother set not to do". Since stepping off the island, the songwriter and producer has been making a global name for herself signing to major Sony and teaming up with the likes of questionable Aussie rapstress, Iggy Azalea, genre-blurring megamixer, Major Lazer.
The latter gets a nod in the set, naturally, but its her own dance floor fillers that shake the dusty festival field ground tonight. 'Kamikaze' (as the name might suggest) is a divine breeze with feathery cymbals and an M.I.A tropical lurch while the primal beats of 'Nostalgia' recall the singer's first time in love back in 1997 when she stole her mother's cell phone. Bowing out to aptly titled 'Final Song', it's a flurry of hands flailing and soaring sing-alongs. If Karen Marie wanted us to lose our rhythm and soul, we've found it again in this throng of mega fans before her. After all, this is her Funen tribe and they've welcomed her back with open arms and hearts.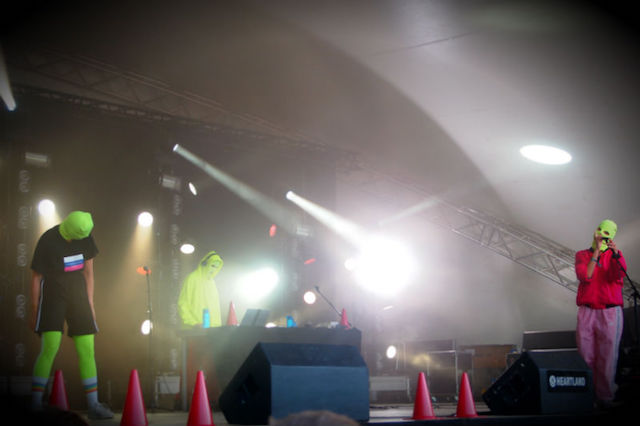 One of the big things that strikes you about protest punks, Pussy Riot is just how much of a riot they're having on stage. Sure, there are some real moments of poignant social commentary in here (the set begins with 25 societal slams read out across the loudspeakers, "14. Democracy post-war capitalism has been replaced with oligarchic feudalism") but there is also a stage dressed in traffic light cones, luminous hi-vis jackets and "songs about exercising in prison". There are all the traditional tropes of a pop girl band, only with less of the objectification and more full-on face balaclavas.
And so the jibes continue: "This is another track about Russian prison. It's called singing on a prison bed" as happy house techno blasts through the speakers. Ironically Spanish guitar riff lined, 'Make America Great Again' dishes out a chorus riff so abrasive it could've been snatched from noiseniks, Sleigh Bells while 'Police State' is sunshine Sky Ferreira: "Oh my god, I'm so happy I could die". The mid-afternoon crowd has warmed now. It could be the 30-degree heat or the excellent craft beers on offer but arms are now flailing in solidarity.
But it's set closer, 'Straight Outta Vagina' (no, the reference isn't lost on them either) that is straight up Chicks on Speed brilliance: "If your vagina lands in prison then the world is going to listen" with the astute barrier bashing chorus: "Don't play stupid, don't play dumb, vaginas where you're really from". These pussies don't like being grabbed but they sure like a dance routine: half anarchist revolutionary band, half relentless fitness video, these Russian activists have got us exercising our right to party. And it's a riot.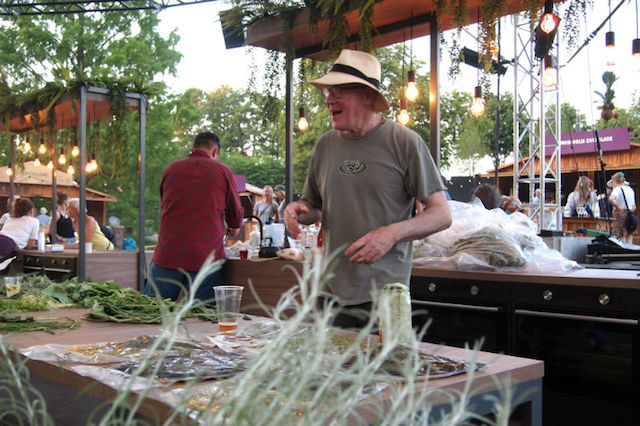 It's funny to think that for such ardent indie fans, one of the best elements of the weekend could be happening over on the festival's self-penned Taste stage. Keenly marking our territory on the high top tables that are set out in a semicircle with a few herb plants dotted between the joins. This is the second night for wild foraging whizz, John Wright of River Cottage fame who dishes out a charming camaraderie alongside Danish food professional, Thomas Laursen famed for finding wild ants and herbs for high-end Copenhagen restaurants. The pair are old friends it turns out, with Wright actually contributing the forward to Laursen's latest book and the warmth is immediately notable.
The duo set out to craft four cocktails in the hour slot and we're treated to Wright's daughter's favourite tipple, The Pink Pint; a whimsical brew of vinegar wrinkle rose petals in vacuum packs with a quintessentially British scent bottled up for this Nordic crowd. Wright's committed to the authenticity of taste too as he jokes about bringing over some of his florals on his Ryanair flight. There's a decidedly more bitter approach for the next slug, with a dash of wormwood, a clip of Anjelica (both a bit poisonous, they point out) with a sweet side of mirabelle plums which haven't formed a stone yet. "Consider them an olive" to this wild martini, Laursen adds.
Time is against us so the pair set to work on the third tipple, a Blackberry daiquiri with a drop of lilac and a rimmed glass of marmalade dust. People on handsets are clocking their watches so the real devout are relocating themselves around a small BBQ stove with Wright and his tub kettle (another Ryanair carry on essential apparently) as he starts smoking herbs within its iron belly. It's an ad-hoc party with old friends, chucking in whatever alcohol we have knocking about to put into this end of night brew. But that's the beauty of wild food surely. Utterly driven by nature in all its glory, and bottoms up to the best bits!
The freshness doesn't wain as we make our ways past the seafood stalls in the Saturday night gloaming to find LCD Soundsystem. Supremo, James Murphy stands on the Greenfield stage flanked by hi-risers of amp stacks and his electro troop of bandmates. Lengthy lead in 'You Wanted A Hit' begins to surge through the speakers, an ironic opener in some ways. Not because we're on an island just off the coast of Denmark. Nor that it's smack in the middle of the grandeur of 16th century moated castle, Egeskov, nope. But because to paraphrase the band, this is really happening. Apparently, it was the late-great David Bowie who would woo the singer back to the stage after the band parted ways back in 2011. Bowie had asked if he felt uncomfortable at the thought to which Murphy responded yes. "Good – it should. You should be uncomfortable".
Discomfort doesn't really come across tonight though rather a group of old friends coming together to play both new and old ideations of their decade-spanning back catalogue. Thrust into the art rock era with its surging synths, 'Tribulations' has 2005s hi-hat ringing out through the festival fields. It's not surprising to think that Murphy would've been producing fellow NYC dance kids, The Rapture around the time of its release with the same primal digifunk guitar noodles. Murphy admits to the crowd: "It's the band's first time in Funen" and the pleasure of performing in the beautiful setting with genuine gratitude: "Maybe you're sitting eating oysters". It's all very civilised really, isn't it?
Thankfully, someone's let clattering club banger Daft Punk in through the back door so we're headlong into a nostalgic dance party which segues seamlessly into latest number 'Tonite' with its oily vocoder sheen. After much crowd calling, the tinkering keys of hazy summer anthem, 'All My Friends' kicks in for the band's encore. And like any good soundsystem, the band are a broadcast of your timeless loves (Nancy Whang on keys remains LCD's secret weapon) and the bright promise of new favourites. If they spent five years trying to get with the plan, these next few should find them just back with friends. That's certainly what it feels like tonight in Funen.