After talking to Jamie Hall of Tigercub for five minutes, it becomes abundantly clear that he's the last dude that deserves to be robbed. He talks eagerly about supporting new music, swerving companies who test on animals, and how his band's steady growth and large support comes down to the sort of sacrifice that is just stoically accepted if you want to survive as a musician.
Tigercub were recently awarded part of a BPI grant to get out on tour in Europe and hire a videographer to capture everything. Video assets are absolutely vital for online promotion and it's what recent breakthrough acts like Slaves and Frank Carter and the Rattlesnakes can attribute a large part of their ascent to.
"We'd filmed loads of great shit and the shows were really good," explains Jamie. "It was the first time we'd gone to Europe and actually sold tickets. Last show in Paris we left the van outside the venue, and we were all pretty blown out by that point. We were arguing with the in-house about putting a drum kit somewhere. We went for a walk and then when we came back our laptops were missing."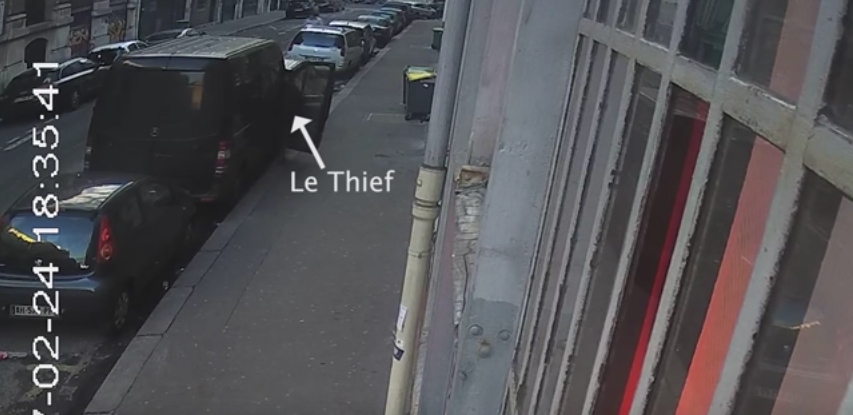 "This guy had a jammer or something that fucked with the vans locking system," he continues. "He just got in straight away. We were freaking out because we thought someone had fucked up. We had a merch tin which had four grand in it. I went pale when our tour manager said that. It was under the seat. He didn't find it. It's so horrible. I don't know how I'd really cope if the whole backline got nicked. Tigercub just tour and get slowly bigger every time we do a thing. We're not a big band that has big tour support and shit. We're always reinvesting."
Despite losing all the footage, Tigercub resolved to make something of the incident. They got ahold of the CCTV footage of the robbery and, with the help of some excellent green screen work, decided to create something a little different:
"We just wanted to turn that shit thing into something positive. You have to be adjustable and it fits in with our mission statement: We wanted to show anyone that's interested in what that period of time was like and... someone broke into our van. So, it kinda made sense that we would use the CCTV footage."
It's depressing to say that, considering the value of the items that were stolen, Tigercub got off relatively lightly. At the beginning of March, The Lucid Dream also fell victim to theft in Paris. Guitarist and vocalist, Mark Emmerson, explains:
"The splitter van was double-locked in a supposedly secure carpark with CCTV. The next morning I went to take the bags down to the van and it had been emptied. It didn't sink in for a minute or so, as the van doors were not left open and the window from which they broke in (via a coat hanger or some device) wasn't visibly open. The initial feeling was shock and devastation. All the equipment you had worked hard to acquire was gone in an instant, and as of 10.30am that morning we were over."
"The realisation of cancelling the two following gigs in Amsterdam and Brussels soon kicked in, and that we were probably going to be financially stripped even further by those cancellations," he continues. "All our merchandise had been stolen too. We lost equipment that we'd had since 1998."
Mark suggests that, with the reliance on social media, it's no secret if your band has a valuable collection of vintage gear:
"I think the sad reality is that if you get targeted there's little you can do to prevent it. When touring Europe your hotels are pre-booked by the venues, so you head to where you are instructed. You cannot sustain a tour by sleeping in a van in winter, and even if we did we wouldn't stand a chance of getting the better of a gang who are capable of emptying a full tour setup, know how to break into a splitter (they broke through the front window, climbed into the middle section and removed the bed to access the back department), and more than likely are armed. We are lucky not to have been there."
Fortunately a Crowdfunder campaign set up by the band's family shortly after the robbery has already raised a significant portion of their £10,000 target to replace stolen equipment. Venues and promoters, as well as companies like Vox and Korg, have organised benefits and donated resources to raise further funds.
"It's absolutely incredible," says Mark. "That £9,300 alone will be enough to ensure that we are able to continue. The robbery cost us way more than £10,000 when you factor in that all our merchandise was stolen and the loss of gig fees for two shows. However, the main thing is that we are able to get back out on the road and in the studio to work on album four."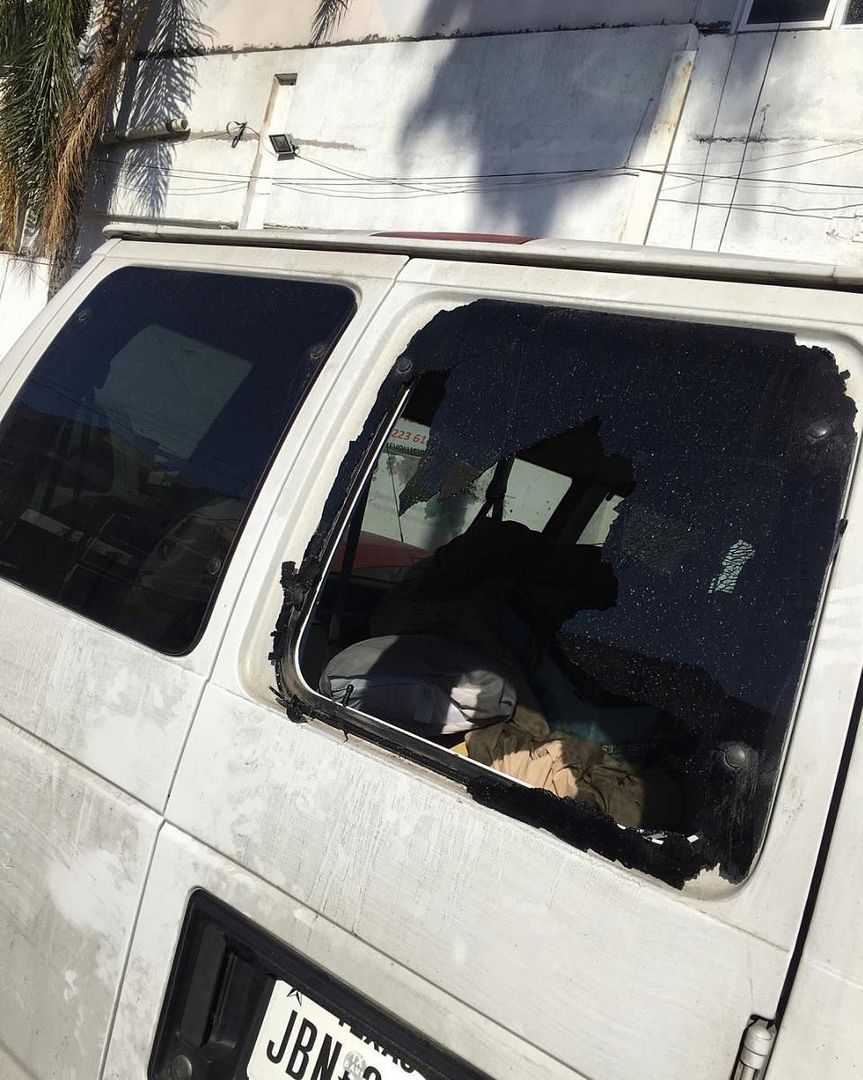 The one positive outcome from these situations is that fans, and the online community generally, are generous and sympathetic. Alex Studer, who runs independent label Stolen Body Records and organises Bristol Psych Fest, booked L.A. WITCH to play Bristol in February on their European tour. After putting them up at his home for the night after the show, the front window of their van was smashed and $4,000 worth of equipment vanished.
"Naturally, as they were crashing at my house and I'd put them on the night before, I just tried to help any way I could," explains Alex. "They were really upset. It was really early in their tour and having gear stolen is obviously a huge issue. They were worried they might not be able to continue. I gave them a spare guitar and some pedals I had but nothing like what they were missing."
Alex also witnessed the massively positive online response to the incident, after the band's bassist Irita started a gofundme campaign:
"It was so overwhelming. Within about an hour or something they'd already reached what they were looking for. It really lifted their spirits. Everyone grouping together, sharing the post and trying to find the gear was great. I was really happy with the Bristol music communities response. We don't want to be tarnished with the idea that Bristol is a bad place. I guess you should try to leave as little equipment in vans as possible but that's easier said than done. For example, there wasn't enough room in my house for both the gear and for them to sleep. Usually, I like to leave the equipment in the venue, but that's a whole list of new problems.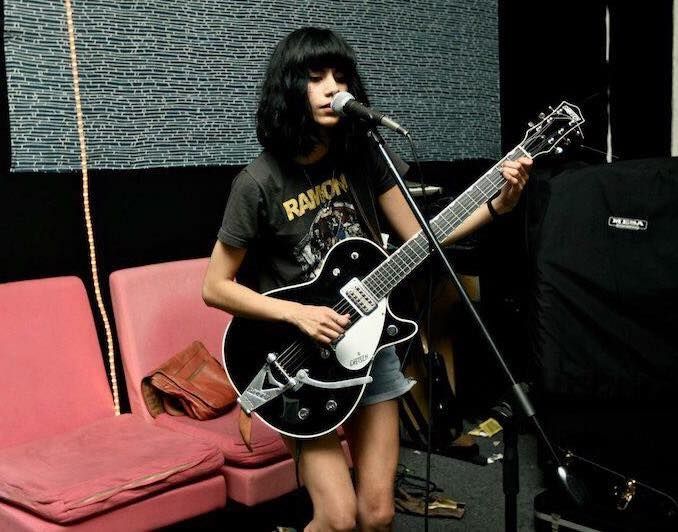 There's an obvious reason why bands having equipment stolen on tour feels like a depressingly frequent occurrence. Imagine if the van that collected money from the bank didn't have an attendant dressed in riot gear, cages, extra reinforcement or a fancy locking system. Couple that with the fact that almost all musical equipment can be passed on legitimately pretty quickly and without much of a trace.
In these three cases, fortunately, the aforementioned incidents weren't enough to put a stop to these three bands. Tigercub were straight out on tour, and have just announced their biggest headline show yet at Dingwalls. The Lucid Dream are close to being able to commit to dates they had booked before going to Europe, and L.A. WITCH were able to successfully finish their European tour.
Robberies like this will continue to happen. We can't simply tell bands not to tour, but when there are no failsafe guarantees, what can be done? Beyond the goodwill of fans, lucky breaks and fighting spirit, support and protection for artists just isn't there.