For many people, Iceland carries with it a sense of magical mystery. This wild, barely populated island which exists at the north of our planet is something people often dream about visiting, but rarely get the chance. It's telling that the national airline is currently running a campaign encouraging fliers to make the country a stop-over destination - a place to experience between flights to another location. The magic of Iceland, meanwhile, has been communicated to us in the form of stunning landscape imagery, otherworldly auroras and astonishing music.
With acts like Sigur Rós, Björk, Kiasmos, Emilíana Torrini, GusGus, Of Monsters and Men, and more music is the island's biggest cultural export - music which has had a significant impact in Europe and America. It's with this in mind that Iceland Airwaves aims to bring the world to Reykjavík. Music, the global communicator, bringing people to this magical island for five days each year.
It's common for festivals to be described as being like nothing else in the schedule, but Iceland Airwaves really deserves that description. Taking place in Reykjavík and taking over the city's concert hall, art museum, gig venues, record stores and coffee shops, it's at once celebratory and intimate. The relatively small size of the city means venues are held close together, allowing crowds to flit from one building to the next, while the eclectic lineup means you can be watching feminist rap one minute, before stumbling into a dive for loud, guttural punk the next. At night, music seems to spill out of every doorway, whilst during the day the wilderness of Iceland beckons - mountains, volcanos, waterfalls and geothermal springs pulled from the pages of a fantasy novel and made real.
Every day of this festival brought a fresh surprise. From lazing in pools, to trekking over streams and rocks in the shadow of a volcano. From going hard at a rap gig, to being moved to tears by world-weary singer. This festival has it all. Iceland has it all. Go there and see for yourself, but trust me - you'll never want to leave.
- Robert Whitfield.
Festival Highlights.
John Grant
As Iceland Airwaves signature event, John Grant with the Icelandic Symphony Orchestra was always going to be a special moment. It didn't disappoint. Everything about the show was near perfection; old and new songs found new energy and fervour, Grant's vocals were marvellous, heartfelt and self deprecating - everything we've come to expect - whilst the venue itself provided a spectacular setting. The only disappointment was that it drew less from Pale Green Ghosts than Grant's other records, but it's understandable given the sound of that record. Despite this we were treated to a thrilling new version of the album's title track and an incredibly moving rendition of 'Glacier' delivering the festival's biggest emotional gut punch. - Robert Whitfield
In 'GMF', John Grant sings "Half the time I think I'm in some movie, I play the underdog of course." He's the underdog you've always been rooting for and tonight's performance at Harpa is the moment that underdog gets everything he's ever worked for. Backed by the Icelandic Symphony Orchestra, each song takes on a certain depth that captivates every emotion; arrangements are fleshed out, with Grant breathing new life into the break-up song. He's personable and cracking jokes - it's almost as if he still doesn't know just how good he is. There's standing ovations and to be honest, anyone who can make profanities sound that beautiful deserves as many standing ovations as they can get. - Sammy Maine
Mitski
Mitski is hardly a secret these days, with more people catching onto her with every show. Tonight [Thursday], she plays a dive bar with sticky floors and fluorescent harsh lighting. It's the perfect metaphor for her set, which, even with a full band backing, has a quiet beauty to it that calls for the entire room to fall silent with every strum. Although beautiful, there's also a sort of sarcasm or wit that fills the lyrical output, giving a personable spin to each story she allows us to hear. A poignant moment comes when it's just her on stage alone, singing a song about her mother with an almost a capella performance; it makes the room stand still, it makes you remember that time your pal in year 6 said they didn't want to sit next to you any more, it makes you remember the warmth of the bath water on your toes after a frosty day. Basically Mitski will make you feel all the things, and you'll thank her for it. - Sammy Maine
Skepta
It's been an incredible year for Skepta, but I wasn't too sure how well he'd be received in Iceland. A few people had pointed out that there was quite a lot of hip-hop on offer this year, but grime's always felt so distinctly British that I worry it wouldn't work as well overseas. I shouldn't have been concerned. From seeing the queue to the art museum stretching round the block, to the uproarious reception to the opening bars of 'That's Not Me', it's clear that the Airwaves crowd had been eagerly anticipating this show. Skepta (along with JME) delivered hits and an energetic live show that few managed to match that weekend. With the show also happening on the Friday night it felt like the entirety of Reykjavík were letting loose in celebration. The tempo rarely let up, save for penultimate track 'Castles' which offered a rare moment of respite. Of course this was all to let the crowd catch their breath in preparation for the show's final song, the unstoppable force of 'Shutdown'. As Skepta himself put it "man's never been in Iceland when it's Shutdown" - by the end of the show there was no doubt about what he'd achieved that night. - Robert Whitfield
Ho99o9
Nasa is a go-to venue for discovering fresh acts in the half-drunk darkness of early morning. Ho99o9 are one such fresh act that will be hard to forget. A two-piece hailing from New Jersey, one member begins the set wearing a wedding dress and wrestling mask before embarking on a set that could possibly be described as hardcore, hip-hop punk. It's all too easy to try and fit acts into a certain group or genre but these guys take aspects from a number of influences, blending them into a far superior output that is a force among all the senses. Their visual aesthetics push their musical agenda into a performance that catches both the eye and the ear, unable to tear your eyes away from the stage and almost subconsciously grabbing your pal so you can jump around together until the end of their set. There's murmurings of a cult following and it's easy to see why - the pair instruct their audience with an intensity that calls for a wake-up; there's no way you could go to a ho99o9 show and simply tap your foot. If they come to your town, don't miss your chance to witness something incredible. - Sammy Maine
Reykjavikurdaetur
You don't expect to travel to an island in the middle of the Atlantic ocean and come across an all female, feminist rap group comprised of 15 members. Coming together through a number of girl-only hip-hop nights, Reykjavikurdaetur are unlike anything I've seen before. They've got a message but they're having fun with it, bouncing across the stage in colour-coordinated outfits and urging the crowd to raise their hands along with them. Playing a mammoth four times across Saturday, I first stumble upon them during their performance at the KEX Hostel, as part of KEXP's showcase. The room is packed full of families, teenagers, twenty-somethings and kids, with barely an inch to spare to get into the room. Young girls push their way to the front, mouthing every word these women are saying; reluctant men nod their heads in unison and older attendees wince at the gyrating dance moves of some members. It's passionate and resonating, fearless and thought-provoking, that of course I make sure to witness them at one of their evening shows later on in the day. Despite it being their last performance of the day, the energy is still at an all-time high and even with the language barrier, their hooks allow me to sing along to certain aspects, proving their tracks to be universal in their appeal. I may have no idea what they're saying at all but I sure as hell want to be a part of their gang. - Sammy Maine
Vök
There seemed to be a lot of hype around this Icelandic trio who were scheduled to play one show every night of the festival (I'd heard rumours their Harpa show on the opening night had severe queues, but that might just have been the nature of the venue). I was lucky enough to catch them twice, first at NASA on the Saturday and then at the Vodafone Hall on Sunday. Whilst, to me at least, their set at Vodafone Hall had better sound, it was their NASA set which impressed me the most. Energetic, with a sound that filled the room, they were a world away from the quietness of other downtempo electronic bands like The XX - who they are frequently compared with - and delivered hypnotic, danceable songs. They held the audience in rapt attention, with an A/V show that offered a sense of intimacy in different ways each night. - Robert Whitfield
The OBGMs
When you're on your fourth beer, you just need a band you can dance to. The OBGMs not only provide that - they're an outfit that start one of the best parties you've ever been to. As soon as they begin their raucous, tambourines and flashing torches are thrown out into the audience, with lead vocalist Densil McFarlane commanding the crowd to sit down, stand up, and everything in between. There's crowd surfing, mosh-pits and the kind of 'I don't care what anyone thinks of my dancing right now' attitude that takes you back to the shows you went to when you were 16. You're sweating and singing along to a song you didn't even know existed until 30 seconds ago. My ears are still ringing days later. - Sammy Maine
Bo Ningen
Bo Ningen played two shows across the festival (one being off venue at KEX hostel) but I caught them at Gaukurinn, a small - sub-500 capacity - downtown dive. In all honesty it was probably the perfect venue for Bo Ningen's exhilarating acid-punk. The audience were tightly packed into the venue, with the stage only a foot above the dance floor. The band played a ferocious set - as though it was to be their last - faces contorted as they pounded away on drums, bass and guitar. Out of the dense crowd of people a mosh-pit formed. Beer was spilled, arms were flung aloft, bodies jumped in unison, slamming into one another as they stumbled around to the music. The band's final track, which seemed to go on for about 10 - 15 minutes offered an intense, exhausting closer to the band's set and reminded the audience that Bo Ningen are more than just noise. - Robert Whitfield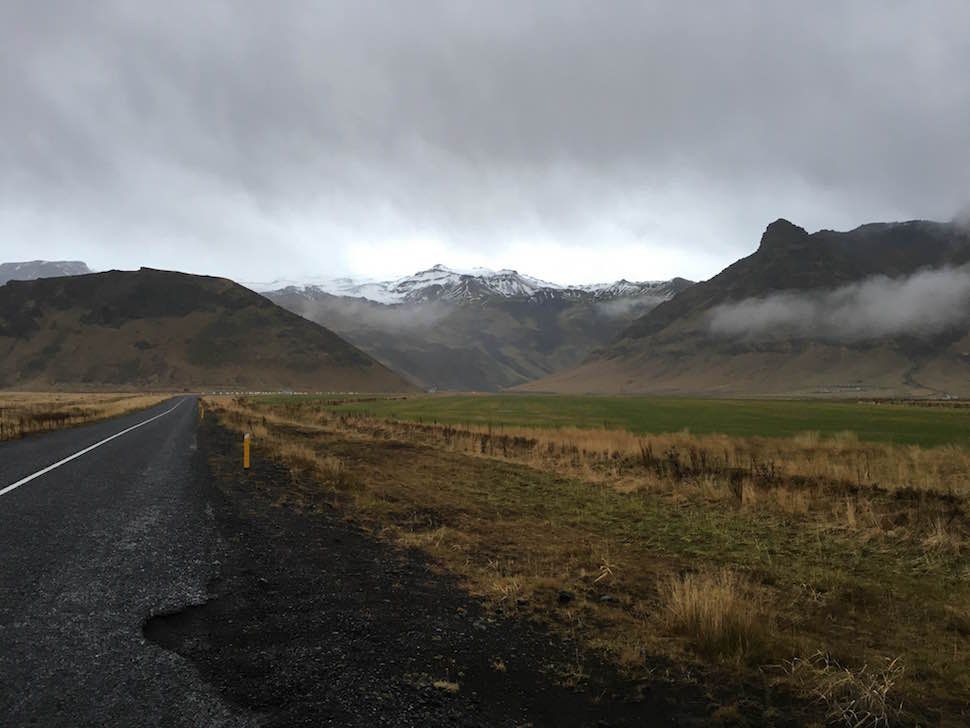 Mikael Lind and Gunnar Jónsson Collider
I didn't manage to see as many off-venue shows as I would have liked, but these two artists really left impression. I saw Mikael Lind simply because I was in the right place at the right time. It was 2pm on Thursday and Kate and I were getting coffee from Kaffi Slippur. We were originally going to get it to takeaway but the barista, name, mentioned there was about to be some music starting up. We decided, in the spirit of the festival to change our plans and stick around, finding a spot near the middle of the room near an open fire. Lind complimented our coffee with a stunning set of atmospheric ambient soundscapes, digital distortion mixing with the soft crackle of the fire. It was the first proper set of the festival for both of us and it certainly set a high bar.
On the festival's final day I decided to spend more time at off-venue shows and so set out early to the KEX hostel. The bar / coffee shop of the hostel had played host to some of the best acts of the festival with Reykjavíkurdætur, Vök and Bo Ningen all appearing there during the weekend. Blending electronic pop and ambient styles, Gunnar Jónsson Collider played a lunch-time set of slow burning, layered compositions. With beats triggered from a laptop and waves of noise played and looped from a guitar, the songs shimmered and pulsated - a deep rumble of bass providing an ominous undertone. I'll admit though that I felt some sympathy for the poor hostel guests that were struggling with a hangover that day. - Robert Whitfield
Börn
Describing themselves as hard femme death punk, I catch Börn during a performance at Lucky Records, around 4pm, when there's still a glimpse of daylight left. It's probably not the best setting for their execution, as they work through a set of darkened, monotonic tracks. It's not moody or boring... it's intriguing, as lead vocalist Alexandra performs each word with an intensity that's hard to shake. It's a darker riot grrrl effort, unafraid to showcase their hardcore influences and ready to fight anyone who doesn't like it. - Sammy Maine
Hot Chip
Sundays at Iceland Airwaves are a lot quieter than the rest of the weekend, with few official venues operating and the evening's main acts performing at Vodafone Hall on the edge of town due to Harpa resuming it's regular function. This does impact the overall atmosphere of the festival as it's harder to move between stages and as a result the choice of acts to watch is limited by what you want to see most. Making the commitment to watch Hot Chip at Vodafone Hall made the experience feel far more like a regular festival, having the pick of just two stages and unfortunately battling through some acts that really weren't all that appealing.
That said, Hot Chip erased all such negativity by delivering an exceptional show. I'll admit that I've not really paid close attention to Hot Chip since The Warning, but their set focused on hits from across their entire back catalogue, updating the older tunes into pulse-quickening, dance floor fillers. The crowd didn't stop dancing from start to finish, hands in the air and voices singing back throughout. By the time the band's cover of Bruce Springsteen's 'Dancing In The Dark' rolled around it felt like a real celebration and as guitarist Al Doyle sang a few lines from 'All My Friends' in the show's closing moments I felt genuinely sad that the festival was coming to an end. - Robert Whitfield
Reykjavík Highlights.
Vesturbæjarlaug
When you go to Iceland, most people will tell you to head to the Blue Lagoon but there's actually way cheaper and less touristy pools right in the centre of town that provide some pretty incredible spots for relaxation. Vesturbæjarlaug is a local, hot spring heated pool that will set you back by about £4.50, with various jacuzzi's and saunas to wile away the morning. In Iceland, they're really strict when it comes to changing room cleanliness, so be prepared to get butt naked in front of a bunch of strangers when you shower before entering the pool. On the first morning, I was nervously clutching at my towel but you'll soon come to realise that absolutely no one cares about your go-nads and you'll be waltzing around like a local in no time. Rumour has it that Bjork often takes her family to this very pool and with a kid-friendly shallow pool as well as adult-only areas, it's clear to see why. You'll find yourself chatting with all the friendly locals whilst your toes and fingers wrinkle-up nicely and your head becomes numb from the freezing cold rain. Plus, there's a super-cosy coffee shop right across the street where you can grab open sandwiches, flat whites and cakes after your morning soak. The perfect way to start a festival day. - Sammy Maine
Lucky Records
Acting as one of the off-venue choices over the weekend, Lucky Records is a haven for any vinyl fanatic. Packing some of the rarest editions of your favourite bands, it's certainly pricey so - if you're a writer of any sort - expect to leave empty-headed, sobbing as you press your nose against the window. Jokes aside, it's a great place to just explore; the staff are friendly as heck and there's plenty of local releases placed at the forefront of the displays. From cassettes to records to t-shirts to zines, there's a gem or two to be dug up in there. - Sammy Maine
Reykjavík Records
I spotted Reykjavík Records almost by chance. It was Thursday morning and I was wandering around the small city in an attempt to get a feel or it and pass the time before the off venue shows started in the afternoon. The owner was outside smoking as I walked by and was happy for me to browse the tiny space while he took a break. Of Reykjavík's record shops, this is its smallest, but what it lack in size it makes up for with an impressive, and somewhat curated, collection of records. While I was in there the shop's record player was spinning some hushed shoegaze which piqued my interest. I asked the owner about the record which turned out to be an independently produced project from Icelandic act A + E Sounds. A few months before my visit they'd visited and asked the owner of the shop if he could stock a few copies. The owner had taken it, listened to the record and fallen head over heels in love with it. I did as well and brought a copy home with me. - Sammy Maine
Kaffi Vinyl
Just like every city, there's a bunch of cafes to choose from. My favourite was Kaffi Vinyl, which was minimal in its decor but still packed loads of personality. There were a few comfy armchairs, and plants hanging in the windows and the coffee was some of the best I've ever tasted. The record player boasts some pretty great records, which customers are encouraged to choose from once one has finished. It's also across the road from some pretty decent street art, so there's something to stare at whilst trying to relieve your horrendous hangover. - Sammy Maine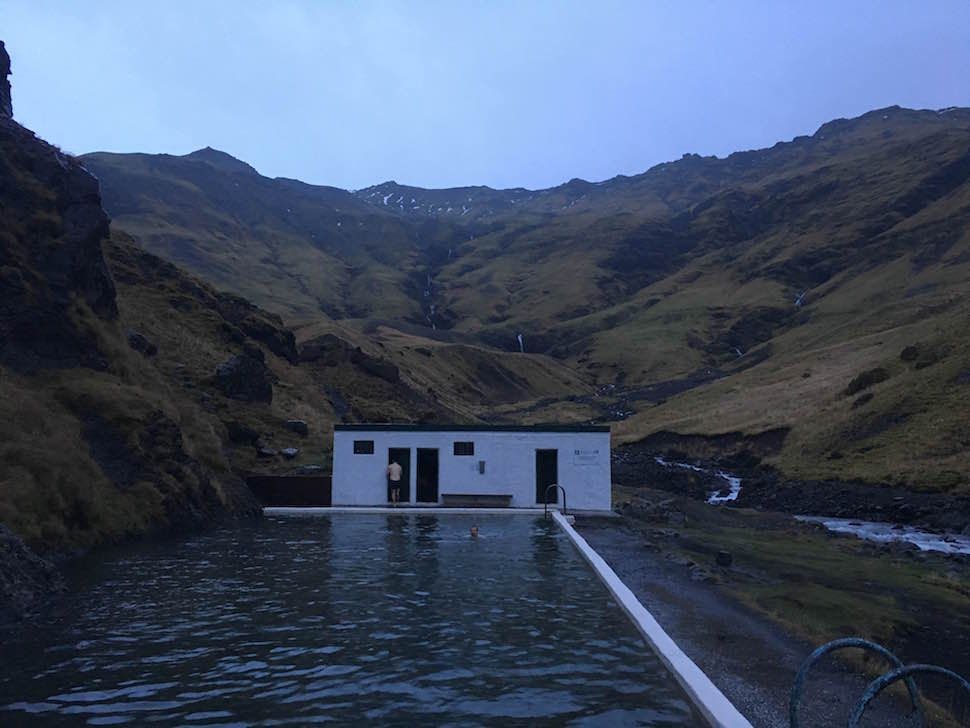 Reykjavik Chips
There's nothing more infuriating than a bad batch of fries when all you need is some serious saturated fat to get you through the afternoon. Reykjavik Chips is the way all chip shops need to be. Expect to pay a pretty penny or two but with this kind of deliciousness, it's so, so worth it. What makes them different is the choice of sauces that come with every order - there's vegan satay, pickle and even a garlic mayo offering they'd lovingly called the 'Buffy' sauce (and of course loads more). It's packed out every afternoon, so you'll be waiting a little while for your treat, but it's a must-do pit-stop when moseying around the city. - Sammy Maine
Hallgrímskirkja Church
You can see Hallgrímskirkja (often referred to locally as 'the big church') from pretty much any point in Reykjavík and as such it often acted as a point of navigation when wandering around the city. Inspired by the forms created by cooling lava flows and constructed from concrete it cuts a striking image both from a distance and up-close. Inside is even more impressive with an un-assuming, almost modernist design and a huge, 15m tall pipe organ. Even if churches and architecture aren't normally your thing, Hallgrímskirkja is well worth a visit if only for a trip to the top of the tower. With a total height of 73 meters the spire offers a 360-degree view of the city and surrounding mountains. - Robert Whitfield
The Flea Market
If you've got a few hours to kill, I'd definitely recommend the local flea market that's located right near Harpa. Open all weekend, it's full of stuff you didn't even know you wanted. Old ladies gather together to continue knitting their wares, teenage workers showcase a range of counterfeit metal t-shirts (that are incredible by the way) and the bric-a-brac holds some serious treasures. It's pretty massive, so you'll easily spend a few afternoon hours browsing the salt liquorice offerings. - Sammy Maine
Life Highlights.
Seljalandsfoss Waterfall
Iceland Airwaves might be a city festival, but that's no excuse to just spend all your time in Reykjavík. With the official schedule starting around 7pm most days (though off-venue acts start around midday) there's plenty of time to hire a car and get out into the wilderness. Driving south-east out of Reykjavík and down route one (a road which runs around the entirety of the island) is the easiest way to get a taste of the sights the country has to offer. It'll take you past open countryside, spectacular mountain ranges and even the infamous Eyjafjallajökull.
Just before that you'll come across Seljalandsfoss, a waterfall with a 60m drop. Admittedly it's one of Iceland's most famous natural spots, but when you see it you understand why. A dirt path takes you up to the side of the waterfall and then around behind it. Spray from the falling water will soak you to the skin and in early November the wind will also be assaulting way as you clamber round, but let's face it, eventually you're stood behind a waterfall looking out over green fields thinking "this is pretty fucking cool". - Robert Whitfield
Selijavallalaug
If you get the chance to hire a car and get out of the city, do it. Do it, do it, do it. Even just driving along the roads, the scenery that surrounds you is worth it. It's some serious Lord of the Rings business, with mountains that go on for miles and a volcano or two in the background. Selijavallalaug is a protected outdoor pool in South Iceland that was built in 1923, making it one of the oldest too. Parking up in an area straight out of an American teenage horror movie, you have to walk for about 10 or 15 minutes across streams and rocks to get to it. Surrounded by the kind of countryside that only ever exists in books, there's a 25-metre, hot spring pool just waiting for you to jump in. I'll be honest, it's not boiling, it's more like a lukewarm bath with a slimy floor but you really won't care once you're floating around in what seems to be a fairytale setting. Plus, there's a local dog that follows you around up there; honestly, what more could you want in your life? - Sammy Maine
Secret Lagoon
Sitting on the edge of a small village in Iceland's Golden Circle is the Secret Lagoon. Whilst the facilities have been upgraded over the years the pool itself is still naturally heated to around 40 degrees - though a few spots in the pool are substantially hotter as I unfortunately discovered. Despite the name it's a relatively popular pool - it seemed to be filled more with locals than tourists - and floats are provided for guests to save them having to tread water, instead allowing them to relax and drift leisurely around. We ended up spending several hours in the pool, afraid of leaving its warmth and stepping out into the cold wind of November. Whilst there we sipped beer and watched a nearby geyser erupt. Whilst not as surreal as the pool at Seljavallalaug, it was still an incredible experience and one that really can't be communicated in mere words. - Robert Whitfield