Let's Eat Grandma are bizarre and inventive
I made a call to see Let's Eat Grandma's off-venue Kex show at 1pm, on the strong possibility I may be asleep for their 1:30am main show later this eve; and also it was oddly a very apt set to soundtrack a hangover. 17-year-old Rosa Walton and Jenny Hollingworth have a slightly peculiar stage presence and perhaps awkward - while at the same time wearing it comfortably.
Much has been made of how young the Norwich-based act are; we had a chat at 405 towers (basically in our pants in our downtown Hotel apartment) around the issue of positive discrimination and age - should the phrase 'incredible music, especially for their age' even be a thing? For me it's a moot point as LEG create some incredible music full-stop.
Quite bizarre music but in a hugely inventive and wildly alluring way; psychedelic soundscapes and a bold move to the experimental leads to a set full of surprises and intrigue - they have something of the Joanna Newsom about them. Joanna Newsom and dead cats. Their debut I Gemini is out now, you know. -Tim J Boddy
Rapture on a Saturday Night
Saturday feels like the last night of the festival, even though it isn't, it's when you start thinking that you need to make the most of your time here. Maybe it was the Christmas beer but I was entirely nostalgic for the experience as I lived it. Airwaves becomes such a sprawling beautiful mess of a festival on Friday and Saturday nights. It's easy to miss an act you want to see because you stop to watch some interesting electronica being played by some kid in the corner of a gift shop. This is why you shouldn't believe any definitive statement written about this festival.
Wherever you are, no matter how good your own experience is, you are missing something.
There is so much going on here. It's entirely possible that all 9,000 attendee's had a completely unique experience. I imagine there is a giant warehouse somewhere in the outskirts of Reykjavik, full of PA systems, that get distributed to every clothes store and hotel lobby, to shipping containers on street corners and the back of gift shops, to basements of coffee shops and onto the floors of exhibition spaces in this incredible city. For one week of the year, it lays empty and they get to sweep the floors, but for the rest of the year it is full to the rafters, filled with the promise of sound.
It feels like a missed opportunity in some respects, that I came to Iceland and spent time watching acts from the UK, but that's exactly what I did. I saw Anna Meredith in the wilds of Suffolk a few weeks ago and the performance fell flat, but here, encouraged on by the enthusiasm of the audience, it was like a completely different band. Her songs were meant to be heard like this, as whirlwinds of sounds clashing, conflicting, synchronising, surrounded by people losing their shit. Outside the venue the lake lays still, reflecting a crescent moon, silhouettes of birds bob on the surface. I take in the scene through the window and feel very lucky to be alive and in the presence of such empowering music.
I can only hope that these Icelandic rappers that I can't understand, speak to their fans in the way that Kate Tempest speaks to me. She weaves her songs with pieces of poetry, linking the stories and transforming her set into one long performance piece. I wasn't expecting to be so utterly and devastatingly floored. Something has stopped me listening to her up to now, and in a way I'm glad because it allowed me this. Floating out of my body and watching it screaming, jumping up and down, experiencing some sort of rapture. See her, if you get the chance, don't hesitate. - Wil Cook
Dream Wife
Dream Wife played roughly 112 times during Iceland Airwaves festival, and today was the day I caught one of their many off-venue shows - again at Kex. Now I'm a fan of Kex, but not so much a fan of getting a heart attack after working out I paid £7.61 for a beer (not even a full pint). Thanks a lot, Brexit economics.
The three-piece act are kind of perfect for Airwaves, in that they're both UK (Brighton more accurately) and Iceland-based - while also knowing how to bring the party. They're poppy, they're grungey, they're riot grrrl, they're staunchly feminist. They reference Spice Girls and Sleater-Kinney in their work - even covering Spice Girls in this set which was a total hoot. And they're someone you should very much go and see. -Tim J Boddy
Bread Bowl: The saga continues
The highlight of today was without doubt a certain soup bread bowl eatery, but I'm sure you've heard all about by now from Oliver. -Tim J Boddy
Bread Bowl: The saga ends
They haven't yet, Tim, but I'm sure this will clear it up. - Oliver Primus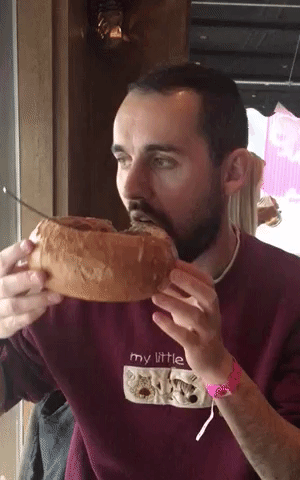 Björk is everything
Björk spent an hour proving that magic existed before she allowed us to take a breather. Not to stretch our legs, or to grab another drink, but to take stock.
I needed it. We all needed it.
Then she spent another hour doing it all over again.
It's taken over two hours to write those three sentences down because the entire thing was so overwhelming. I could tell you that she opened with 'Stonemilker'; or that 'Black Lake' was so tense that I felt like shouting "please bring it back in; bring it the fuck back in"; or that during 'Jóga' I was reduced to a small puddle of tears. I could even tell you about how close I was to punching a hole in my leg during 'Notget', but it probably wouldn't paint an honest picture of what I experienced.
So I'll try a different angle - the 'I'm a relatively new dad, and I spent the intermission looking at snapchats of my kid' angle.
My son is only 14 months old, so I'm not entirely sure he cares that I'm in another country, and I suspect the best I'll get out of him on Monday when I see him is a small smile before he transitions back into whatever the hell he's doing right now, but the idea that he's missing me is enough to break me. That's what I've been battling these past five days.
Björk allowed me to completely let go of everything. Not by giving me a sense of clarity, but by pummelling me into oblivion. It was beautiful, and everything I was looking for. - Oliver Primus