Drenched in pomp and a heady Southern American rodomontade, Aussie pop-rap ingenue Iggy Azalea has besieged Top 40s worldwide with a slew of chichi, highfalutin hits. The complete package of katana-sharp wit, Cinderella story hard graft and silver-tongued zigzaggery is genuinely great; it's not just lip service from the flowsmith, Azalea - real name Amethyst Kelly - has done her time at the bottom. She may slur like a sozzled Texan about Louboutins these days, but c'mon, she deserves it after the helluva ride she's endured.
Spinning rhymes like cotton candy since age 14, the New South Wales native famously embarked upon the classic American Dream age 16 (after telling her mother she was going on holiday), moving to Miami in pursuit of a career in hip-hop. Like Childish Gambino, she yoinked her sobriquet using a 'hip-hop name' (though rather than a Wu-Tang generator, Azalea used her first pet and childhood street), and after a stint in Houston, she finally set up camp in Georgia under her new banner. Using freestyle skills and inherent proficiency for language, she found an in with legendary collective the Dungeon Family (Outkast, Jánelle Monae), and proceeded to - albeit briefly - congeal with Interscope. Sounds like a fairy tale ending, right? Unfortunately, not quite yet.
Fastforward through myriad label troubles, feuds with Azealia Banks (seemingly a rite of passage nowadays), a cover with XXL (the first female rapper to do so), and a turbulent romance with paramour A$AP Rocky, and she's ready to pull the ripcord on The New Classic, her debut LP proper that's been a long time in gestation.
Her mixtapes and EPs - Ignorant Art, Trap Gold, and Glory - demonstrate a different side to Azalea, one that's somewhat obscured by her more polished current output. In the early days, she sampled acts like Sleigh Bells and dabbled in hardcore violence and graphic sex, stirring up controversy, hate and respect simultaneously. Her style in 2014 is still dominated by her lackadaisical Southern drawl, but rather than the bombastic grit of Southern hip-hop, she works trap and EDM into the mixture. It's still laser-guided and bursting at the seams with confidence; now there's also a stonking core pumping candy-striped pop into every beat. But make no mistake, Azalea can still sting.
Not to paint all rappers with one brush, but there's a certain lifestyle than many adhere and subscribe to. Lavish, Bacchanalian and ludicrously superficial: for some, it can just be about magnums of Cristal or huffing down Cubans or rubbing shoulders with rap royalty. Azalea, though she's got her fair sure of brand-dropping and hip-hop hedonism in her music - which, at this point, seems to be less of an entitled brag/status symbol thing, and more an indulgent reward for almost eight years of painstaking work - is remarkably down to Earth.
So when we speak to her while she's being driven around LA, there's this impression that she'd probably rather be behind the wheel herself rather than having chauffeurs standing to attention. She's chilled out, but still warm and grounded. It's hard to imagine her making demands like Rick Ross. Not many stars would ever admit to having a hiatus from partying, for example.
"To be honest, I think I celebrated plenty when it came out in the US! Unfortunately the UK was six weeks behind, so I was all partied out by the time it came around," Azalea says about the release of 'Fancy', her new single featuring one of pop's most lucrative talents, Charli XCX. "I didn't work in the studio with Charli unfortunately, all the parts were done via email because she was in London. It's been great doing performances with her though, she's just great. She's very punk rock, but when we get together doing some dance moves, she's definitely the girly one on stage."
'Fancy' is a superb ditty, but one of its biggest allures is the accompanying video. Essentially an abridged reworking of the seminal 1995 teen comedy Clueless, with Azalea playing Alicia Silverstone's character, it's, put shortly, awesome. "I wanted to do something fun and girly, because it can be pretty aggressive in the production. I think the track's got this big West Coast vibe, and to me Clueless is a stereotypical West Coast/valley girl reference, and I thought it would be cool to mesh the two together, to get the matching visuals."
While the single is great, it's not necessarily representative of The New Classic as a whole ("I just wanted to make a carefree summer anthem, y'know?"), which deals in weightier themes. On her first full-length, we see Azalea chronicle her initial struggles in the early days of her career. Primarily, it's a record about strength and independence, about putting in the sweat, toiling for your dreams and being the best you can be. It's empowering. Empowering for anyone with ambition, anyone struggling to make something of themselves and anyone who needs to find strength from within. It might sound corny, but this record is massively uplifting and supportive in ways that rap tends not to be.
"To me, the songs, the overall vibe, when I was writing, were about the rollercoaster I've had over the past few years." Azalea says, candidly. "It's been a very public rollercoaster, and though there's been a lot of celebrations in that time, there's a lot of pitfalls I've had to watch out for too. But I think that it gives you a certain strength, and when it happens you have to decide whether you'll persevere or just give up. When I decided to persevere I wanted to make sure I could help other people going through hard times. I wanted to make the soundtrack for anyone else in the situation."
Even in its slower moments, like 'Don't Need Y'all', The New Classic packs a punch. "For a while now I've had people coming up to me, fans and stuff, saying to me things like "Your success inspires me!" I felt like I wish I could tell everybody about not just the ups, but the downs as well. You always hear people say just tough it out, stick it out, but until you do this all for yourself, you don't know how to endure it. I wanted to write about the difficulties that you face in this industry. Not at all to deter anyone, but to motivate and prepare them for their dreams, and it's not always easy." It's when Azalea talks about motives like these, about her desire to help and the obstacles she's faced, it's easy to see she's a different breed of rapper. "Like, 'Don't Need Y'all', one of the first songs I worked on after 'Work' came out, is about seeing the tide change towards me. It's about how I was suddenly being treated positively and articles and stuff drastically changed. All these magazine were suddenly like "She's our Iggy!", but I saw that and I was like, "What the hell? I was never 'your Iggy' before!" I did not forget about these things! I did not forget about when you guys were treating me like shit! I've got here by myself. I don't need you guys."
Azalea's pointedly come a long way since the early days of having "No money, no family" and being "16 in the middle of Miami." So, with a spray of Top 10 hits, major label record deals and her debut record on the way, does she feel like she's reached what she set out to do? Has she made it? "No. No, not really. I don't know if I'll ever feel like that, y'know? It's one thing to be famous and have people know your name, but I think you've only properly made it when you've got security in whatever it is you're doing." However, there was always a belief in her own ability. Not an arrogance, but a self-assured streak. "I've always felt I could do this, and I knew I had it in me, but I didn't know if people would be ready to hear someone like me have a voice in rap. Maybe I was coming to the party too soon, like maybe I was premature to the game y'know? I wasn't sure in that respect, but I was definitely sure of my own ability. It's surprising to me now that people have accepted that, that they've accepted me."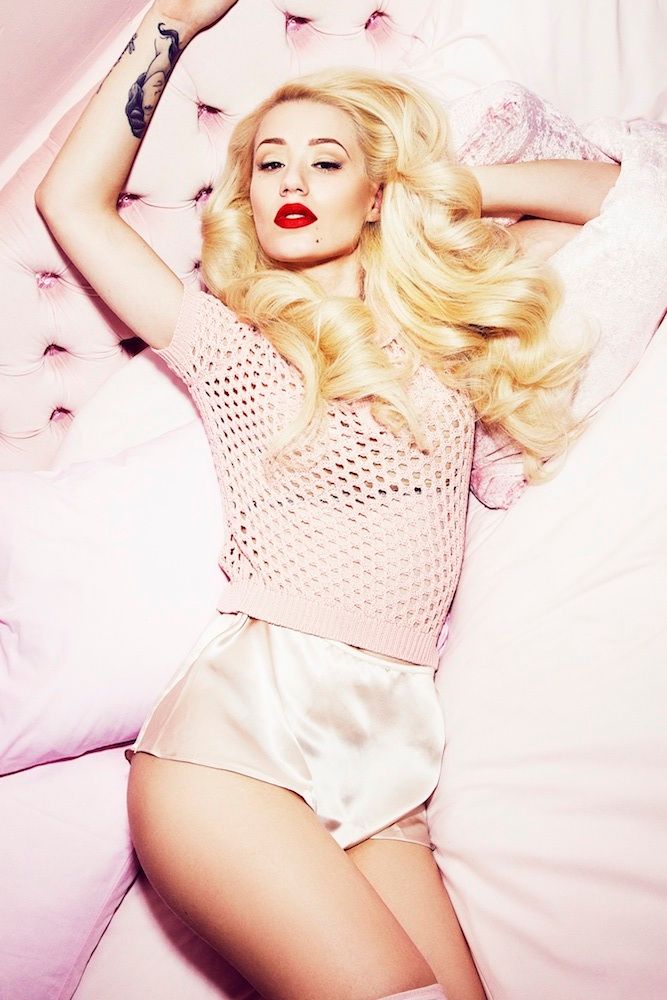 Azalea's not keen to change the past, and though it was an ordeal to undertake, it's helped shape her as a person and an artist. "I wouldn't change anything. I wish I'd been more diligent I guess, and done some things a few years earlier, but at the same time I'm glad I got to wander around, try lots of different things and not become too business-minded until later on, 'cause it gave me experiences I wouldn't have had otherwise. I don't know what would have happened if I'd just jumped straight into the studio. I'm happy how everything's turned out the way it has."
Now, in tracks like 'Work' and 'Change Your Life', Azalea's spiel is peppered with references to extravagant lifestyle choices. Looking at her now, it's easy to see just how far she's come. Judging by her candour when talking about her insecurities and humble beginnings, she's not an entrenched materialist. It's more like a little fish/big pond sense of awe. She's not averse to treating herself, though. Even if sometimes buyer's remorse kicks in. "Hands down the most ridiculous thing I ever did was buy a Balmain jacket [presumably this one]. It was ten grand. I've never even really worn it, and it's just sitting in my wardrobe. I'm just like 'why the fuck did I buy that?!' It's green too. Like, who the fuck buys a green leather jacket?! It's so stupid. I dunno why I did it, it was so dumb."
On the back of The New Classic, Azalea's got one heck of a busy 2014. "I go on tour in two weeks in the USA, 17 dates which'll take about a month. After that, I'll be doing radio jams and festivals in America and in July. I'll probably put out some videos and some new visuals for some tracks from the album." And will we see her this side of the Atlantic? "I'll be at Wireless! I will have a show at some point, but it's not booked yet. It'll be around the same time though! There's nothing confirmed yet, 'cause I'm still picking and choosing festivals and I'm like what do I even wanna do? What don't I wanna do? I'll have to book all those first and then slot dates in here and there. Maybe two nights in London, maybe something in Paris?"
Being in high demand after the parade of chart-storming tunes means that she'll be in and out of the studio too: "I'm working with loads of people, but can't really say who yet though I'm afraid. I can say that you'll probably hear a lot more of me in a few months, doing collaborations and guest verses and stuff."
How about after the summer? Are there any Winter plans for Azalea? Nothing concrete, that's for sure. "I think I'll take a reeeeeaaaaaally long vacation..."
Iggy Azalea's debut album, The New Classic, is out on April 21st.