Mixtapes and the attendant culture have long been a part of hip-hop. In the hyper accelerated world of 2013 they are perhaps more important than they ever have been. There remains no better platform for new artists to get themselves noticed than placing a mixtape of all their choicest cuts online and waiting for the adulation to roll in. It's an approach that served A$AP Rocky very well with a major label deal with Sony Music following his extremely well received mixtape Live Love A$AP. Rocky's debut album proper which was released earlier this month may have been disappointingly patchy in comparison to his striking online debut but nonetheless the online mixtape had served its purpose well, it successfully positioned a genuinely new breakthrough hip-hop star.
As January concludes and we head into February, we have already enjoyed a number of excellent mixtapes. Perhaps the single best piece of music to emerge in January though was a new track from a forthcoming mixtape by Julian Malone. Malone is a rapper and producer who can do it all. Hailing from Chicago, Malone made his name in 2012 as a member of idiosyncratic Chicago collectives Brkf$t Club and 2008ighties. Brkf$t Club's 2012 debut single 'The Following' is a brilliantly inventive piece which samples Brooklyn indie band Grizzly Bear, an indication that Malone is a producer and rapper who is entirely unconcerned with prevailing hip-hop trends.
Now signed to esteemed label Stones Throw, Malone is subtly crafting some of the classiest and most satisfying hip-hop around, rich in texture and musical dexterity. '7 Milli' was the first track unveiled ahead of his forthcoming diff.rnt mixtape and if that track's beguiling smokey soul was not enough he has arguably bettered it with 'Give An Eff'. The beat here is slowed down to a submerged somnambulant lurch while Malone's rhymes and flow provide the striking contrast. This is the sound of someone at the very peak of his powers. Expect to hear a lot more from Julian Malone in the very near future.
New York rapper Le1F has already established himself as someone taking hip-hop to a very different and intriguing place. Leaving behind any notion of a classic sound Le1F is more content venturing into more electronic and abstract pastures. Some of the beats on his latest mixtape Fly Zone are mind-bendingly brilliant. You can't quite place the sound but at times, it is breathlessly exciting. On the jittery airbending produced by LOLGurlz, Le1F positions himself as something akin to rap's mad scientists as he raps: "I'm an alchemist playing with these elements" before chastising his audience who are more concerned with his sexuality, "I am whatever you say I am, stop worrying how gay I am, or how gay I'm not." The rest of the tracks veer wildly from trap rave club bangers to slightly unsettling, slow-burning warped lullabies, as on Pocahontas featuring Kitty Pryde where Le1F's vocals are ever so slightly creepy and brilliantly sleazy. Fly Zone helps to confirm Le1F's as one of contemporary hip-hop's most compelling and unique voices.
Elsewhere, there have been notable mixtapes from Gunplay, Rockie Fresh and Raekwon that are all very much worth exploration. On a home-grown tip Tape One by Edinburgh trio Young Fathers is a significant progression. Finally, given a full release on Anticon it is 8 tracks of deep and dark dystopian hip-hop, the party vibe of their earliest material has given way to paranoia and brimming tension. Check out the albums highlight 'Rumbling', queasy to the point of collapse it is a subtly menacing evocation of the doleful mundanity of a Britain trapped in the grip of recession and the tensions that it provokes. It's great to hear one of the UK's best hip-hop talents finally reaching a wider audience.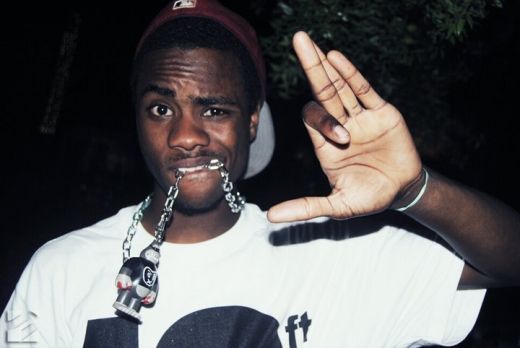 Finally for this month a couple of sweet and soulful jams. Sacramento rapper Chuuwee is very raw and rough around the edges but 'World Is Mine', produced by Beat 4 Clothes, is a real joy. Piano, strings and lovely soulful horns combine to make a wonderfully uplifting track.
Equally as soulful is 'N The Traffic' a collaboration by Droop-E, J Stalin and, most surprisingly, electro pop artist Nite Jewel. It is an utterly gorgeous slow jam, dreamy, reflective and quite lovely.