When it comes to Illustrator and Graphic Designer - Dan Mumford, i guess you could say that I (Aaron) have become rather fanatical about his work. Having previously interviewed Dan for The405 (which you can read
here)
I simply could not turn down an opportunity to see the man himself at work during a live printing session which myself, Oliver and newest 405 commodity; Andrew Devine attended at the Nike 1948 store in Shoreditch, East London today.
Here's a quick review on how the day went down!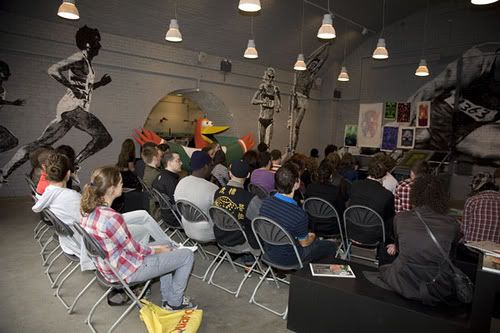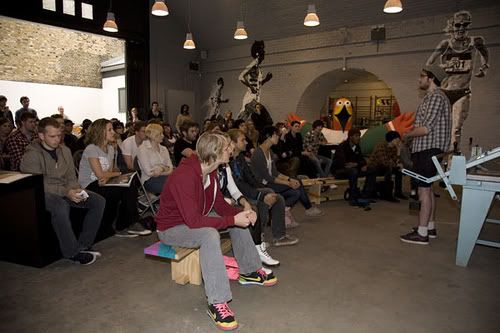 After checking in, the respectfully quiet and composed crowd that had gathered outside (with me of course being the opposite; kicking and screaming like a school girl with excitement) ushered itself into the small open planned area of the Nike 1948 store; it was if we had all reached the final destination on a holy pilgrimage. We had made it to Mecca! We were quickly seated amongst murals of sprinters, hurdlers and various other athletic charachters - towering above us like cave drawn gods. From the corner emerged a rather nervous figure. Really, he was just as nervous as any of us where, in awe of an influence, a hero. Motioning to the examples of his incredibly detailed illustrations hanging from the wall, we listened intently as Dan began to explain just how he got started in becoming a freelance illustrator, which you can find out more on by reading our interview.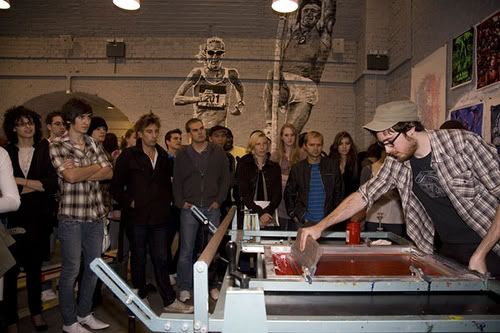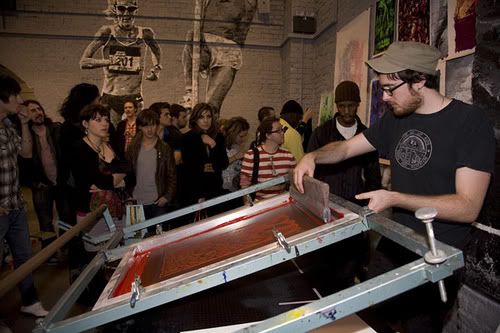 We then had the pleasure of watching Dan perform a live print (
as seen below
). The theme for the exhibition; which is going on until the 30th of September, is based around various aspects of sports. As Dan confessed, wrestling wasn't
really
a sport and so his first idea for the show which was to include child hood heroes such as
Hulk Hogan
and
The Ultimate Warrior
would have to take a back seat for a tribute to a real sporting hero; one of the squared circle - Muhammad Ali. The print incorporates one of Dan's favorite sayings from the boxing legend - "I figured that if i said it enough i would convince the world i really was the greatest". The quote is also accompanied by both the images of a butterfly and bee in traditional Mumford style. Although Dan was undoubtedly pressed for time during the day, it was awesome to see just what goes into making something such as a screen print. With Dan's illustrations predominantly being made digitally, it was also a nice change of pace to see a more hands on approach to his work, of which i now own a piece! Nice one Dan!
Also, a big shout out goes to all the organizers of YCN who made the day possible! - Aaron [caption id="" align="alignnone" width="417" caption="Oli became rather facinated by this! "]
[/caption] You can check out more of Dan Mumfords art work by visiting his Official Website
here
and MySpace
here
Leave us a comment below! Then check us out at our
Myspace/
Facebook/
Our Forums!
Click here to subscribe to us!