Ripley Johnson is one hell of a busy guy. He's been consistently releasing at least one new record a year since 2007, and touring back to back with his two projects Wooden Shjips and Moon Duo.
I only just met him a couple of months ago while Moon Duo were touring their latest album, and now I had the pleasure of chatting with him again, this time discussing Wooden Shjips's new record Back to Land, which is released on Thrill Jockey this Monday (11th November).
Your new album Back to Land is out next week. Can you talk about the production?
It was written last winter and then last May we recorded it at Jackpot Recording Studios in Portland which is now our new home. I mean mine and our drummer Omar's new home. That was actually the longest time we spent in the studio, 11 days, so for us that was a sort of luxurious experience.
To me it sounds brighter and more spacious. Do you agree with that?
Yeah, I agree with that. It's funny that everyone seems to have a different take on it. For instance the other day I was talking to this journalist and he was saying that to him the new record is sort of dark and heavy, but like you I actually find it more spacious. It's interesting to see how everyone has a different perspective, but to me it's more laid-back and more organic. It sounds more classic rock. That's the way I think about it.
I can hear the acoustic guitar quite a lot in the foreground. Did you use any new or unusual instruments in the recording?
Not really. We recorded everything to a 24-track 2-inch tape and then we mixed everything to tape. So it was a completely analogue process - pretty standard stuff for us.
The main theme of your last album West was the American West. Is there a main theme for this record as well?
Yeah, the theme for me is having just moved, bought a house and having a home for the first time in two years; having everything I own into just one place. And I think this feeling of being grounded is coming up in most songs. And also the feeling of being able to listen to my own records that I hadn't in a long time. Earlier I mentioned this album being more classic rock, which is something we kinda avoided a little bit in the past though we were really all influenced by that as we were listening to our parent's records and therefore classic rock was our first love. But I think that influence is more present on our new album than the others.
Is that also what the album's title means to you?
Yeah, it sort of has multiple meanings. "Back to land" means "back to earth", hence an earthier record, but it also means "back home". So I think both of these things reflect in the title.
This is your second record on Thrill Jockey. It was their 20th anniversary last year and you played at one of the celebration shows. Do you think there is a sort of sense of comradeship among the artists on the label?
I am not really sure as it's a Chicago label so that will probably be more for Chicago-based artists, but we are certainly very fond of Bettina (Richards, the founder) and the team. That show you mentioned was actually the first time that we got to play with some of the bands on the label. And of course there are some California bands like Life Coach that we know from before, so in that sense the scene is not really the same.
You are kinda just done touring with Moon Duo and now you are going to be back on the road with Wooden Shjips soon. What do you most hate, and what do you most like about touring?
The worst things are constantly waiting around which is very tiring, having no control on what you eat a lot of time, and also sitting in a van all day which feels very unhealthy. Other than that traveling, meeting new people, playing shows are all fantastic things, so I can hardly complain. Usually after a couple of weeks you start feeling very run down, you feel the need to detox so you just have to take a break.
I think I read in an interview that you are a morning person, which is quite interesting as it's not exactly a rock and roll statement! Is that true?
Yes, I love mornings. Early morning before anyone is awake, the sun is coming up, a big cup of coffee, putting on some music... yeah it's all about that time of the day for me.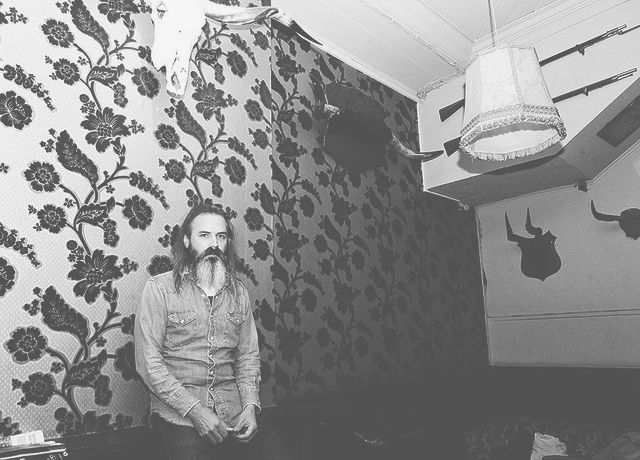 Do you still buy records or are you a Spotify kind of guy?
I still buy records and I don't have Spotify. I don't need it I guess, as at home we have a lot of records and I just like playing those, and I also have some CDs.
Music comparisons made by journalists are as necessary as annoying. Out of all the bands your music has been compared to, which one you feel you have really been influenced by?
I don't know who we have been compared to these days, but I think they still mention The Velvet Underground sometimes which is really flattering though I don't necessarily feel it myself. But that would definitely be one of our major influences.
How did you learn to play music?
I took a couple of lessons and then stopped and sort of played around when I was younger. But I really didn't start to learn how to play till I read somewhere about Keith Richards learning to play guitar listening to some blues records. So I disciplined myself by playing along to some Stones records and then any blues records I could put my hands on. And that was great as you know in blues there is the 12-bar chord progression which is basically the same in every song, at least in the Chicago blues style, and that's a great starting point.
Had you not, played psych music what other kind of music do you think you could have played?
I don't know. I grew up listening to classic rock, I was covering lots of those bands in High School. But then after that period I decided that I had to unlearn all that stuff, go in the opposite direction and start playing completely free... people like Lou Reed, his guitar playing style sounded completely free to me. And being young as well, I was just after that style that was beyond classic playing, that's why I got into psychedelic music through artists like Lou Reed.
What would you consider your biggest career achievement?
We got a little article on Rolling Stone earlier on, and I thought "wow this is great" though I don't read Rolling Stone anymore - but that was great as my parents could see that and realise that was real. Because I think they've never even heard of Sonic Youth, maybe they've never even heard of Lou Reed (laughs). So that little thing on Rolling Stone was a sort of validation you could show your parents. And that was a special moment for me.
You played at a few All Tomorrow Parties Festivals, which alas are not going to be held anymore as of next year. What is your fondest ATP memory?
Definitely our first one at Camber Sands, just hanging out with the other bands and having that whole experience. We had never been to any of those festivals with bungalows and stuff that we were sharing with some of the Jay Reatard band guys and one of the guys from the Meat Puppets. And I remember thinking that was the greatest idea ever, and it's not that we were even backstage, we were just festival goers, and all of that was very special.
Wooden Shjips are playing some UK and European dates this December. Back To Land is out November 11th via Thrill Jockey.
1 Le Guess Who Festival, Utrecht
2 Pumphuset, Cophenhagen
3 Berghain, Berlin
4 King Georg, Cologne
6 Les Atelier Claus, Brussels
7 Les Trinitaires, Metz
8 Point Ephemere, Paris
9 The Haunt, Brighton
10 Scala, London
11 Brudenell Social Club, Leeds
12 SWG3, Glasgow
13 Menagerie, Belfast
14 Grand Social, Dublin