Ask people to visualize the music industry and they'd probably either picture major label FatCat sitting around a plush office with gold records on the wall, or in court suing a teenage pirate for millions. These are the kinds of images put into our brains by movies and the media, but if you really want to see the physical manifestation of the music industry, with all of its warmth, passion and genuine love, then then you'll find no finer an example of it than at one of London's Independent Label Markets.
This year's summer edition of the Independent Label Market was its 10th edition and biggest yet. Although the first edition was held in record collector central on Berwick Street in Soho, the market has been held in the city's famous Spitalfields Market since its second outing. When I asked those who have taken part in multiple ILMs about the choice of venue, they're all extremely positive. Sarah from Sunday Best, who has been to every ILM, was quick to expound on the "very music oriented area" in which its situated; just a few minutes' walk away from record stores like Sister Ray Ace, Rough Trade East and the new branch of Flashback, as well as venues like Village Underground and The Old Blue Last. Sam at One Little Indian pointed out that since it's in such a trendy area near Shoreditch, people walking in are more likely to be much more interested in the today's record stalls than what's normally on offer.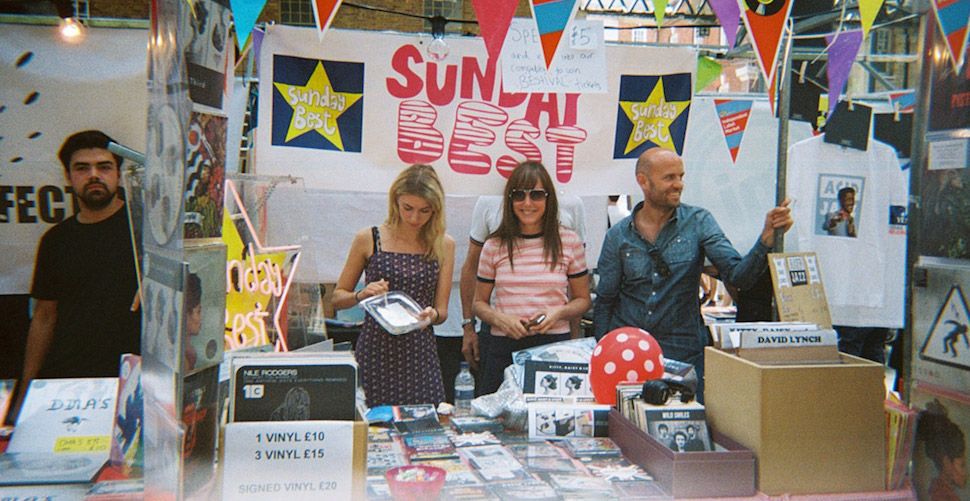 The market was busy all day, not only because the extent of the label market this time meant that if you really wanted to have a proper look around you had to spend a good couple of hours, but also because of the addition of beer stalls from several of the UK's best independent breweries. Although a snafu on the day meant that the stalls had to be slightly removed from the label market, people were still bringing their beers back to the beer garden area in the market to sit down and enjoy the atmosphere. Babies being pushed in strollers by their parents were a common site, and they seemed to be enjoying the happy ambiance, colourful stalls and sun streaming down through the roof just as much as anyone.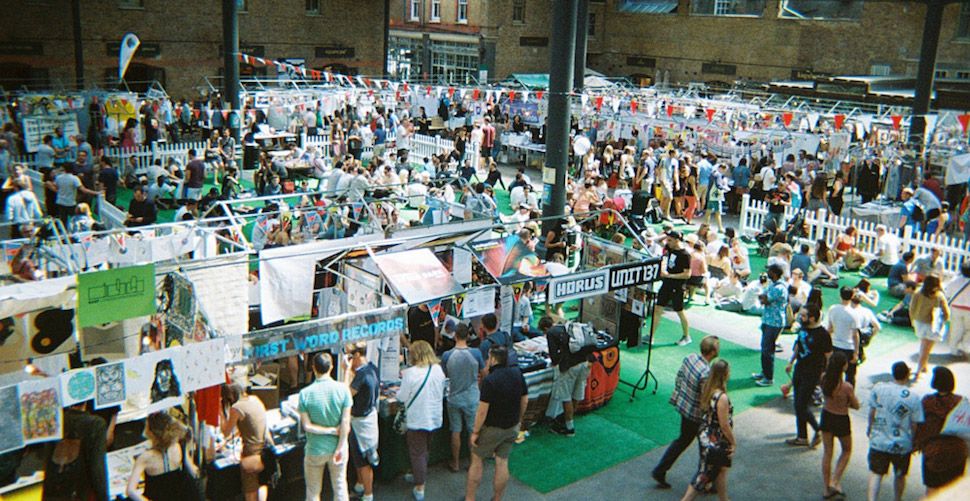 Having asked around at several stalls during the day about the kinds of people they normally get, the general consensus was that there's a good mix. Lucius at Play It Again Sam admitted he's "always quite surprised by the variety," and that it "attracts all sorts." This was backed up by Sophie at Acid Jazz who said she was "surprised by the mix of age and style," and Sarah at Sunday Best who said she expected to see everyone from hipsters to old school collectors at her stall. This variety was mirrored back in the selection of stalls on offer today, with everything from the independent label stalwarts 4AD and Bella Union, to your more reissue-oriented labels like Acid Jazz and Sunday Best, to electronic purveyors like R&S and Eglo, to newcomers like Midnight Riot and Shogun Audio.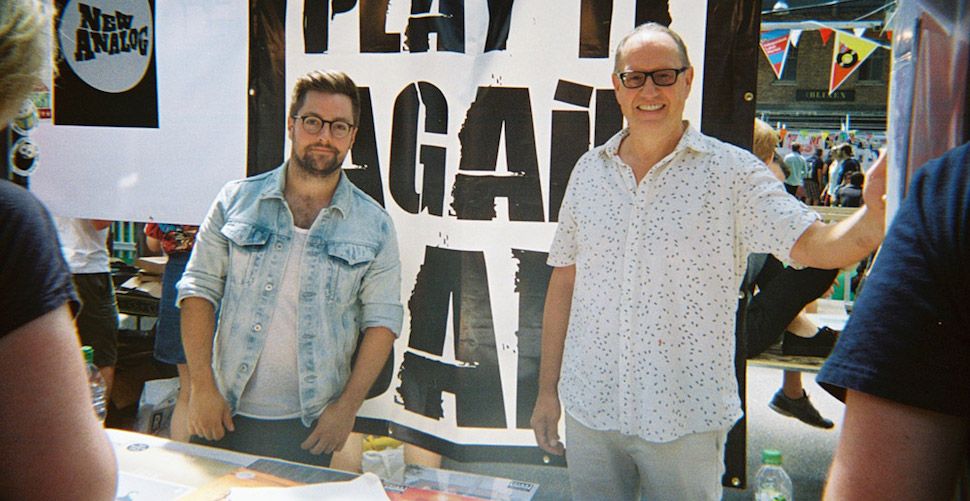 A lot of the crowd that came down to Spitalfields for the occasion were attracted to the exclusives on offer. Signed records were available on several of the stalls - but not for long in some instances. Believe Records put out word that they'd have signed copies of Public Service Broadcasting's LP, and these were swiftly bought up early in the day. I personally witnessed signed copies of Roisin Murphy and Enter Shikari's latest albums being bought from Play It Again Sam. Some lucky Matt Berry fans were even able to get their albums signed by the man in person, as he was hanging around the Acid Jazz stall happily chatting to punters for a couple of hours.
On the One Little Indian stall the beautifully packaged limited edition 12"s of select tracks from the Vulnicura remix project were attracting a lot of attention, while the coloured-vinyl reissues of her whole back catalogue were getting nabbed so quickly that an emergency restock was called for in the early afternoon.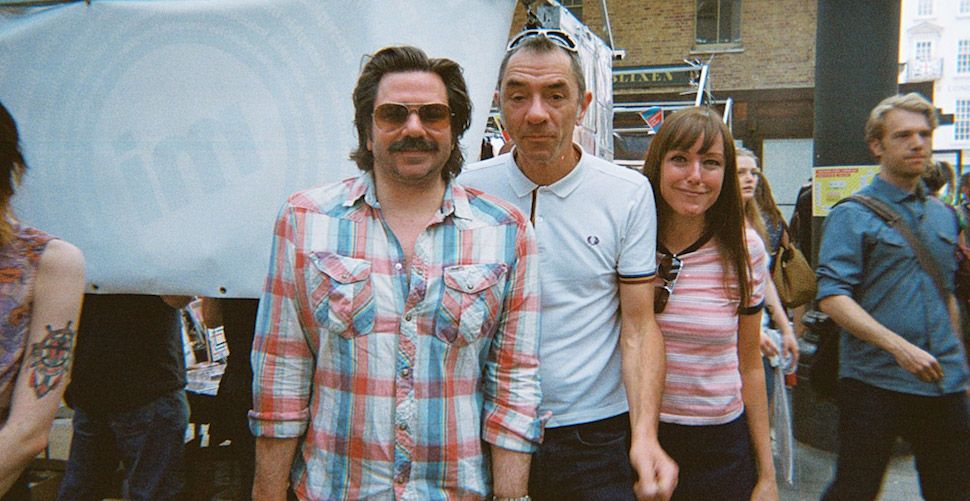 Even for those who weren't there looking for special releases were bound to find some special buys nonetheless, as the market setting allows for deals and haggling. Although there's not any haggling needed sometimes, such as at the 4AD stall where they were offering 2 vinyl albums for £25 with all of their classics from the last decade in stock, or at the Fire stall where the new 180g reissue of Mission of Burma's classic Vs. was a steal for £10, or innumerable other steals just waiting to be discovered.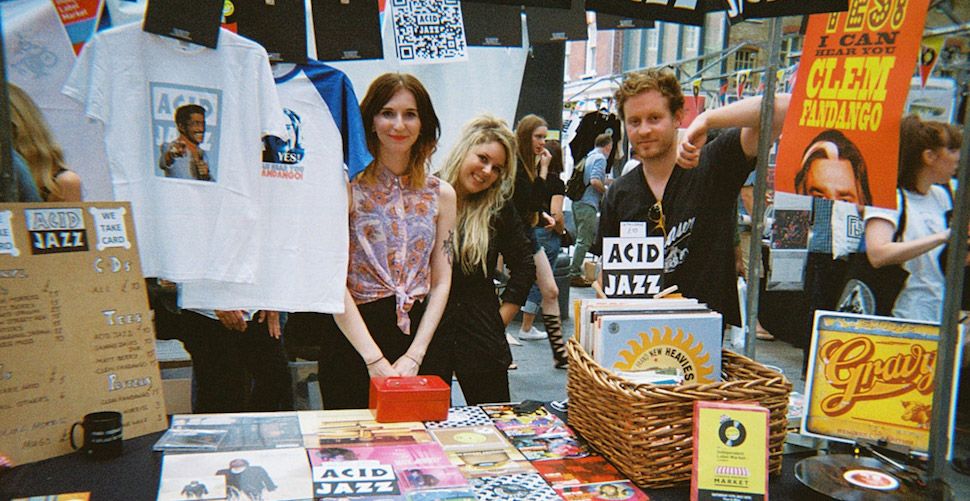 However, more valuable even than the exclusive releases and the unbeatable prices, is the sales experience. Each label's stall is manned by the people who make the labels tick during the week; finding the artists, working with them, releasing their music, accompanying them on tour - whatever it takes for them to help spread the music that they love. As a buyer it's an unbeatable situation, as you can ask the person at any stall about any of their releases and they're be able to talk about it with passion and insight that's unavailable in a normal record store experience. More than once during the day in talking with different labels I hear the analogy of their albums being like their children - or a litter of kittens that you have to give away, as Emily at Acid Jazz puts it.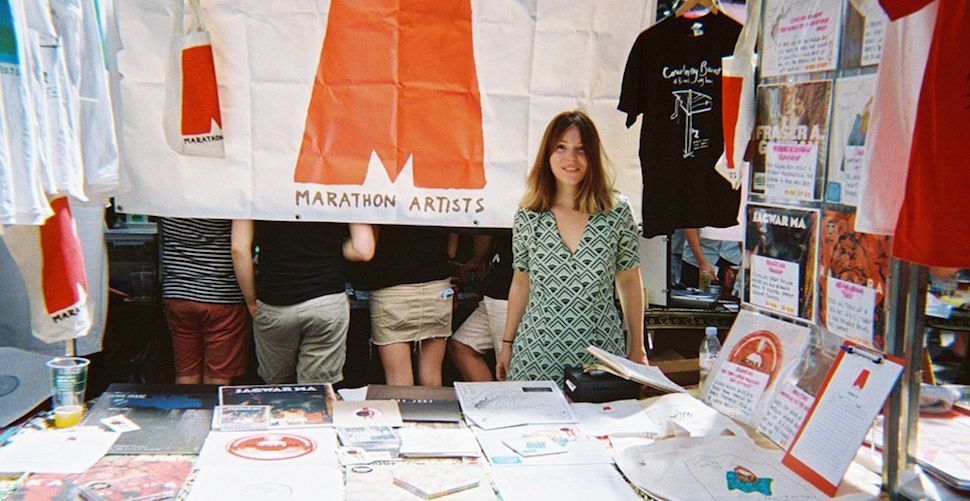 Moreover, they're utterly bursting to tell you all about the artists they've got to sell you. During the course of the day I overheard so many label reps passionately recommending so many different releases that I quickly lost track of the list of new artists I'm excited to discover. At the Marathon Artists stall the goods on offer are mostly taken up by Courtney Barnett, their breakaway star, but Steph who was working at the stall was already looking ahead to what's next, recommending Max Jury to most who wandered over. Although, she was frustrated they only had one release of his to offer, admitting "I feel like I want to have more to give people; next year it'll be all about Max."
Will at Chess Club Records told me that he's started to recognise the same kids coming down to each label market asking him for what's new and what's next. It's unsurprising given their track record; with early singles from the likes of Mumford & Sons, Local Natives, Chet Faker, and Wolf Alice in their back catalogue. This time around their big pull is Danish starlet Mø, but to anyone who'd listen, all three of Chess Club's partners wholeheartedly recommended new young British singer Billie Marten, or talked about their excitement for Swim Deep's upcoming new material - something shared with Radio 1's Huw Stephens who popped past at one point to express his interest in getting his hands on something new from the Birmingham four-piece.
A lot of labels had brought down portable record players so that they could show off their releases more effectively. On the Acid Jazz stall their latest compilation Swinging Japan: The Neo-Mod Scene Tokyo Style (look out for Les Cappucino's crunchy 'Blow Up!') was spinning all afternoon and attracting many listeners. This brought several inquirers over to the stall where they'd quickly be told the interesting story behind it, or that of any of the other intriguing releases on display.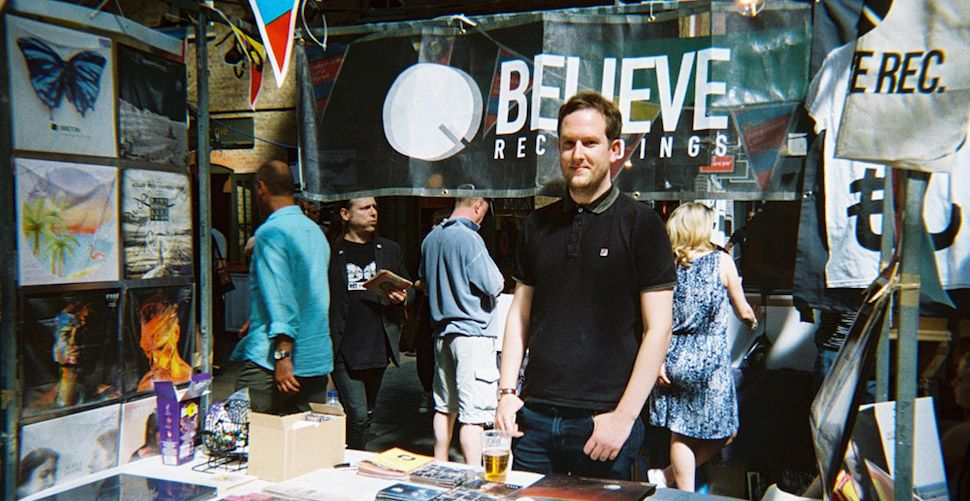 The labels' devotion to their artists comes across in spades at any one of the stalls, and half the reason it takes so long to get around the market is because you're bound to end up in a number of fascinating conversations as you go. This is facilitated by the fact that it you feel like each stall is a genuinely warm and friendly environment. I asked several of those working behind the stalls whether they felt at all annoyed at having to give up their Saturday to do this, but not a single one felt that way. In fact, at every stall that I visited, it seemed like there was nowhere else they'd rather be, and everyone from every label was expected to make an appearance at some point to help muck in.
At Believe records they described it as "a good hang out," while Managing Director of Play It Again Sam Pete Thompson compared it to a family reunion, as he had spotted several of his former employees around. At the One Little Indian stall a former colleague had provided them with several boxes full of delicious cupcakes that they gave away free all afternoon. The atmosphere is familial, and even when I suggest that there might be some rivalry between the stalls I'm quickly told that it's not at all the case.
It's this communal spirit that makes the Independent Label Market a success, not just on the day, but in the build-up too. The majority of buyers that I spoke to said that they've been to the markets before, and that they found out about the event from Twitter. This is unsurprising when you think that not only would every single label have been tweeting about the event beforehand, but also each individual employee would have put in the effort to encourage their followers and friends to come on down. The results were overwhelming, as the crowd remained consistent throughout the afternoon, and the time passed in a blur of music discussions, laughter, the exchange of money and the smiles of satisfied customers.
This is the most gratifying part for all of the label representatives at the market today; seeing the music that they labour over being sold first hand, discovering what kinds of people listen to their releases and knowing that they're sending off their records to be enjoyed by grateful ears. Steph at Marathon pointed out that for many of the brand new labels taking part, it can help them to figure out their own identity; seeing who enjoys their music and getting to know a little bit about them first hand can help them to focus their product. Managing Director of Play It Again Sam, Pete, was due to be at a wedding later in the afternoon, but came down early in his suit to help out at the market specifically to see the fans, as he values it as "a way to connect and talk" to their fanbase; he sees the event much more as a social occasion than a sales opportunity.
The impression that one is left with at the end of the day spent amongst the people who put out this music, is that they deserve to be celebrated just as much as the artists themselves. And that is what the Independent Label Markets are particularly good for; it's not a self-congratulatory occasion like SXSW or Record Store Day, but feels much more like a party between friends, to which everyone who has a passing interest in music is invited.
Those who missed out on this occasion shouldn't fret, as the Independent Label Market will return to Spitalfields in the lead up to the festive season, when the spirit will be through the roof and great deals on awesome records will abound.