London is one of the most cosmopolitan cities in the world and this diversity is reflected and celebrated in the art and culture that it nourishes. An international outlook is indicative of London's style of creativity. From music to film to fashion, London is a hot bed of evolving inspiration and emerging talent, meaning that it can continue to be on top of its game when it comes to offering exciting new styles and attitudes. This is no surprise given the inspiration that's abundant in the smoky UK capital.
On the streets of London you can hear numerous languages, tones and dialects; different styles of music fill your ears, blaring from the stores and markets selling a hypnotic assortment of products. You can sample zests from a plethora of different countries and enjoy the juxtaposition of flavours and ideas in cuisine, conversation and cinema. If you embrace multicultural London it will touch all the senses and this is why it is the catalyst for London's constantly evolving creative and fashion scene. It is often said that a city is characterised by a look - the lavishness of Milan or the simple chic of Paris for example - but for London one word is often used to describe its heady mishmash of styles: eclectic. And this should be celebrated.
The International Fashion Showcase has become London's celebration of its heritage as a platform for international talent. During fashion week the central venue at 180 The Strand housed 14 showcases by designers from across the globe - including Argentina, Austria, China, Czech Republic, Estonia, Georgia, Hungary, Nigeria, Paraguay, The Philippines, Portugal, Slovakia, Switzerland and Vietnam. This was a real celebration of different cultures, creative practises and new talent. It showcased how London is a destination that welcomes students from all over the world; nurturing and inspiring fresh talent. This is what London has and continues to do. From the influence of the Romans and the Huguenot silk weavers, to the continual inspiration designers still draw from African or Indian art scenes, multiculturalism can still be seen on London catwalks in a cyclical move from and back on to London streets it calls home. Its impact is felt globally though. The embracing of new fabrics and colours and the music, tastes and attitudes that came with them - often to create new culture clashes that reignite a passion for exploring what's happening on London's streets and beyond - is why London is the world's melting pot and the delicious recipe it makes is a pioneering fashion scene.
The showcase culminated in an awards ceremony where the award for the best designer went to Hyein Seo from Korea with a special mention for Sopho Gongliashvili (Georgia), Lucian Broscatean (Romania) and Matthias Winkler (Austria). The award for the best curation, presented by Alistair O'Neill, went to Yoshikazu Yamagata from Japan with a special mention for curators Yanina Aubrey (Paraguay), Miguel Flor (Portugal), and Gemma Williams (Vietnam). Sarah Mower MBE, BFC Ambassador for Emerging Talent and Contributing Editor to US Vogue commented, "The IFS is a seismograph for registering where the next - very unexpected - waves of fashion culture are rising." This is a good point as this showcase is so eclectic that it does seem to be a strong source for innovative talent that's so fresh it's been picked just as it ripened. This year's winner, Hyein Seo, drew inspiration from '90s fashion, Dario Argento, Jim Jarmusch and old school hip-hop for her incredible collection and if that isn't both hitting the zeitgeist whilst pushing eclecticism then, frankly, I don't know what is.
I caught up with Fashion PR and International Fashion Showcase Judge, Mandi Lennard, to talk about the showcase and why multiculturism is so vital to ensuring that fashion continues to make you feel like jumping around with joy and excitement...
What do you think London has to offer the international fashion market and new international designers?
A vital platform for international fashion. Its energy is dizzying, and as much as the ideas are fresh and new, there's a strong onus on ensuring output is of a quality to deliver internationality.
Which designers have caught your eye over the past year?
I'd heard of Phoebe English, but had a pre-conceived idea of what she did, then I bought a piece in Hostem in Shoreditch, and seeing it up close, it's awesome and I can see she is a sophisticated talent. I really like the new label that Fergus Purcell and Sofia Prantera just launched called Aries; it reminds me of when Donna Karan said you can go anywhere in the world with 6 pieces. It's a tight collection, each piece so considered giving it a cool purity.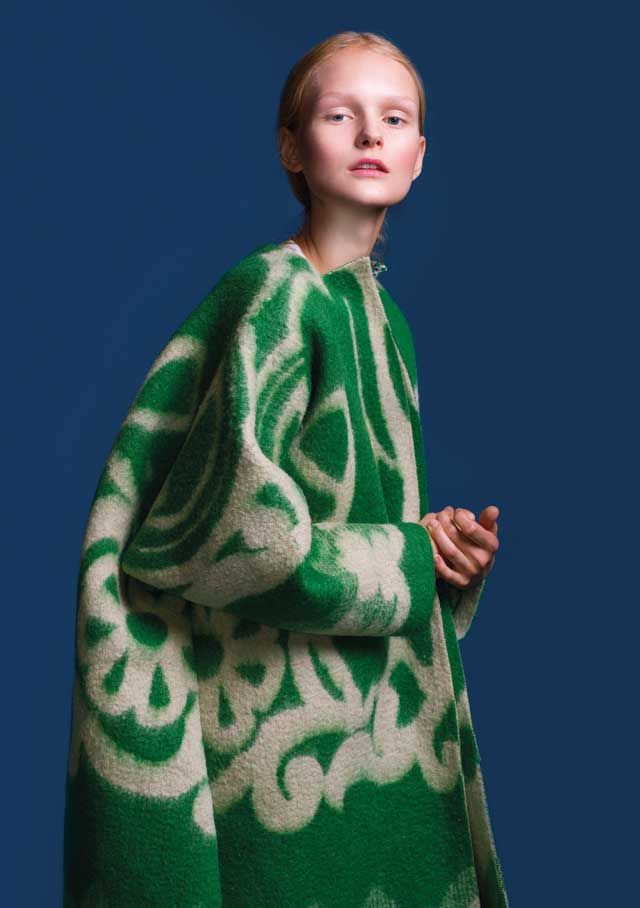 To what extent (if any) do you think a designer's nationality and heritage influences their practice and designs?
We always get excited when we see a nation's traditional background shine through. We respect heritage, and when delivered in the right context, it gives a designer's work heart and soul, and for this competition, we relish it.
Do you feel that this prize acts as a platform for designers, potentially overcoming the economic or social situation in their native country? In short, is fashion becoming more or less accessible?
Fashion is incredibly democratic and accessible, and goes hand in hand with music and youth culture, so wherever you are in the world and whatever your circumstances, it's going to touch you, and with social media you can readily engage with it.
We respect each designer's position in that they are acting ambassadors for their country, so any prize we award will resonate hugely for both. Each designer has a different skillset, so a designer who displays traditional artisan skill, will be feted for their uniqueness, while a designer who let's say does great coats, will appeal to a wider retail possibility, so we have to appreciate where each is coming from, and in that respect you can't be too subjective. It's a warm competition, and very welcoming, and I think the attitude of the overall initiative is very open to talent in whatever form, however simple the idea, or even challenging it may be.
Why do you think young international designers come to and often flourish in London? What does it have to offer?
We are totally immersed in fashion culture, history, ideas, energy - it's bursting out of every pore! You can be who you want to be, there's the freedom to express yourself in how you dress. We celebrate fashion, and a lot of ideas are still born in the street, so we are used to breathing it in. It's infectious, so when a designer comes here, they are feeding off so many extra layers they would normally not have experienced, and it can bring out the brave and bold from an armoury the never knew they had.
Creativity is exhilarating and being immersed in it is like having all your childhood Christmases at once. In London the sources of inspiration that stimulates the overwhelming amount of creativity often feel like pouring petrol on an already roaring fire. It is a creativity that feels slightly out of control and is thrilling as a result. It is an open mind and hunger for new ideas and attitudes that has meant that London continues to evolve as the multicultural city. If Mandi's enthusiasm and this showcases celebration of London's constant ability to offer sights, sounds and experiences that you've never seen before doesn't get your heart beating faster then, well, you maybe should check for a pulse.