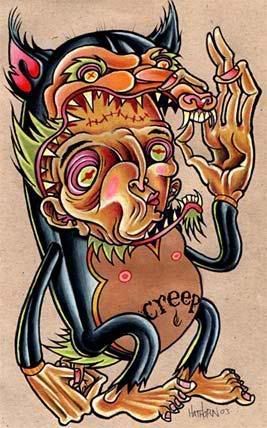 I'd like to think that over the past year I've interviewed some of the most diverse and eccentric charachters the art world can provide. I've come across those obsessed with skulls, corpses and demons, but who embrace life and religion like no other person I have ever met before, redefining the very meaning of death in the poise of their tools. Those who send out environmental messages and those who vent their frustrations with living onto canvas. I've interviewed graffiti artists and tattoo artists. Kids who used to tag the subways of New York and skate the streets of California, listening to old school Hip-Hop. Unlikely heroins, who became teen idols, now making comfortable salaries having been snapped up by green eyed art dealers looking to make a quick buck, exploiting urban art to hungry critics, making diamonds from the dirt. Yeah, I've interviewed a lot of those. For the most part I've met some really awesome people and had the honor of interviewing some of my personal heroes to. Adam Hathorn is another one of those interesting characters with a fascinating story of how it all began to boot. Working under the alias of Honkey Kong and having had some rather quirky day jobs in the past, Adam Hathorn could very well be the next Peter Parker or Bruce Wayne of the urban art world. Influenced by old school tattoo art, Adam's portfolio consists of kooky charachters, religious iconography and various cultural art given a Honkey Kong twist. Although very comical, there is certainly a message behind most of Adam's art, be it his confliction with religion, political stance or acceptance of death. I've met a lot of people who just love to talk and run their mouths when given the opportunity but Adam Hathorn struck me as being a straight up guy, humble and comfortable to talk about things as if we'd known each other for years! I caught up with Adam for this exclusive interview. Check it out!
When did you first realize that illustrating could become a full time career for yourself? Was your choice to become an artists something that was regularly embraced; given your talents, during your youth or was it something often frowned upon by your parents and teachers who told you being an artist wasn't a "real" job.
I first realised illustrating could be a full time job when.... uhhh can it be? Hahaha I'm a tattooer so I guess I am an illustrator, so about 9 years ago is when the realization probably settled in for me. As far as the family and school thing, Ive been pretty lucky to have people behind me. My mom for sure didnt want me to go to art school because she thought there was no money in it. She is also no fan of the tattooing thing, I still cover them up when I go home. I guess I'm a mama's boy. My Grandfather could draw some cool stuff mostly guys smoking pipes, and nudes on bar napkins, but they were super fresh. My older brother was also into graffiti and art and stuff, so I always bit alot of his ideas.
So what were you doing before all of this?
I worked as a bagel baker for years in Boston, and I worked as a beer guy at Blanchards in Allston Brighton Mass. While I was doing my apprenticeship in school I worked graveyard shift at a gas station in Savannah, and at planet 3 selling "waterpipes"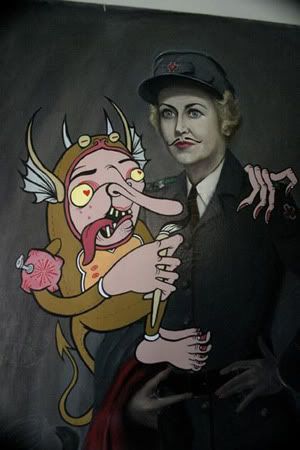 What do you think about artists who work under different nicknames and aliases? Do you ever think that by projecting yourself as "HonkeyKong" as apposed to using your real name that you've lost some of the recognition you deserve for your work? Where did the name HonkeyKong come from?
I dont know if I've lost anything by it. The Honkeykong thing came from my brother whos buddy Mike used to call him that or some shit, I really dont know the full story with that, but I sure am proving that I bit all my brothers ideas. The idea with using that name was just for people to remember the website. I don't really like being called honkeykong, although Genghis Kong is pretty cool. Oh and I generally think that artists that use nicknames are pretty silly and usually speak in the 3rd person too much, but who am I to judge?
Ok, what have you been listening to on your ipod/mp3player/stereo a lot recently?
90's hardcore, lots of Biohazard and Merauder. Aesop Rock, Company Flow, Isiah TTT, Broken Dreams, Archie Dean, SKRAPEZ
You've probably created hundreds of different characters, each more monstrous then the next. Summarize the process you go through in order to make one new and more unique.
I get ideas from everywhere, I'm online a bunch, and I get some from TV, or random people I see. I also work daily with a talented group of jerks. After that I hang out with another talented group of bigger jerks. Ideas just get tossed around. I get things from old cartoons, and advertising stuff.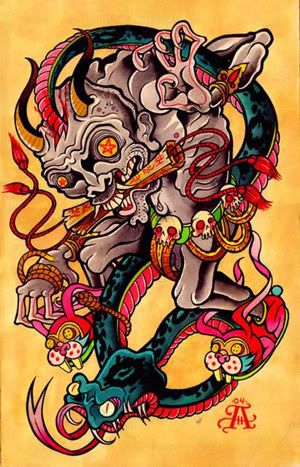 I've noticed that there tends to be a lot of religious iconography and comical satire in your work.. Would you say that sometimes your religious views and beliefs spill into your art work as a means of conveying a message or influencing the birth of a new character?
For sure it does. I was brought up Catholic, but don't really subscribe to any particular organized religion. I've always been into political satire and illustrations, although I don't think that I am personally that political. I just like drawing pig cops, and devil business men. Basically bashing "the man" is cool in my book. If I ever make it rich I'll probably go republican though, seems to be a trend.... and I'm trendy.
Clearly your work is strongly influenced by Graffiti,Skateboarding,Tattoo's and Urban Street Culture in general. What is your opinion on Graffiti art itself and the negative connotations/press that it gets?
I was and am influenced by all 3 of those. Graffiti was my introduction to art. Without that I don't think that I'd be doing what I'm doing today. Skateboarding was my intro to graffiti. I used to skate all of the time but was never any good, my brother got those skills. On the east coast I feel like being a skateboarder automatically made you a "loser" where as out here in California everyone does it, and its huge. I like that its a big deal out here. I used to get the CCS catalogue in the mail, and try and draw all the logos and crap, but that and thrasher is all we really had, i would have loved to grow up in San Diego where it was crackin. Tattoos definitely influence me because thats what I'm surrounded by and what i do for a living. I've always been into them, shitty tattoos or not, I always thought they were cool. My opinion on Graffiti is biased only because I spent a good chunk of my life completely obsessed with it. I also hang out with alot of graffiti writers. People with passions for things that don't involve money are good in my book. Don't Test My Crew
What is the key to keeping your work and ideas fresh and not getting mentally or physically burnt out by what you do?
I'm constantly looking at other peoples art, whether its online, at art shows or museums. I get burnt out all the time, I definitely keep a busy schedule. I don't have a real answer for this question, I just do what I do, and if yall think its fresh, then thats cool in my book. I am personally always mentally beating myself up thinking that it all looks the same. i guess we're all our own worse critics.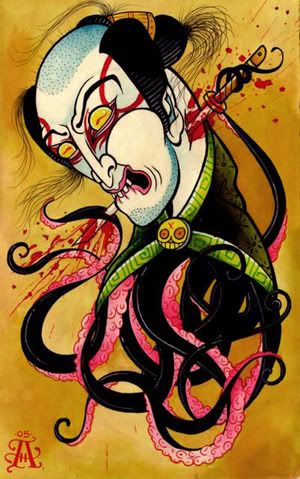 How did you go about swapping paper and pen for ink and needle? Was Tattooing something you always saw yourself doing or was it just a natural progression in terms of your work and taking it to the next level. How are you finding the transition?
Like I said earlier, I've been into tattoos since I can remember. I had an uncle Custy that had a couple cool sailor tats, and my brother had gotten a couple when I was younger. I always just dug them, so I did a report on them in 8th grade, and interviewed Mark Herlehy who I was stoked on cause he had head tats hahaha. I'm sure my moms hatered for tattoos had some subliminal reason for my love of it, It was taboo in the hathorn house. When I first moved out of the house I met a guy named Greg Hayley who gave me my first "HATHORN" in old english across my back... again like my brother had. He offered to apprentice me, but he left shortly after that. I then met Chris Houfek who worked that liqur store with me. he was from the orange county area, and moved to Boston for a lady, a hopeless romantic. Anyways he was going to apprentice me as well, but i already had plans to go to school in Savannah so he didnt wanna start something he couldnt finish. So when i moved to Savannah I had a class with a guy named Jonny Cantrell who was the manager of Alien Arts tattoo. He didnt tattoo, he just ran shit there. Anyways he liked my art and coaxed me into going and meeting the guys there. I was offered an apprenticeship, and did the damn thing.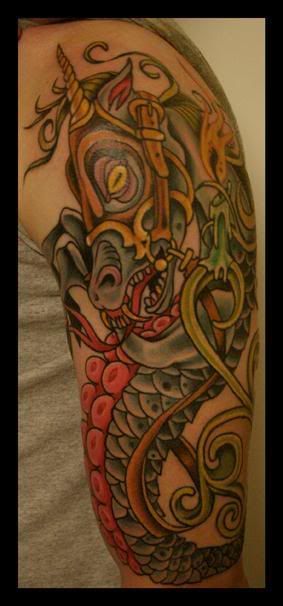 And finally, what does the future hold for HonkeyKong? In regards to your work, new projects and any other personal aspirations you have in life. Is there anyone you'd like to give a shout out to?
Well now you have me thinking about this whole Honkeykong thing, are people feeling it or is it lame? Who knows what the future holds. I've been putting some thought into doing my first solo art show. I'm currently working on starting a line of clothes with a partner. The clothing is called BenchWarmers, and its 100% all my art. I also have a big art show called Commitment coming up in July at Canvas LA with the rest of the dudes I work with. Its an all body suit show, which is what I should be working on right now, but I'm the king of the procrasti-nation. I'd like to give a shot out to, DTM DoTheMathCollective, Gregola Craola Simkins, Gunnar, Guru Tattoo wrecking crew, my brother for giving me some crap to bite forever, my mom for hating tattoos enough to get me interested in them, and my dad for always laughing at my dumb ideas. Be sure to check out more from Adam by visiting his Official Website
here