Hope For Children's
Live Art is a charity fundraiser, showcasing some of the UK's most exciting up and coming artists. Whether you have a passion for photography or illustration, abstract painting or realism, there will be something for everyone. You will be able to bid on all the artwork shown and witness the artists' create a joint mosaic live! Hope For Children are aiming to raise enough money to set up an intervention center for street children in Uganda that could change their lives forever. 100% of the money raised on the night will go directly to this project. The 405 were lucky enough to interview partaking ceramic artist
Carrie Reichardt
in the run up to the show. Check it out!
How did you get into creating Ceramics? What interests you most about this form of art work?
I have a degree in sculpture and was really into body casting but all the materials I used were really toxic. Because I worked from home, I had to find a different medium to work with after the birth of my first child. I decided to try mosaics and just fell in love with the process as it was so meditative. About 5 years later I decided to take my daughter to a family ceramics class at Richmond Adult College. I spent the first few years just making tiles and objects to in-laid into my mosaics, but then over time I was drawn into wonderful world of playing with clay. I am still attending classes at Richmond 7 years later. Ceramics is really therapeutic for me. I am naturally a really clumsy, heavy handed impatient type and the process forces me slow down and concentrate.
How did you get the nickname The Baroness? I read that it has something to do with the last Tsar of Russia. Enlighten us!
My grandfather was Baron Von Reichardt. The Tsar of Russia made him an honorary general for helping the allied forces in the first world war. He lost all his wealth and as a consequence his title during the Russian revolution. I decided to give to give it back to myself. It is meant as a joke, hence The Baroness and Mr Spunky ( my partner).
The Tiki Truck - my mosaic mausoleum, was commissioned by Walk the Plank for the first ever art car parade, held in Manchester in Sept 2007. Originally it was commissioned to just be a tiki themed mosaic covered truck but whilst working on the truck I was asked to be present at the execution of a friend of mine, John Joe 'Ash' Amador. He was in the cell next to Luis and I was close to his family. My friend, the artist Nick Reynolds is an expert body caster and he asked to come with me and make a death mask of Ash straight after his execution.
Incredibility Texas is the only state in the USA that you can legally move a dead body so long as you provide your own body bag. So we brought a bag, collected him from the mortuary attached to the prison, put him in a hire car and drove him to some cabins in the woods where I assisted Nick in casting his head and arm (where the lethal injection was administered). Then we put him back in the hire car, dropped him off at another mortuary 4 hours away and flew home with a full size cast of his head and arm. A copy of his death mask is now the centre piece on the top of the Tiki Truck. Eight days after Ash's death, the Tiki Truck drove through the streets of Manchester as part of the parade, with over 30,000 people watching and won first prize in the best decorated category. Ash knew of our plans and spoke to us by phone just before his death. He said "a death mask, that's usually reserved for kings. Now I know I'm not trash, now I know I'm somebody". We did film the entire trip and are currently working on a documentary about it
Something that really fascinated me was reading about your friendship with a number of death row inmates in the US and how they ultimately shaped your later work. Is death something that is constantly on your mind and therefore showing through in your art work? Funnily enough the opposite is true. Prior to corresponding with inmates on death row I had suffered from terrible depression. Then I did used to think about death a lot, usually fantasisng about my own and this was omnipresent in all my work at this time. I collaborated with the photographer Nigel Beatty and did a whole series of work about self harm and suicide. It was befriending people on death row that truly made me appreciate my life and come to understand how fortunate I was. I think writing to my first penpal Luis Ramirez inspired me to turn my home into a mosaic outsider type grotto. His murder by the State of Texas though compelled me to want to dedicate my creative energies into raising awarness about injustice. My friendship over the years with the Angola 3 and Kenny Zulu Whitmore ( political prisoners and black panthers held for over 3 decades in Louisiana State Prison, USA) has taught me the means to put my ideas into practice. My friendships with death row inmates and political prisoners has really been the driving force into making me a craftivist. I would like to think that most of my work, and I refer here to my large scale ceramic/mosaic work is about the celebration of life now and not about death.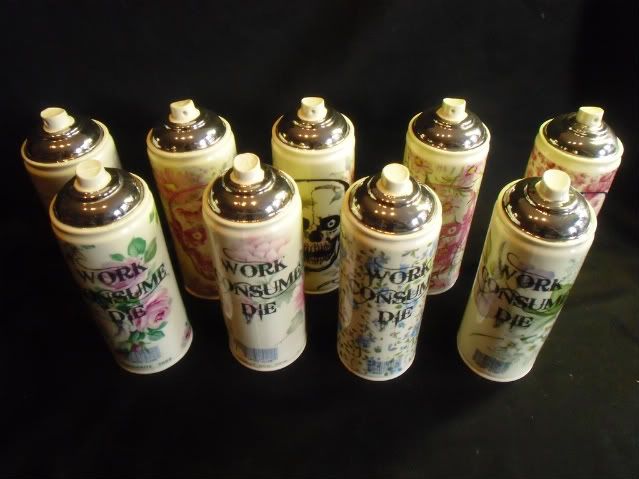 I really love how you've created this new form of graffiti art by incorporating your ceramics. Do you think that ceramic graffiti could ever take over this new fad of stencil graffiti art that seems to be taking the scene by storm? A person once refered to my work as 'tessellation graffitti', which I thought was a great term. I doubt it will ever 'take over' as to be honest it really does take a lot of materials, time and skill to produce. We are at present losing some of best ceramic departments across our Universities ie; Camberwell. Unless we start to fight to save them I think we are less likely to see a ceramic take over, as no-one is going to be trained to make them. I would really like to think that 'craftivism' might take over though. The idea of combining craft and activism is a really refreshing concept and I am sure that we will see a renaissance of it here over the coming years. The UK has been really slow to pick up on the craftivism movement, it is well established across much of the world. I think that it is really important to see a shift in the reason behind an artists intent and not worry so much about the medium they use. Do you think that Ceramic art is often overlooked or not given enough credit in the art world? The art world and especially the UK art world is so categorized, and separated. There has always been this great craft/art divide and one of the only artists to 'break' into the art world is Grayson Perry. I think his success helped to shift peoples perception of ceramics. The art world (and I mean art establishment ) seems to really only recognise the monetary value of a piece of work, hence their begrudging acceptance of 'street art' once Banksy stated to sell for thousands. I think mosaics is actually one of the most overlooked art forms. I would love to transform contemporary mosaic making from its common perception as being a mere decorative craft, to a medium that is used as an expression of political, social or philosophical ideas.
There seems to be a lot of political influence in terms of where you draw your inspirations from. You're currently collaborating with Herman Wallace, an ex Black Panther. How is your work received given the people you work with and create work about? Do you find it gives your work a certain stigma or any preconceptions? I rarely get negative feedback from people when I show my work. I think my work is both well crafted and beautiful to look at and I think people on the whole response positively to it. There is definitely more of a problem in getting the work shown or the media interested though. In the past I have found that highly political work is often sidestep in fear of upsetting or offending people. I think this is changing though. We are seeing more and more institutions, galleries etc taking risks and showing some really thought provoking work. I think the recession will have a dramatic effect of the kind of art that gets seen. Finally, whats next for Carrie Reichardt, in terms of any new projects you have or any aspirations you have in life that you would still like to work toward and achieve. Is there anyone you'd like to give a shout out to? At present I am collaborating with Nick Reynolds on mutating a 4ft resin elephant. It is to be one of over 250 elephants that various artists/designers and celebrities are decorating for the London Elephant Parade. They are going to hit the streets of London in May and will be sold later at Sotherbys. The money raised is going to conservation projects to help save the Asian elephant from excinctino. We have been working for weeks flat out, and I am very pleased with our one. We have named her Phoolan, and we have crafted the most beautiful yet disturbing piece of work. If anything can shift perceptions about mosaics, then this piece can. Later in the year I am going to be working with Sarah Corbett and the Craftivist Collective on various projects and I am collaborating with the art collective War Boutique on a range of mosaic military hardware. My main ambition for this year though is to finally finish the documentary of my trip to Texas to make Ash's death mask. In the future I would love to be part of a much larger group of craftivists who are employed to make large scale community ceramic murals. I would like to give a big thank you and shout out to Mr Spunky and all the Treatment Room Crew who have worked for years alongside me - they are an extremely hard working and dedicated group of fellow artists. I would also like to thank The Mutoid Waste Company, Mutate Britain, SHP Charity, Reel News and Resistor Films for being such inspirational groups to work alongside over the last few years. And last but not least, a special thank you to my family for putting up with me. You can visit Hope For Children's Facebook event page for information, updates and a sneak peak at some of the art on offer here For more info please visit www.hopeforchildren.org