Based in Bristol,
Dora
is one of the few successful female faces amongst the ever-evolving urban art scene. She brings a fresh feminine style with her distinctive ladies (portraits of her friends) and stylish patterns, encompasses Print, graffiti, illustrative ink, painting and drawing taking on the boy heavy walls and galleries and bringing a refreshing look to contemporary art. Dora's work is current, though reflecting influences from art nouveau, Japanese prints, burlesque and 50's tattoo design its wrapped up and packaged with an up to date edge and firmly stands by itself. Some of Dora's work will also be featuring at
Art for Kunst
- an exciting new project, offering highly collectable and functional art pieces from established street and graffiti artists and the freshest new talent. Dora took some time out to speak to us here at
The405
. Check it out!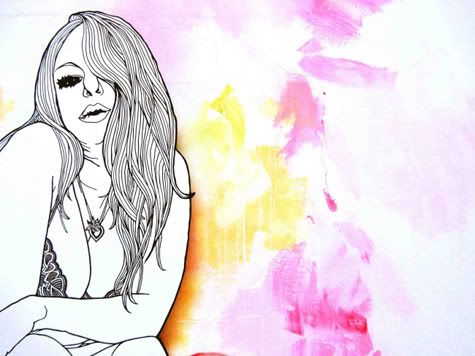 Why do you think you became an artist? Do you recall any specific events that triggered you into realizing that your artistic abilities could possibly become full time career for yourself??
I always loved art and it was one thing I though I was alright at doing… dabbled in a number of things but came back round to art eventually. I've never been a 9-5 girl and never really had routine (though sometimes I crave it). It wasn't about making money… it is always about doing it because I wanted to. However, If I can make a living through being an artist?…. It's a blessing. I'm getting there slowly, but it's good for me.
All of your work tends to focus around the female form. What is the reasoning behind your fascination with the female form as apposed to the male form?
The female form It's much nicer to draw in my opinion, but….. who know's maybe you'll see a new take on everything next year.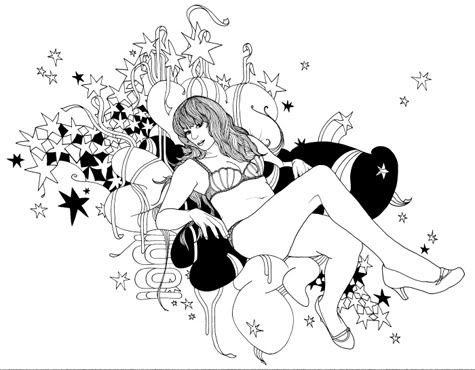 Would you say that each of your portrait pieces can tell or have a personal story attached to the character in them? Is this intentional?
All the girls are my friends so I read something completely different in them to the viewer, But as I've developed my work its something I've become aware of and really like the fact that you can put your own story to what you see within a 'Dora' piece, So I guess early on it wasn't intentional, it was just about that I liked drawing female forms and just experimenting with my work but now I'd say I am much more aware of what I want people to see and well as creating their own mystery/story. One guy that bought a few pieces apparently asked the seller if they were all my lovers. Ha, that made me laugh a lot.
How did you become involved with Art for Kunst?
I did a show with 'Jibbering Art' back in May this year and through Laura 'Jim' from 'Kunst' came to the London 'Great Birds of the British Isles Show' He seemed to like my stuff, which is Grrreat!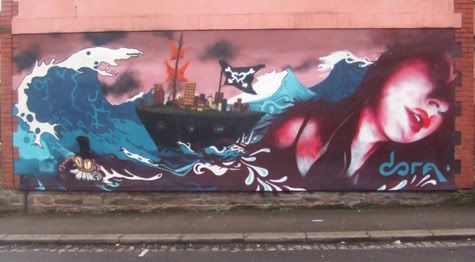 Like most graffiti artists, you've decided to work under an alias. How did you get the nickname Dora?
Firstly when I started 'writing' I didn't want to use my real name…. I think that goes for pretty much everyone, I used to write 'Elektra' Partly because I liked the letters, and didn't really have any idea of what to use, I just was desperate to get something up… Elektra came from a character that came out on a drunken night; she was a 'Norwegian Record Producer'…. She just happened. I started feeling though it didn't really have any connection to me though and it was quite long to write so, I decided to become 'Dora' this was my grandmothers name.
What is your opinion on graffiti art despite the negative stigma that it seems to carry?
'Graffiti'….. one of those words… People get confused with what it actually is.I love it…. I really need to do some more…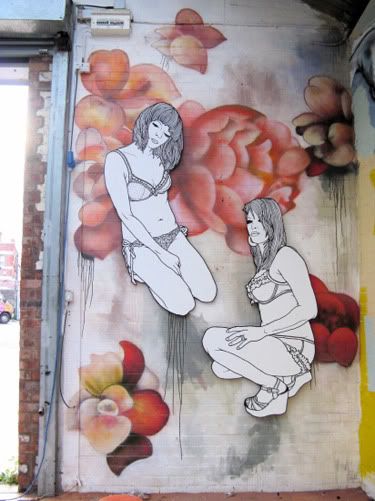 In my opinion some of your best pieces are those that have been done on wood. What was the appeal of putting your art work onto wood? Was this accidental or was it something you came across in an experimental process?
I was always quite a loose painter and always liked painting female forms… so it was a surprise to me when I downscaled and went illustrative. I guess I was trying stuff out, and canvas was never a good surface to draw fine lines on, Picked up a piece of wood and found I really liked the grain, I especially liked finding out bits with more character that seemed to enhance the subject matter. I liked the whole look. I'm really enjoying printing on would now and using gold leaf bits..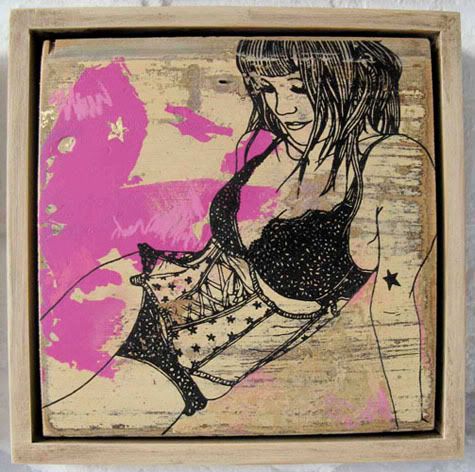 Can you tell us a bit more about your crew "Great Birds of the British Isles"?
"Great Birds of the British Isles" Includes myself 'Dora', Milk and K148, Amour did the first show with us but has unfortunately had to pull out due to other commitments. However because of this we may invite a new girl to join us for a show each time. We pulled together not just through friendship but the love of Painting, Photography, and art forms that stem from the streets. Even in these modern times it can still be incredibly difficult to be taken seriously as female artists, especially on the streets and galleries, where the underground movement seems to be fuelled by men. By combining our talents we have the freedom to create what we want and work with the exhibition space the way we choose.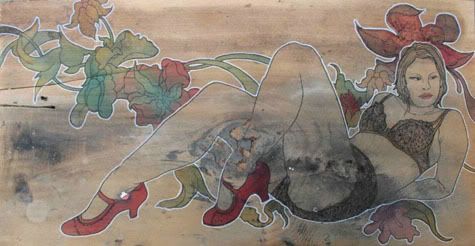 The Great Birds Collective started earlier this year with our debut show in London and then last month brought our second exhibition to Bristol, where we are all based. Looking at each exhibition space as a unique canvas to showcase our work we take inspiration from it's shape, size and textures to determine the design, the colours we use and the way we hang our work. Each gallery is carefully chosen so we have the freedom to paint the walls, floor and exterior. With no two shows ever the same. It is not about standing still, it's about moving forward and creating an epic approach to gallery design. There be something offered each Year from the collective…
http://www.myspace.com/greatbirds
.
What is the key to keeping your work and ideas fresh and not getting mentally or physically burnt out by what you do?
You always have stuff running around your head…. So it's always a bit mental, Ha. I've just been away to France for 8 days with my boyfriend, and it's just reminded me no matter how skint your are a break is very important.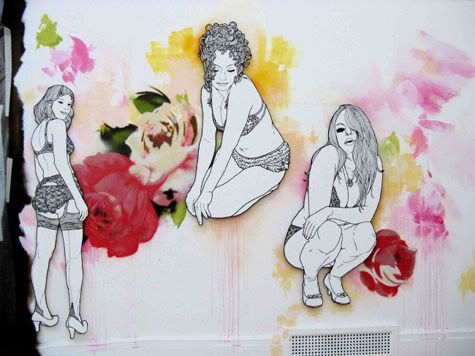 Finally, what's next for Dora? In terms of any new projects you have or any aspirations you have in life that you would still like to work toward and achieve. Is there anyone you'd like to give a shout out to?
Coming up… RUMP Dates: Opens 6pm Thursday 3rd December, open daily until Monday 7th Dec. Venue: 1st Floor (up the stairs from the Canteen bar) at Hamilton House, 80 Stokes Croft (opposite Turbo Island), Bristol, BS1 3QY. Wednesday, 4 November 2009 Shows CHRISTMAS SHOW 11TH DECEMBER One for your diaries... Our Christmas Show kicks off on the 11th of December... Artists confirmed so far (more to be announced!) ASBESTOS, CHINA MIKE, DORA, EELUS, EINE, INKIE, MR JAGO, PETRO, XENZ... Flying Eyeball Presents…… A Christmas Exhibition and pop-up shop @ Gallery 27 – 27 Cork Street, Mayfair, W1S 3NG 6th-13th December 2009 – Private view Tuesday 8th December 6pm-9pm Something from the 'Great birds of the British Isles' and a solo show in the spring with 'Friend & Co' , an updated fresh website of work…. Shout outs…Mike,Orla,The Great Birds,Anticon and Withered Hand. Be sure to check out more from Dora by visiting her Official Website
here
. For more information on the products, artists, opening times, dates or directions please visit the web site -
www.artforkunst.com