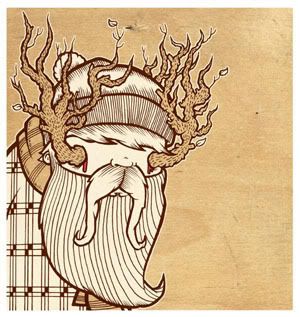 Illustrator
Drew Millward
took some time out to talk to us here at The405 about his art work. Check it out!
When did you first realize that illustrating could become a full time career for yourself? Was your choice to become an artist something that was regularly embraced; given your talents, during your youth or was it something often frowned upon by your parents and teachers who told you being an artist wasn't a "real" job.
It really wasn't all that long ago to be honest. I did study art through school, college and university, but that was more down to the fact that I wasn't very good at anything else, although I did try. I was never really that academic, I hated sitting exams, and truth be told I pretty much hated school, so perhaps the effort was lacking somewhat. I don't want to paint myself as some sort of dunce, but I really had very little interest in any other subjects aside from art. Which, given my aptitude for other subjects, was a bit of a blessing. Although I always enjoyed creating art, I certainly never looked on it with any sort of career plan, since as time went on I slowly lost interest in my formal art training too. By the time it came to about mid way through my degree, I had all but given up any sort of hope. I managed to pass the course, but after that I basically got a job in an office for about 2 years, but soon got bored of that too…. Can you see a pattern emerging? As far as support goes, I couldn't really have hoped for my parents to have been any more supportive. I'm the only one in the family to go to university, and since I'm the youngest, I think they were just happy to see the back of me, and doing something (in the nicest possible way).
How long have you been designing merch etc for? Do you ever feel as though the people you design for always end up taking all the credit?
I guess it must be about four years or so. I started making posters about 5 years ago for shows we were putting on in Leeds, and from there things started. As time went on I started picking up more work in all kinds of fields, merch obviously being an obvious one. As far as credit goes, it's a bit of a tricky one. I try my best to work with companies and people who are supportive of art, and of artists, so it's not so much of a concern. I think if people want to know who designed something, they will find out, if people just like the design, then that's cool with me. If they hate it, hopefully my name isn't on it.
Have you ever considered doing your own comic book or working as a comic book illustrator?
No, I really don't have the patience. The thought of sitting a redrawing the same things over and over makes me feel a little bit sick. I'm sure most artists/illustrators feel the same, but after I have finished a drawing, I'm pretty much burned out on looking at it. I suspect if I ever did do a book, it would be a similar process to painting the Forth Bridge, I'd have to go back to the start and redo all the earlier illustrations. Until I was creating work as beautiful and interesting as Chris Ware, the comic book is out of bounds.
What is the key to keeping your work and ideas fresh and not getting mentally or physically burnt out by what you do?
I just keep doing different things. Although I, hopefully, have developed a style of my own, I try to keep pushing things. It keeps things interesting. It's nice to have a variety of jobs to work on at the same time, and it keeps things from getting stale. If I have two jobs on the go, I try to have something at the drawings stage, and something at the Photoshop stage, that way if I'm bored of one, I can go and do the other. You often come back and see things in a fresh light, and realize mistakes of improvements that can be made.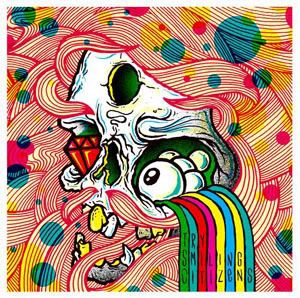 You've probably created hundreds of different characters, each more monstrous then the next. Summarize the process you go through in order to make one new and more unique.
Ha, it really doesn't always feel like that I can assure you. I think a lot of the process is fairly hit and miss, and there is certainly not a set way I work. Having said that, I usually set out with a vague idea, sit about for a while and loosely sketch out ideas. These can often be very small, and would make no sense to anyone but me, but it's enough for me to work on a bigger version and take it from there. I often draw it out on paper, and revise it a few times on sheets of tracing paper. If I weren't such a traditionalist, I'd probably be able to speed my process up and work completely in the computer, but I am, so I don't.
Would you agree that there's some what of a Japanese Anime type influence in a lot of your work? Is this a style you'd purposely set out to adhere to?
Not really. I am a big fan of Studio Ghibli films and Hayao Miyazaki's work, but further than that, I'm not some sort of Anime nut. I am however a massive fan of Japanese art, so I would guess that the influences of artists like Hokusai or Kuniyoshi is something that has seeped into what I do…
Tell us a little more about your record label Birdwar and band White Fang. In fact your new album is out tomorrow isn't it?! Do you find music as a welcome break from your art or do you find your music ultimately influencing it?
There isn't a lot to tell really. Myself and Luke Drozd started Birdwar about 5 years ago, because we had seen David Thomas Broughton play in a church, and we both agreed that it was one of the best things we have ever seen. Turns out he didn't have a label (in fact I think he later told me that it was one of the first shows he had played), so with blind faith, we said that that we would put out his album (when he recorded it). We ended up recording it with him in a church hall in Leeds, and that was about it. It's still one of my favorite albums, and I'm proud to have aided that in some way. We later put out other stuff that we loved by Last of the Real Hardmen, Samamidon and 7 Hertz. Luke now lives in London, so it's a bit of a sleeping concern. I don't think either of us have seen anyone play recently that we have felt strongly enough about to put their record out, but we shall see. As for White Fang, I play drums; we make loud slow music that is becoming increasingly melodic as time goes on. We are recording an album soon. The less said about it the better.
What have you been listening to on your ipod/mp3player/stereo a lot recently?
Wolves in the Throne Room, The Pains of Being Pure at Heart, Giant Sand, Baroness, Gallows, Trap Them, Tombs, Big Business, The Thermals, David Thomas Broughton, 7 Hertz, The Appleseed Cast, Envy, Copperpot Journals, Arcwelder, Silkworm, Dianogah, Shellac, Tom Waits, Bruce Springsteen, Basquiat Strings, Bedhead, The New Year, Pinback, Billy Bragg, Bonnie 'Prince' Billy, Earth….. Basically loads of stuff. I always have music on as I'm working, which is pretty much all the time, so I get through a lot.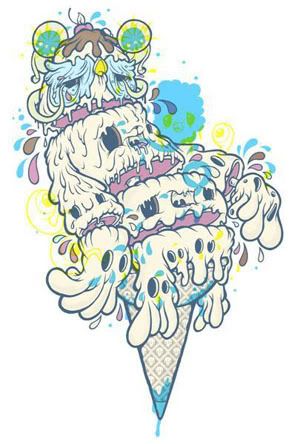 What do you think about artists who work under different nicknames and aliases? Was this something you ever considered before opting to use your full name?
It's not something that ever crossed my mind. Personally I'd feel like a total dick introducing myself as some sort of alias. I guess it comes more from the graph scene, were anonymity is necessary.
And finally, what's next for Drew Millward? Where do you see yourself 3 years from now, in regards to your work, new projects and any other personal aspirations you have in life.
I'd like to buy a house. That's about it. I'd hope that I can continue to draw and paint, as I am doing now.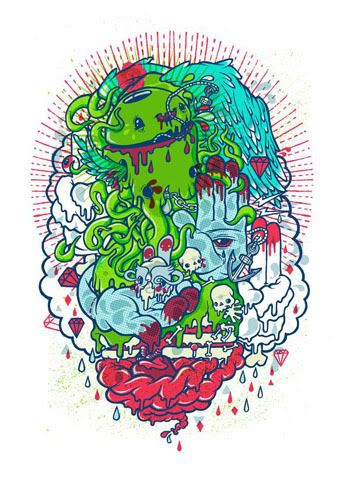 Be sure to check out more from Drew by visiting his Official Website
here