The Fat Punk was squeezed into existence, so let there be vector. Inhabiting the virtual totality of the internet the Fat Punk Boys are revving up their vector engines ready to burst into the wide open theatre of Services for Sale. Fat Punk values and strives for detail, accuracy and personality in their design. Incorporating rich elaborate shapes and colours found in architecture or the natural world, all of which have heavily influenced their creativity and aesthetic choices. Motivated with a commitment to excellence for their clients, a great deal of care and love goes into the work that Fat Punk conceives. Using only the finest materials available and the most efficient strategies allowst then to fully realise the potential of any project no matter how large or small! The 405 recently kicked back with Fat Punk for this exclusive interview. Check it out!
For those of our readers at home who aren't familiar with your work, tell us what Fat Punk Studio is and does?
Fat Punk is a full service design studio. We don't constrict our services too much within specific markets, although obviously our style's going to reach out to some more than others, however we try to keep the commissions varied. We've just wrapped on design gigs for Ride snowboards, Scorpion Sports and over the next few months we will be working with Osiris Skate shoes on some limited edition sneakers.
Fat Punk Studio mixes clean with mean and the rough with the smooth, trying to keep a consistent personal identity whilst having the adaptability to suit the creative demands of an ever more design savvy client base.
I am the visual driving force behind all illustration, graphic design and layout whilst my partner Anthony deals with the website side of things, along with motion graphics and photography. We do however endeavor to work closely together on all aspects of planning and consultancy. It's good to talk!
We approach our clients and colleagues with the utmost honesty and operate a NO BULL SHIT policy both in an out of the office! Frankly we chose this line of work to pursue our dreams and creative vision, not to BOSCH BOSCH wheel and deal. We'll leave that up to the government lol!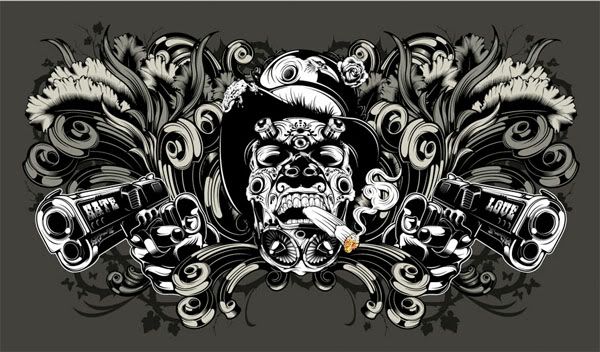 Some of your work recently featured at the 2nd Coming Pale Horse art exhibition in Florida. Was it a surreal experience having your work showcased across the pond?
Art show's can be a really great way to get your work out there, but we've found that you've got to be careful of the sharks in the pond. We had amazing feedback from the Pale Horse show over in Florida and its always a rewarding experience to find out that someone enjoyed your work enough to purchase your piece! It's an extremely gratifying experience to get work out there for people to go see and we've built lasting friendships with so many awesome artists across the globe. Fat Punk has now been part of several exhibitions over at Pale Horse and we can't wait to saddle up for a few more!
What's the craziest brief you've ever been given or have set yourself?
I'm not sure about the craziest but certainly the most demanding briefs I set myself usually centre around my fascination of repeat pattern work using motifs that interlock. Seemingly simple these little critters will have you tearing your hair out. Many a sleepless night i have sat toiling over these patterns.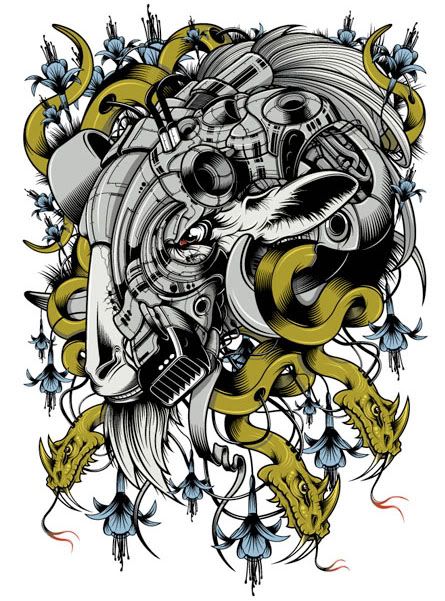 A lot of your design work consists of skulls, angels, snakes and various other devilish creatures. Is death something that is constantly on your mind and therefore showing through in your work?
LOL Not really. I think its more the play against opposites that I like and contrasting forms. Combining say a skull which is a dead lifeless object with beautiful organic flowers just seems natural to us. We wouldn't say that we are actively rebelling against modern illustrative styles; we are simply designing through the channels of our personal likes and dislikes and striving to create something interesting and refreshing that has a higher priority than dodging conformity just for the sake of it.
Finally, where do you see Fat Punk 5 years from now, in regards to your work, new projects and any other personal aspirations you have in life?
Short term we have lined up some commissions for several illustration gigs along with a fairly major web project which unfortunately has to remain under the hat right now. We are releasing Fat Punk Skateboards this August which will be a continuing series of high end decks and wheels. We hope to branch out with this over the next few years sponsoring events and building our own unique skate team!
Aside from that we hope to continue working with amazing clients and expanding our portfolio in to new and exciting areas. We are thinking of opening a skate shop/gallery/studio at some point down the line so watch this space as they say!!!
Check out Fat Punk Studios online by visiting their MySpace page
here!!!