Art has always been a tricky thing to define. What I like might be awful to you and in the same instance I may not even be able to give you any reasons why I like a particular artist/piece of art. Often it's just a gut thing. A few years ago I spent an awful lot of time surfing the web in search of artists that I could connect to and I stumbled onto
http://ilikedrawing.co.uk/
. Straight away I fell in love. Ian Stevenson's work is simple but incredibly effective. Fast forward a few years and I got to send him some questions. So it's with my great pleasure to present you with an interview and a few images for you to fall in love with.
____________________________
Hello, how are you today? Could you introudce yourself to our readers?
My name is Ian Stevenson, I am an artist and I want you to want me and to never let go. I am very well today thank you and I hope you are very well too. I do have many unanswerable questions in my head about the world. Why do some people feel the need to push in front of everyone else when getting on transport even when they have a ticket with a seat number. Maybe let's just stick with 'I am very well today thank you'.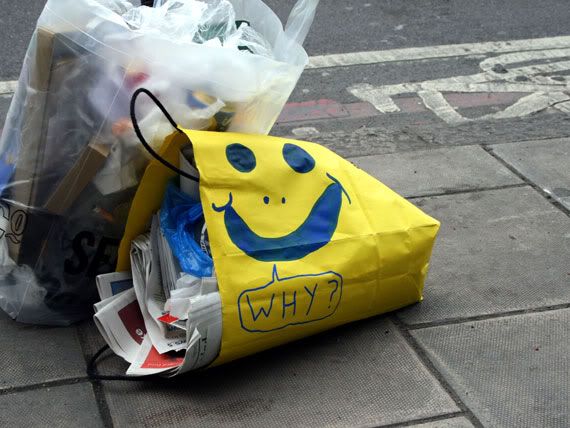 How did you get started in the world of art?
I used to draw a lot as a child but stopped and moved into an academic route and then after many years I have returned. My first move was to leave an Architecture degree after one week and change to an art foundation course. I then became a graphic designer in a successful company and then left as I found my mind couldn't develop or respond in the way it needed to. Now my mind runs free and I follow it. The ideas constantly torture me, I wouldn't change a thing but have to make sure I get them out.
Was it hard to leave a steady job to go freelance?
I was kind of forced into it by overworking myself, I was doing a full time job, club visuals, running a t-shirt business, making music and having fun. After a rest and thinking I would never be creative again I came back for some unfinished business.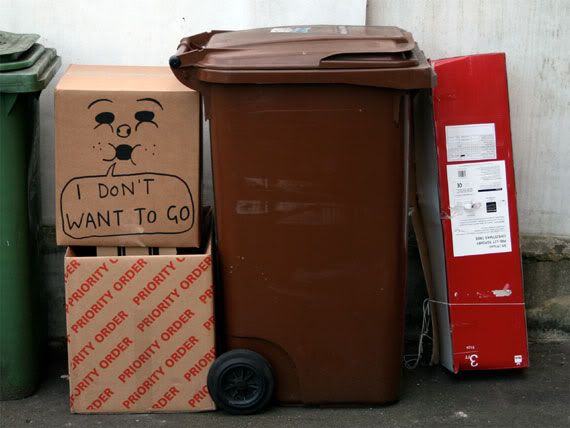 What is 'Art' to you? What's the first thing that comes into your head when someone says 'art'?
Art is something that has been created by humans. My perception of art is very personal, I would probably remove some artists work from some galleries and replace it with better 'art'. I'm not really into being told what art is and I think I'll decide whether it's art or not thank you and maybe this is the same for us all. I do not enjoy artists who have to over theorise their work in order to create meaning as I believe the work should communicate for itself. So let's say the perception of whether it is art is personal to the participant. But saying that sometimes people opinions can be wrong, oh dear this is tricky.
You seem to have a healthy attitude towards creating art an what art is. Did you find it hard doing an art course? I did a music degree and found it hard because of the structure which I found hard to follow because I felt music shouldn't follow a set path.
I think I have finally worked it all out and listen to my thoughts.
How would you describe your style of art to someone that hadn't ever seen your work before?
They'll love it and wonder how they have lived so long without it. No but really... I would say it is like my mind on paper and is closely connected with my personal thoughts. For you to fully understand you would have to enter my mind or maybe follow me around for a bit and then you might understand. When you first look at my work it probably looks quite innocent but look again and there is often a darker side waiting for you.
"When you first look at my work it probably looks quite innocent but look again and there is often a darker side waiting for you" Kind of like disney then?
Yes you are probably right there and children entertainment is amongst some of the strangest things out there.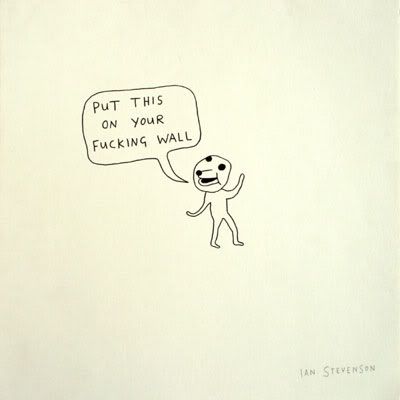 Who influenced you? and who continues to influence you? Are you influenced by anything outside the realms of art?
I'm influenced by everything from modern living and other things too. I enjoy watching daytime and childrens TV programs and finding the unusual side of things. It all goes into me and comes out as my personal thoughts in the work. I enjoy artists who do their own thing across all mediums and who create clearly communicated ideas and not those who create overly complicated work to hide the fact that there is no initial idea. The people who copy the latest 'cool' trends are the worst kinds of people. It's easy to copy but it's not as easy to come up with something original. I started drawing many moons ago, I was alone staring at the wall rocking back and forth just listening to my mind saying "Yes Ian you should do this, I know they are not looking now and people laugh but maybe one day we can all laugh together". Ideas appear at the strangest times and who knows when the next one will appear...
If someone was looking for your advice about getting into the world of art, what would you tell them?
A few years ago I emailed a few illustration agencies when I was trying to get representation and one of them suggested that I look around at what other artists were doing and create more work like that. If that kind of advice is not what is wrong with the world then I don't know what is. I would suggest doing the exact opposite and now you can decide which path to take.
Do you have any parting words of wisdom for our writers?
Don't be scared and I want you to come closer. Ideas appear at the strangest times and who knows when the next one will appear.
____________________________
Remember to check out Ian's work by going to his rather amazing website! http://www.ianstevenson.co.uk