Juice 126
proclaims: "Paint is there to be splashed, distorted, demolished, dripped and molded into new textural forms." In his 28-year pioneering career, Birmingham-born, Elliot is the original metallic abstract aerosol artist, founding member of Ikonoklast Movement and former curator of the 90s "Hall of Fame" Blueprint Gallery. He is the pioneer of the aerosol and graffiti art form, exploring paint through colour texture and movement, constantly pushing the boundaries of what can be achieved with his chosen medium. Some of Juice's work will also be featuring at
Art for Kunst
- an exciting new project, offering highly collectible and functional art pieces from established street and graffiti artists and the freshest new talent. Juice took some time out to speak to us here at
The405
. Check it out!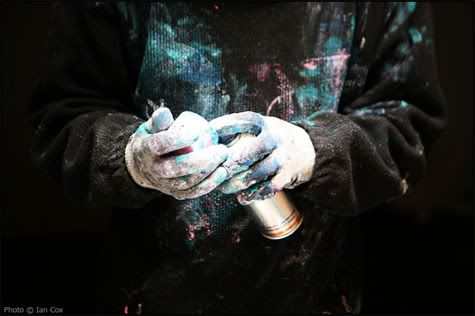 Why do you think you became an Graffiti artist? Do you recall any specific events that triggered you into realizing that your artistic abilities could possibly become full time career for yourself?
I love art, when i saw graffiti i was looking at the future, i loved the way it was different to other forms of art, and as i came to the art via seeing it in its home and then through the invasion of early electro and rap music, i'm a child of the Thatcher years and it was a good way of expressing myself. As a full time career, its the one thing i enjoy, the one thing i can do. As a one of Thatchers children you were driven to fit into the norm, i didn't want to, the moment 1 decided to pursue it as a career, 1987 that year i was feeling that, " i wanted to do the art, as i was not going to do a 9-5 or 6-6", it wasn't one moment but a year of moments.

Although you're one of the original UK graffiti artists, your paintings aren't what most people expect graffiti to look like. Obviously other graffiti artists starting out at the same time as you saw graffiti as something else and gave us what most people see as graffiti today. Why do you think you decided to create a different artistic path and make something totally different visually?
I started like any other "Graffiti artist" painting letters being in a crew who painted illegally that was all i knew, but i discovered work by Futura, Ramellzee, Crash, Daze, which didn't fit the norm, and as i was painting with a crew which was formed to experiment, the crews name was Art X, we experimented. when someone comes to the art they feel the need to join in the mythical graffiti process, Tag, paint letters, be a part of a 3 letter crew etc etc, but you quickly have to decide are you doing it for the myth or yourself, i wanted to paint the way i wanted to paint, express my thoughts, explore graphics, typography, art, architecture, and be able to do what i wanted on walls glass etc. When i started experimenting and painting abstract work, it was a no no, most of todays artists were children when i was fighting for space to express myself in 1980's, i love a battle, i was told what i was doing wasn't "Graffiti" and it didn't belong in the art, but i knew different, the art is anything you want it to be, as its a culture, it has many faces and sub genres and i knew that i fitted in somewhere.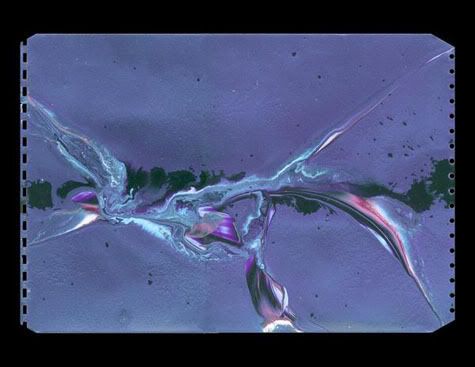 In the early 90's i formed the Ikonoklast Movement with Part 2ism, Remi/Roughe, Stormie, System, we all wanted to explore and experiment, those experiments have helped to expand the art we have today, its too easy to do the formula 2 characters and letters, or in the last few years stencils or bag of S**T paste ups, i want to challenge the eye and mind. Most importantly i'm doing the only thing i know to do "i don't follow fashion"
You first started out on the graffiti scene back in 1980. How has your knowledge of graffiti and style of work changed since then?
Its grown, the art is a living breathing monster, it shocks you with every new painting, every artist has their own way of expressing themselves, the art is like fashion, constantly evolving, i've seen the change from top heavy letters to 3D over the last 20 years, stencils back in 87 in paris, Hip hop character develop into figurative painting, mixed media in the art, has helped a whole generation who in the 90's were outsiders be part of the art The art has given us great artists, Mode 2, Lokiss, Merda, Erni, Futura, to name a few, they all have there own style their own vision. You are constantly learning more about the art every day, as the art has aged, artists thoughts come out through in their work, we are in an age when everyone can see someone's work almost instantly, due to the internet, back in 80's and early 90's writing letters and occasional phone calls and Graff magazines would keep you up to date on what was going on in the world, i've met so many friends and discovered so much through old style communication.

In the modern internet age its too easy, but times change. Its good to see artists embracing new materials and modes of working, and its been enlightening to see the art invade all walks of life, art, television, sport, music, but for all that, its still not understood at all, its a art form which the establishment has no control over, and those who do it fail to communicate, its harder to put a label on the changes as there is so much going on, one thing hasn't changed the conservative nature of the art, it hates change even though it thrives on it.
How did you become involved with Art for Kunst?
I met Jim through, some friends and last year we talked and he seemed interested in my work, he decided to produce some T-shirts and i was asked to contribute which is cool as i get a chance to show the other side of my work
Like most graffiti artists, you've decided to work under an alias. How did you get the nickname Juice126? What are the pro's and con's of attaching your real name to your art work in a scene where artists are highly secretive about their identities? Why did you choose not to do this?
I've had my name for a long time it was created in the feudal times, Juice means "power" in various slang ways so it fit for me, as i wanted to be the power i'm only secretive about my real name as it keeps me safe in this "i want to know" world, those who know me, know my name, i don't really want fame and my name in lights, been there i hated it, like any sane person i want my privacy. And as i've used my alias for so long it would be stupid to change it, its part of who i am.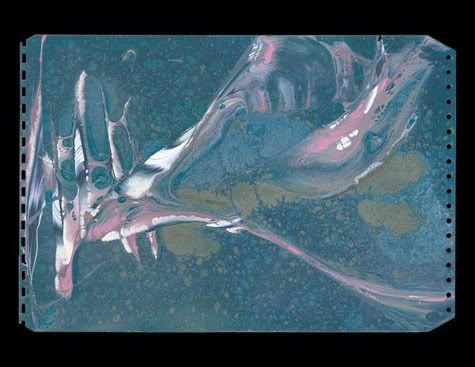 Now that you've started taking on a lot of commissioned work for exhibitions etc, do you ever get time to hit up any legal or illegal spots during your days off?
No i don't i'm still an outsider, i hate that the art has never escaped its history, also good walls are few and far, as i like to paint big. Also the "street art" years have corrupted the art, everyones wants to be the street/stencil art king, the mythology of what the art is, is killing it, and i won't join in. We have never liked the artistic process in this country any artist in any genre has to fight to get their art in the public domain, i like painting walls, but as my work is only understood by a few, its normally destroyed before it can breathe in this world, and i'm 43 yrs old and running around like a teenager doesn't appeal to me. And fighting for wall space with all those in the scene, isn't good.
From whom or from where do you draw you inspirations?
Where do i start, Futura he gave me my first visual break, Gustav Klimt i love his work and he influenced me to form the Ikonoklast Movement, Claude Monet the king of colour and texture, Neville Brody king of graphics and the designer of the Face magazine which influenced me to break out for the 2nd time, Zaha Hadid seeing her work in Vogue in the late 80's blew my mind and showed me that Graffiti is not too far removed from any other form of art. Charles Beaudillaire French Symbolist poet beauty in words, Kent Williams, Jon J Muth, Bill Sienkewicz comic artists who care about art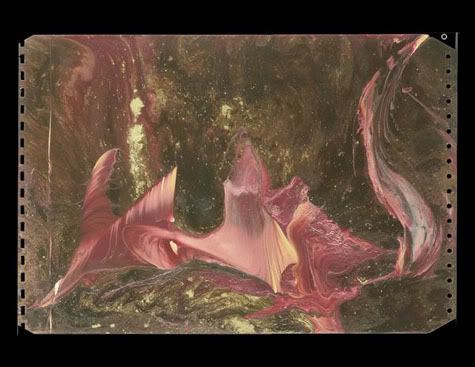 Sorry to digress inspiration for me comes from paint and life, as my work is about colour and texture anything can influence me, i love words and their descriptive quality we take words for granted and i live to put my visions down on paper, canvas, glass, when i'm interpreting a title or phrase, giving colour to emotion. and as i say on my Social networking pages anything that tingles my 5 senses.
Your sculpture pieces seem to be a welcome change of pace in your work. How did you get into creating these?
A logical progression i wanted to explore, sculpture, i love Rodin and Alberto Giacometti, Frank Auerbach, the first 2 are sculptors in the traditional sense of the work Frank Auerbach is a painter who's work is sculpture, as i love texture and depth its logical that i was going to explore this, my first works were self portraits done back in early 90's, i had a show my first solo show in Birmingham last year and i extended my interest in that show, I' ve just completed a sculptural work for the Forward exhibition in Birmingham a few weeks ago this was about me metamorphosing metal mudguards into a flower, a challenge, i love a challenge.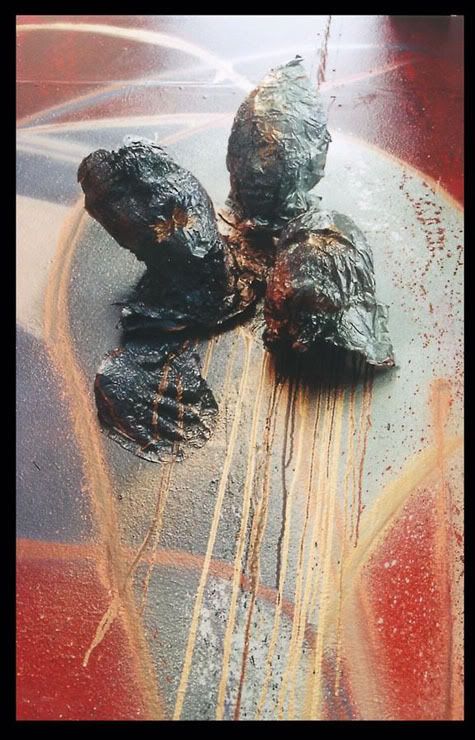 What is the key to keeping your work and ideas fresh and not getting mentally or physically burnt out by what you do?
I'm always getting burn out but not through lack of ideas, but usually due to lack of opportunity to express myself, i'm always seen as the weird one who's work is not easily defined as graffiti, so i don't fit into the Graffiti/Street art world, i keep my work fresh by challenging the preconceived idea of the art, i do like to shock people with my work. I keep exploring 43 yrs. has given me a lot of ideas, mental rambling, to try to turn into work, i'm lazy and will go long periods without producing work, but you can only produce so much work without getting a chance to exhibit, and i don't like destroying work, so i limit myself to doing work only that i can store.
Finally, whats next for you? In terms of any new projects you have or any aspirations you have in life that you would still like to work toward and achieve. Is there anyone you'd like to give a shout out to?
As part of the Agents of Change we've just completed the Ghost village project, and are looking for our next project location. Youtube http://www.youtube.com/watch?v=6GePVcnxERc Vimeo http://www.vimeo.com/7070315 http://www.flickr.com/photos/no-eyed-dear/sets/72157622429070247 on a solo tip i'm preparing to complete 2 new collections of Glass work then its the slog to find somewhere to exhibit. Aspirations only 1 that humans realize that the world does not belong to us, and were far from even being the caretaker of the world and that the human race grows up. Ps Cars are evil. For more information on the products, artists, opening times, dates or directions please visit the web site -
www.artforkunst.com