Whether it's the urban decay associated with Detroit, or the mountains of the western United States, Kevin Bauman's focus has been and continues to be on the landscape, developing an interest in the interaction between man and environment in the process. Kevin's landscapes, however, do not always reflect the idyllic scene most often portrayed by the traditional landscape photograph or painting, but ranges from serene Lake Superior sunsets to chaotic post-industrial landscapes of urban Detroit. Bauman's photography reflects his varied interests, and has included such work as industrial interiors, corporate portraits, environmental portraits, and varied location and travel photography. All images, whether the crumbling facade of a century old mansion, or a client's industrial drill, are linked together by his unquestionable devotion to photography, and each receives the same attention to detail. Kevin took some time out to talk to us here at The405. Check it out!
How did your interest in photography first form? Was it something you were interested in from an early age or did it come later on in life?
I was always interested in photography from an early age, though never pursued it until after college. After taking a stressful sales job, I decided I needed a creative outlet. Throughout highs school and college I had pursued ceramics, and found I missed the creativity.
A lot, if not all of your photography focuses around landscapes. What is it that attracts you to this area of photography rather then say, portrait photography?
When I first started to focus on photography, it was as a creative escape from the pressures and stress of a sales job that I wasn't really enjoying. I needed some kind of alone time, as I spoke to people all day long, every day. I liked being able to wander around by myself, and photographing whatever caught my attention. I really didn't have much interest in portraits at that time. Now, I do portraits as well, but the majority of my projects have focused on man made, or man affected landscapes. I suppose the fact that so much contemporary photography focuses on fashion and portraits makes it seem like there is an overwhelming amount of work in that genre. Also, I've always tended towards things that were a little out of the mainstream, though lately, it seems, decay and abandonment has definitely become more popular with photographers.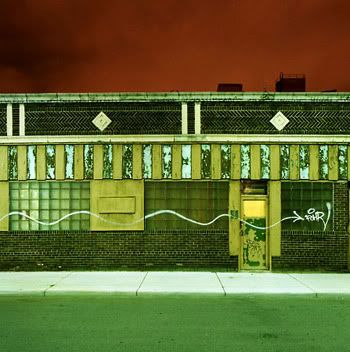 Many people may not know that one of your most recent and talked about projects "100 Abandoned Houses" is actually the culmination of around ten years worth of photography. Was it simply a case of going out with your camera every day or did you plan out which houses and parts of Detroit you wanted to photograph? Did this ever become tiresome and did you ever question whether what you were trying to achieve would be worth it in the long run?
It started out, like so many things in my life, with out any kind of plan or direction. I was simply intrigued by the number of abandoned houses in Detroit. In particular, I was especially fascinated with the big ones, as it seemed to be a bit more disconcerting to see such extravagant houses boarded up, burned, or abandoned and decaying. I started with the Brush Park area of Detroit because of it's close proximity to downtown and the entertainment district, as well as the fact it contained many mansions that were, at the time, in really bad shape, if not completely burned out.
Eventually, when I realized that I had the makings of a series, I began to focus on certain areas of the city. Although wandering around with the camera was always part of the process, even when I had a plan. In fact often times I planned to photograph in a specific area, but would become distracted and find myself exploring an area I hadn't planned on visiting.
The project has evolved in spurts. I would often ignore it for months at a time, and then at other times I'd spend several hours a day, for a couple of weeks, driving through the city's various neighborhoods photographing houses. And I was constantly questioning the point of the project, and my dedication to it. I liked what I was doing, but it was costing me a lot of time and money, and I would constantly wonder if it was worth it. I always figured that very few people would enjoy the series as much as myself. In the long run, I'm glad I did it, as it's provided a lot of satisfaction, I've met a lot of great people, and found out that plenty of others are interested in abandoned houses, the downfall of Detroit, and the decline of many of our industrial cities.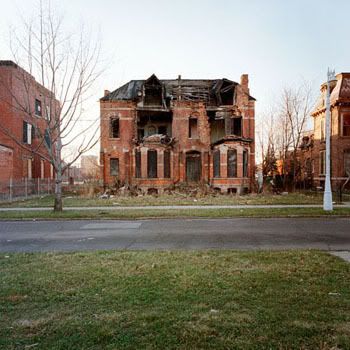 Initially the project started as something you perused personally and for your own enjoyment. When did the project go from being a "creative outlet" to something that you wanted to make people aware of and think about?
When the project went from being a handful of houses to a larger series, I thought I would need to figure out what to do with all of the images. Since I had a website, I decided to make a section of the site dedicated to abandoned houses. I didn't really think to much about getting people to look at it, and in fact I think I put about four of the planned 100 up at first, and then didn't add anymore until about a year later. I had planned on adding one a day, but it just didn't happen. I also didn't really get much traffic until almost two years after creating the abandoned houses section up on my site.
As a citizen of Detroit yourself, would you say that your documenting of the decline and abandonment of the state of which you live serves more as a message to those who have the power to rejuvenate the land, rather then an artistic project based on it's aesthetics. You've said "I have developed an interest in the interaction between man and environment", yet clearly this is non existent in Detroit. Do you think, given the press attention your project has had that this might change?
I don't actually live in Detroit, and in fact, due to the economy, spend much of my time now outside of Michigan, though I do still have a house just north of the city. I'm not really sure what I make of the project. I suppose I hope it's a little of both a documentation of the decline and a personal photography project based on aesthetics. I certainly would like to be able to have the photos become both part of a larger dialog about the city, and a series that can be enjoyed for what they are; photos of interesting, abandoned houses. Certainly though, I don't have any unrealistic hopes for the impact of my photography. In fact, I don't think it has much of an impact on those who could do something about it. The politicians, corporate leaders, and citizens of Detroit already see and experience the problems every day. This is not new, and certainly not interesting or intriguing to most of them.
I do think that the convergence of man and environment is definitely on display in Detroit. What was once a sparsely inhabited area before 1700, changed to a farming and trading outpost, then to a manufacturing power, and eventually to the post-industrial city it is now. You can find areas that were once dense neighborhoods, becoming fields of grasses, bushes, and wildflowers, interspersed with the remains of the city. Pheasants, and supposedly coyotes, are returning to the area. Urban farms are popping up all over, and even many of the abandoned houses are beginning to disappear. The environment may not be what one would normally regard as natural in the traditional sense, but it is nature none the less.
Are there any houses or areas captured in the photo's that hold fond memories or some type of personal attachment?
Not really. My parents lived and worked in the city, as did my grandparents, but none of these houses belonged to them, and I did not grow up in the city. The houses in the Brush Park neighborhood would come closest to having some kind of personal meaning, as I had been looking at them in amazement for as long as I can remember. And they've been decaying, and partially abandoned for as long as I can remember as well. I will note however that I have been contacted by many former Detroiters a bit older than myself for whom many of the houses do have personal meanings, and bring back fond memories. In fact I have had several former residents who have contacted me, and asked if I would find their old house and photograph it.
You've encountered concerned citizens, packs of wild dogs, 20 foot high piles of toilets, and houses with the facades torn off, filled with garbage. Did you ever find yourself in any threatening predicaments?
The dogs were probably the worst. I have mostly encountered very friendly people. I have occasionally had less than friendly encounters, though I think I've only felt threatened once or twice in more than ten years.
What cameras/equipment do you use?
Almost everything has been shot on an approximately 40 year old Hasselblad 500c, with a 50mm lens. I usually use Fujifilm 160, 400, or 800 color print film. And I also almost always use a tripod.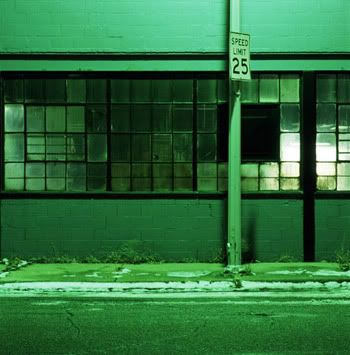 When you're out shooting, do you have a specific image in mind for what you want to be looking to photograph or do you simply photograph what ever catches your eye?
I often go out with something in mind, but just as often I find myself distracted along the way. Detroit is filled with so much that interests me that it is very easy to head out with a plan and never find what I was looking for. But often I'll find something even more interesting along the way.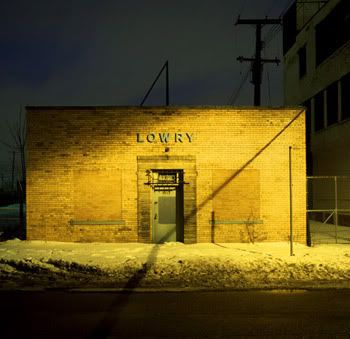 Finally, whats next for Kevin Bauman, in terms of any new projects you have or any aspirations you have in life that you would still like to work toward and achieve. Is there anyone you'd like to give a shout out to?
I have a series on small churches in Detroit, and a series of night scenes as well. I am also becoming more and more interested in photographing the people in the city. I think there are a lot of interesting stories to tell. I'd like to thank my wife Shelby for supporting and encouraging me to stick with my, sometimes seemingly pointless, personal projects throughout the years. Be sure to check out more of Kevin's photography by visiting his Official Website
www.kevinbauman.com