Luke Leighfield
is the UK's biggest underground pop star. And I mean pop star in, like, the Madonna sense of the word or something. Melodramatic both in music, personality, press releases and merchandising slogans, his stadiums are living rooms across the world, although his slightly unnecessary Greatest Hits album is only available in Japan. You'd be hard pushed to not fall in love with his charm or his tireless DIY ethic, playing over 500 shows in over twelve countries and recording and releasing two albums off his own back in the past three years. This year, Luke has, as ever, recruited all of his friends to help him make his third album, 'Have You Got Heart'. We can expect wonderfully over-the-top pop, led by Luke on piano and stuffed with strings, horns and all of that nonsense. And the best part is, he's giving it away for free!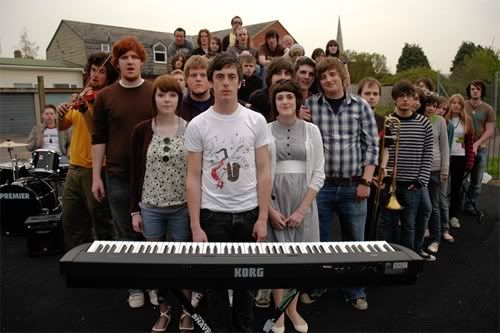 Why did you decide to release the album for free?
Basically, I feel like my two older albums were full of great songs but were recorded fairly badly, and that this has maybe created a negative impression of my music with some people. I'm really proud of my new album - Pete Miles did a really great job of recording it, plus everyone played a lot better, and the songs are stronger - and I really want everyone to be able to hear it and see how far I've come. I don't want people to have written me off and not be prepared to try out my new stuff, so I'm trying to entice some people back in by offering the songs for free. I also want to try to spread this album worldwide and get everyone listening.
Why do you have SO MUCH MERCH?
I don't know that I really have SO MUCH, it's just that in the early days of touring I was playing a lot of shows, and if you sell five t-shirts every show you need to keep getting new ones made. I don't like having to look at the same t-shirt every night so I tried to get fresh ones every few months. It also means that I get to try out loads of cool designers who are all trying to get their work out there and make a name for themselves. I think DIY artists need to support DIY designers and vice versa.
What's your view of the 'male kate nash' tag?
I'm fairly sure that's died out now! I don't sound like Kate Nash at all; I don't have a stupid London accent and I can actually play piano. Just because we're solo artists who play piano, it doesn't make us the same!
What made you decide to start your own label instead of signing to one?
Most indie labels operate on a 50/50 split after costs between label and artist, and I simply can't afford to throw away half the money from every CD I sell. A record label often sounds like a grand term, but it basically means that I organise all the artwork myself, get quotes from the CD manufacturers, then send all the artwork and everything away myself and pay the bill at the end of it. Then, when the CD is made, I try to get a few reviews, interviews, and a bit of radio play. I don't want this to seem at all offensive or arrogant, but I feel that there's not a huge amount more that any of the small independent UK labels could do for me. Obviously each label has a dedicated group of people who are likely to buy, or at least seriously consider buying every release, but having weighed up the positives and negatives of doing it myself as opposed to attempting to get an indie label on board, I feel like doing it myself is the best route for me personally. I think that's only because I've been blessed with quite a good work ethic, and I'm also a control freak, so getting someone else onboard would just frustrate me! If you're in a band just for the love of making music and you despise all the business side of things, then obviously it would make sense to get the backing of a label to handle all of that for you. However, I love all the aspects of releasing a record, even though it's often painfully stressful, and it's nice to know that when I get the finished product in my hands it's because of my hard work.
How did you start working with Get Cape? Have you ever felt unfairly labelled as the 'get cape violin guy'?
I think in 2006 when I started properly touring it was maybe a tag that got used a lot. However, it was really useful for me back then for getting gigs and making a name for myself. I didn't particularly mind it because Sam's a good guy and his work ethic and attitude to music is something I identify with, so I'm happy to be associated with him.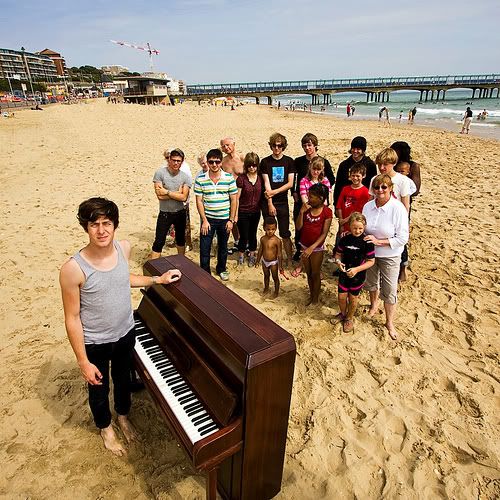 What are your touring plans for the coming year? You tour near-constantly, do you think you'll ever take a break?
Funnily enough I'm thinking of taking a tiny break in 2010! There are plans afoot for some dates in Australia, Russia, China, Korea and Japan but other than that I want to take a few months out to spread the word about the new album and maybe do a bit of conventional work. I'm in a bit of debt from this album so I need to try to make that money back!
What will the first single from the new record be, and will there be a suitably awesome video, like for your previous singles?
The first single, at some point, is going to be '60,000 Miles'. There's an amazing video which was shot half on tour in Spain last autumn, and half in Southampton this spring but it's kind of a slow work in progress. Nick Bentley, who directed both of my previous videos, is like one of those brilliant geniuses who takes his sweet time over things. This video is literally mental, like a trippy ecstasy-fuelled dream sequence. It will be pretty confusing for everyone.
Info
LUKE'S THIRD ALBUM, 'HAVE YOU GOT HEART?' IS OUT 17/11/09 ON GOT GOT NEED RECORDS. YOU CAN DOWNLOAD IT FOR FREE FROM
HTTP://LUKELEIGHFIELD.BANDCAMP.COM
OR BUY THE LIMITED EDITION HAND-NUMBERED CD/PHOTO BOOK AT
HTTP://LUKELEIGHFIELD.BIGCARTEL.COM