Mark Gamble
is a freelance designer based in London, UK. Quite possibly one of my favourite freelance designers in fact, he should be one of yours too. Using a rich illustrative style flowing well into a solid based foundation of Graphic Design he produces some brilliant work. Having attended Lincolnshire university he also has a strong grasp on typography, something which should be the top of everyone's lists to look out for. Mark produces posters and flyers for several bands, along with album artwork and t-shirts for some of his close bands he is passionate for. Pouring everything he has into his design work shows the dedication and natural talent he has for design. Mark was kind enough to sit down with us here at The 405 to talk about his work. Check it out!
What sparked your interest in Illustration & Graphic Design in the first place?
When I was about 7 I started reading The Beano, and I suppose it all started there. My dream was to be a cartoonist for D.C. Thomson, drawing the likes of Dennis the Menace and Billy Whizz. As I got older I got more interested in superhero based comics, starting with The X-men. When I turned 16 I gave up on the goal of being an illustrator as I realized I was never going to be good enough. Or at least I felt that at the time. It's hard to say when graphic design became an interest, because at the time I probably couldn't even tell what graphic design was. I just knew what I liked and what I didn't, especially with regards to design in advertising. Then I went to uni, where I was foolishly starting a degree in Computer Games Design. Let's just say it was a mistake, as I couldn't program code or do maths, which were pretty important! I soon found myself transferring onto a design course, and that's where I really started to develop a passion and obsession with graphic design
What inspires you most and influences your work? The world around us, fellow designers?
I think it's safe to say that music is one of the key influences within my work. In fact, without music I'd probably produce a fraction of what I do right row, as it really does inspire so many aspects of what I do. I'm also really influenced by films and graphic novels. Whether it's a film scene or a comic frame, a line of dialogue, or just the overall sentiment of the piece, I can take a lot away from these things. Then I'm also largely influenced by old film posters, TV comedies, books covers, Russian propaganda posters from the Cold War and trips to Scandinavia. Lots really!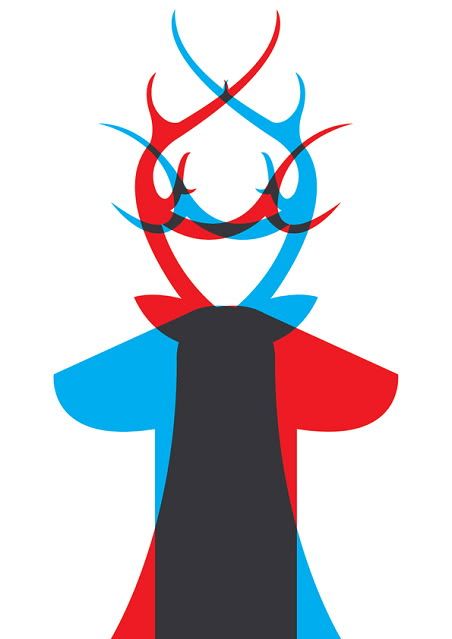 You have a strong illustrative style – a lot of them being very 'gimmick' and 'funny' type characters, where do you draw the idea's to create such characters from?
If I'm honest, I really don't think about it too much. Most of the time I sit down with a very loose idea, and then I just draw. If I think about things too much I seem to struggle with actually getting a decent piece of work out. As stupid as this sounds, by working like this it feels a bit like the character is creating itself, rather than me being fully responsible for its existence. I suppose there is a lot in my sub-conscious that I unknowingly call upon. I also look at a lot of nonsense of the Internet, which I'm sure is partly responsible for some of the stupid stuff I draw.
The work you produce always has a very strong typographic sense to it, what helped you develop a keen eye to keep everything 'just right'?
Until you learn about typography, you really don't realize how important the use of type within graphic design is. I'm obsessed with typography now, so much so that I've been on first dates and started pointing out my favourite fonts on shop signage, or started complaining about layout of text on a menu. Needless to say, this doesn't always go down well, and doesn't make you seem like the most interesting guy! I'm still learning about how to use type effectively, and I don't always get it right. I just try and remember everything I was taught by a great typography loving uni tutor, Chris Dunne. I also reference other work showing good use of typography, which usually helps me to get my own work to a point where I feel like the use of type is 'just right'.
Do you ever struggle as a designer to not go too far, and try and add too much to your posters?
Yes, all the time. But over the last year I've certainly got better at knowing when to stop and just leave things. I think it's a case of learning not to be overly critical of your work, as it's so easy to do so. Also, it doesn't hurt to ask for other creatives opinions.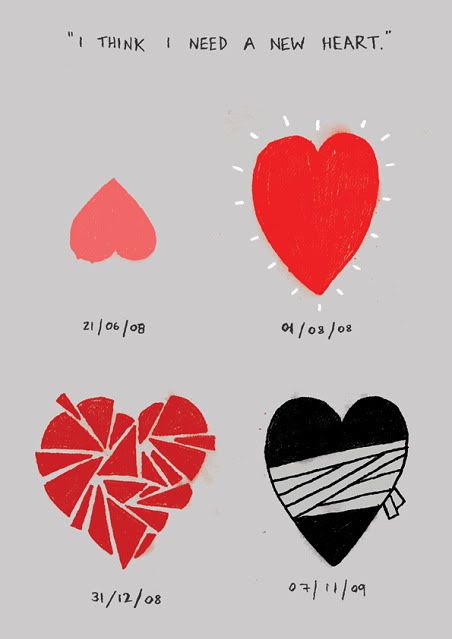 Which out of all the work you have done has meant the most to you? The one that you actually shouted 'yipee!' when hearing you were going to do it?
Without a second thought, it's definitely the illustration I did for the How Fucking Romantic blog, where each song from Magnetic Field's album '69 Love Songs' is being illustrated. It means a lot as it's the most personal thing I've ever produced. It was a pretty cathartic piece, and acted a means of closure for a failed relationship from last year. Haha, that's so Emo. But yeah, I love the simplicity of it, and after I'd finished it I just thought "Yep, that's the most perfect thing I've ever done.".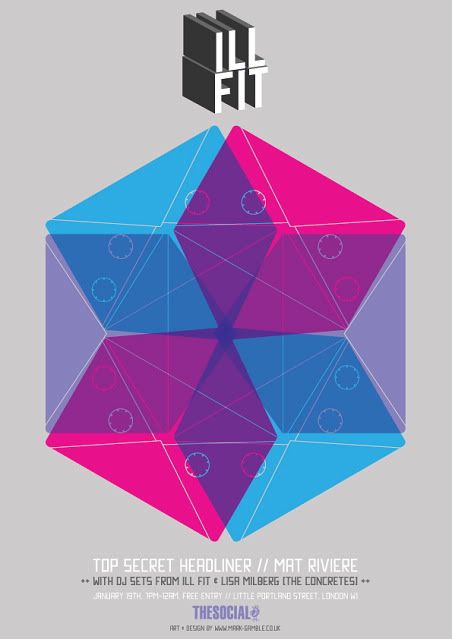 Has there been any work that you have just had a big struggle with, lost for idea's and just not knowing what to do?
The biggest struggle I've has was the artwork for Stagecoach's 'We Got Tazers!' EP. It wasn't that I didn't know what to do, it's just I was punching way above my weight. I really wanted to do a good job on it, and I was looking to the illustrator Daniel Clowes as an influence, which Luke seemed pretty keen on too. The thing is Daniel Clowes is an amazing illustrator, who does what he does naturally. I'm great at drawing really really simple stuff, but not great at detailed illustration that actually requires talent. Anyway, it was a challenge, and I love a good challenge, so I gave it my best shot. The band seemed happy with the final outcome, but I'm still really critical of the work I did on it. It was a really important learning experience for me, and definitely made me realize what my capabilities and limits as illustrator were.
Outside of design, what keeps you going?
Gigs, music festivals, comics, a bit of traveling now and then, friends & family, drunken dancing, DJing and making music.
You are also known as A Gun Rack? Can you explain a little about this & yourself?
A Gun Rack? is the name I make music under. I'm by no means the most accomplished guitarist or singer-songwriter, but I think it's fair to say that I love what I do. I'm not looking to reinvent music, or be the best at what I do - I just want to play songs, sing, have fun and maybe make a few people smile along the way. It's just another creative outlet for me really, so if people like it, that's great. If not, I really don't blame them.
What is your deep, dark, secretive band/act that you don't want to admit to liking?
Hahaha, where do I start? As vocal and opinionated about music as I am, and despite my friends often referring to me as a "music Nazi" I also believe that good music is good music, regardless of its genre or the stigma that goes with that genre. In that sense I'm not embarrassed to admit that I can quite happily listen to and sing along to The Backstreet Boys or 5ive's greatest hits. It's actually really good to raise your spirits on days where things are a little low. My knowledge of 90's boy bands if pretty impressive, or scary, depending on your stance. Now let's never speak of this or mention it again.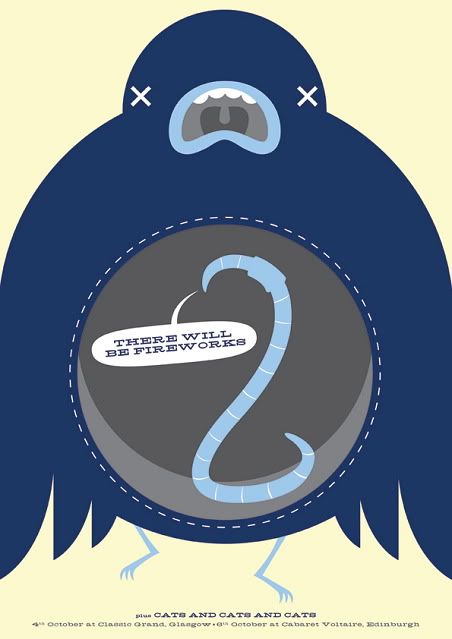 Your top FIVE acts for this year, who are they? Old & New.
How about five established acts I'm excited about and five new ones? New: Visions of Trees, Fitness Club Fiasco, Codes in the Clouds, Apparatjik and The Last Dinosaur. Old: Sunny Day Real Estate, The Get Up Kids, Broken Social Scene, Explosions in the Sky, Jens Lekman.
What would you like to find on your doorstep tomorrow morning?
A nice girl wearing a polka dot dress, with a bow in her hair, who likes great music, visiting art galleries, enjoys good food, watching Arrested Development and doesn't have an issue with beards or tattoos. That'd be pretty great. A boy can dream, right?
What do you think is next for Mark Gamble/Secretly Swedish?
Well hopefully I'll continue to work with bands, record labels, promoters and the like. The primary goal is to get my screen-printing workshop set up and to start producing some lovely artwork and apparel, and to really build up a serious name for myself as a Graphic Designer and Illustrator. But mainly I just want to stay positive, be happy, and do what I love doing. Let's just see what happens, but I'm pretty optimistic it'll be fun.
Finally, I have to thank you a great deal for taking the time out of your busy schedule to answer these questions for us. Is there anything you want to ask the readers of The 405?
It's been a pleasure, and thanks for asking such questions. And what would I like to ask the readers of The 405? Well I was thinking maybe they could send me some suggestions of themes that I could base some illustrations on. I always need new ammo for ideas! You can check out more of Marks Work by visiting his Official Website
here