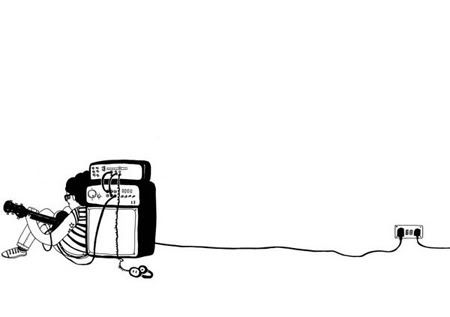 Mister Millerchip is a retired Brumie socialite that has hung up his Cuban dancing shoes to produce delightful hand rendered imagery. After studying illustration (and the way of life) at the university of Wolverhampton, he relocated to pastures new, the exotic town of Slowmarket, where the unusual characters and mundane elements of the everyday rat race are bought to life with a charismatic twist and a pencil. The405 caught up with Mister Millerchip for a quick Interview. Check it out!
When did you first realize that illustrating could become a full time career for yourself?
Drawing and making things have been away of life for me from my Nan teaching me to draw to watching my dad paint. and i always wanted to do the same as i have grown up, i suppose it was like a dream of mine really. Its Not the easiest career choice to achieve but seeing you work in print and getting good feedback from clients is a real buzz.
What were you doing before all of this?
I was a Barman at and old mans pub in aston that had some great reggae nights and a salesman of white vans.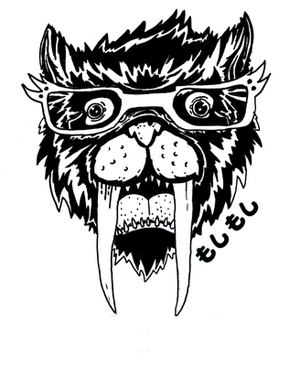 What do you think about artists who work under different nicknames and aliases? Do you ever think that by projecting yourself as "Mister Millerchip" as apposed to using your real name that you've lost some of the recognition you deserve for your work? Where did the name Mister Millerchip come from?
Mister Millerchip was thought up by a science teaching who used to shout at me quite a lot in my first year of secondary school, I think he forgot my name was Joel Millerchip and instead thought my Ma and Pa named me "JOEL YOU FOOL" or "WAS IT YOU MISTER MILLERCHIP", and thanks to Banter Driven Friends the name stuck, well many names stuck but i cant write those on Your Delightful site :). Personally the nick name is just a bit of fun, I don't try to hide behind it or make it some sort of brand, I always put my normal name to any bio or blurb about my work. If an artist name was Burty bunions or B-unit I think they get the same recognition it just depends on the style and quality of work that is produced.
What have you been listening to on your ipod/mp3player/stereo a lot recently? Does music influence your art work at all?
Indeed, I have to have some sort of music on as I doodle, silence is horrid. I've been listening to a band called Copter(coldrice records), Hot Club de Paris, Jose Gonzalez, and Chuck Berry , the mans a hero!!!!
Your art work is mainly done in black and white, as a posed to colour. What is your reasoning for this decision?
The main reason I stopped using colour back in 2005 was due to friends, lectures even some of the fine people at the D&AD. saying that the strong point of my work was my line quality, but saying that Im currently experimenting with colour and different media just to stay fresh and hopefully strengthen my style via the mystical subject of Colour.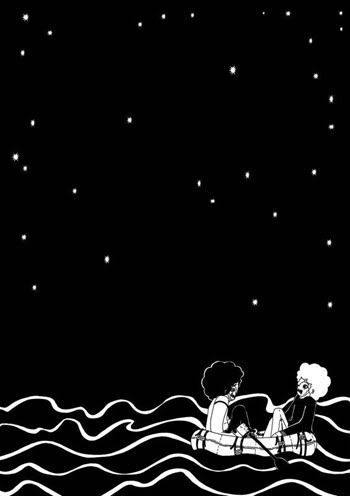 What is the key to keeping your work and ideas fresh and not getting mentally or physically burnt out by what you do?
I try to be as social as possible so I don't get isolated, by going to live drawing events and exhibitions you get to meet other illustrators see vast styles of work, Music and characters which you can take inspiration from.Its also good to bounce ideas around with other creative's and see what happens. and if all else fails a nice cup a Rosie and a Hobnob always gets the thought process going.
I personally find your art work to be very happy, chirpy and docile, as apposed to being incredibly dark or grim. Would you say that Is this a reflection on your own life?
Yes!:)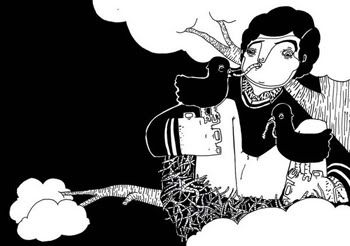 Do you ever see the possibility of your work appealing to a younger audience because of your drawing style?
I like to think my doodles can appeal to all age groups, but I would like to work more with a younger target audience due to the arrival of my son Fred, i would love him to be as happy as I was looking through story books, where the wild things are Millerchip family favourites. a children's book is something I would love to produce, we will have to see.....watch this space.
Who or What Influences you into creating a new piece?
I like taking ideas from social situations and characters I meet and try to work them in to briefs as best as I can. Also dark humour, black and white films and banter with friends are also great inspiration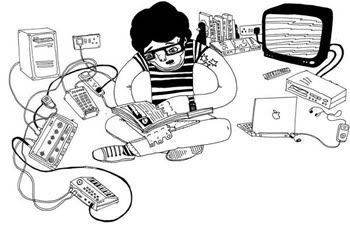 And finally, what does the future hold for Mister Millerchip? In regards to your work, new projects and any other personal aspirations you have in life. Is there anyone you'd like to give a shout out to?
Illustration wise,im working on a few briefs for moshi moshi records and working with a new collective called" Boys Who Draw". Im also working with a painter called Chris Nunn to put on some visual events in Ipswich under the name of Lielow and Sketch, our next Group exhibition is called Animal House in october, but mainly i will be doing my fatherly duties to my 15 week old son Fred. I would love to through some borat high fives to all the people involved with lielow and sketch, the boys who draw collective, gemma correll, andrew gibson,chuck berry, The Red Door Gallery, Simon wild, Chris Nunn, all the peeps at the four oh five and to misses millerchip for putting up with my obsessive dooderling. Be sure to check out more from Mister Millerchip by visiting his Official Website
here