Misterlee
(aka Lee Allatson) is a hard guy to pin down. Musically he's a melting pot of about a million styles, which is represented by the bands he's worked alongside (from Jeffrey Lewis to Wildbirds and Peacedrums). In terms of the personal, let's find out...

Hello! Can you introduce yourself to our readers?
Hello to The 405 and hello readers! My name is Lee Boyd Allatson and I write, record and perform under the moniker of Misterlee.
The band is comprised of yourself and Jamie Smith who you also collaborate with on a number of other projects – who does what in Misterlee?
I write the material and assemble direction for the arrangements. There is also a fair deal of improvised musical content in both the studio recordings and live performances, which Jamie has a big hand in. Live, I have been playing a really basic drum kit – just a bass drum and a snare drum – drumstick in one hand and a microphone in the other; Jamie plays 6 string guitar.
Is creative control split pretty evenly between you or, as the name suggests, is Misterlee more your baby?
Misterlee started out purely as an experimental writing project for me some 15-odd years ago and I originally got Jamie in to play those songs with me live. The arrangements developed over time - as did the line up: we enjoyed some six years as a three piece with Mick Oxtoby on electric violin and bass guitar. The performances we honed through a heavy gigging schedule had a huge impact on both the way I wrote and also how I saw the project developing, so for sure, the band has certainly shaped the material. If Misterlee is indeed a baby, I guess it has one father figure but two influential older brothers.
The connection between your music and some of the artists you cite as influences, such as Cesar Manrique or even Erik Satie, is not immediately obvious. How do such people inform your work and what do you think this says about how we create and consume art?
I am influenced as much by people's lifestyles and their ideologies, so I guess some of that lineage would be less obvious. In the case of Cesar Manrique, I am inspired by his devotion to the place where he was born and the way his work permeated not only his day-to-day life, but also his greater homeland (he built his own house which is a work of art in itself and he was also commissioned by the Canarian Government to architect most of Lanzarote's main tourist attractions and indeed to 'stylize' the island itself). I often write with a specific sense of sonic scape in mind too and have found myself with Manrique's wind sculptures pictured in my mind's eye. Erik Satie holds me with an impish, twisted simplicity which can be read as naivety and I like the immediacy of that – it's a bit cheeky. I think you can hear metamorphosis ideas influenced by Dali, as well as his use of the double image in both the content and some of the sonic directions on the new album. Indeed I nicked a lot of that for the cover too. For me, this inspiration is everywhere and I believe that one of the reasons new music feels (to me, anyway) in such a quagmire is that songwriters and bands are too preoccupied with genre and style factors, rather than their material's content and getting to the heart of an idea. The tail is wagging the dog so to speak. There is a real rub with this where the consuming of art is concerned because the public are now so used to being fed these dumbed-down formulas that anything the slightest bit challenging gets passed over as too much hard work – 'there's plenty more music to just pick up and drop, so why invest time in getting to know something less immediate' is the mindset. Am I at risk of getting off my high horse here?! On a personal level, a journalist once wrote of Misterlee that there was '...a danger that it is just easier to write off than to write up...', but ultimately this is a war we choose to wage.
Are you strongly influenced by anyone contemporary?
Musically, not much, though I was afforded the opportunity to play with Wildbirds and Peacedrums at The Coronet for A Ritual for Elephant and Castle last summer as part of their one-off extended percussion line up. I really like some of their material and the primal, bare bones of it all; I found Banksy quite inspiring and have mused on the concept of the sonic equivalent to his unique hit-and-run social commentary. I still enjoy reading about Bill Drummond's latest escapades...
As evidenced by your track 'Stags of Schipol', you clearly enjoy playing about with words. Do you assign as much importance to your lyrics as you do to the actual music you play?
Certainly on this album, the majority of the material came words-first, so I think the outcome has naturally been a very lyrically driven record. I had a bunch of quite specific ideas which I developed and picked up instrumentation concepts for along the way. Words in music are so much more powerful than plain story telling tools and I love the strength in a lyric when it still hits home just written on a page: the rhythm, the meaning and the imagery. The whole sense of the song can still be palpable even when the music can't be heard.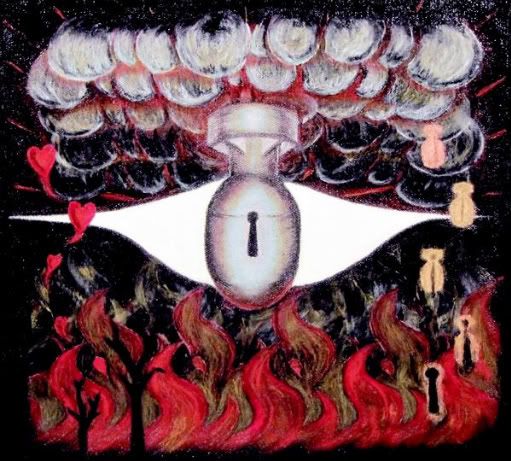 There seems to be a general consensus that your music defies labels, what is it that you hope to achieve with your work?
Defying everyone else's sense of labelling can be both a blessing and a curse – let me tell you! I hope that people don't think Misterlee is contrived to be esoteric, because that is just not true. My original goal was to find my own writing voice, wherever it lay and to allow ideas and the greater Misterlee project to develop in an organic fashion, and in whatever direction. That is still my personal creative brief, but as the justification side of the project in terms of playing gigs and running a label are concerned have all become significant factors, then the changing of people's attitudes and expectations has become part of the goal, and this in turn has shaped some of the lyrical content of the songs. So, in short, I strive to write worthy music and to then change the world.
If you had to coin a genre for yourself, to be splashed across magazines and chiselled into your headstone, what would you call it?
I quite like 'Punk Noir'.
What does 2010 hold for Misterlee?
It's very difficult to say as this is a time of change and of new beginnings. The immediate task is to get this album out there and listened to.
This Disquiet Dog
is the product of some 5 years work, so this feels like a great achievement in itself. I hope we all just simply stay healthy!

You can visit Misterlee by going to
http://misterlee.co.uk