At just 23, Nathan Chan is an inspiration to youth. With a degree under his belt and having already successfully put a selection of his quirky designs onto t-shirts for selected high street retailers, the future appears to be as bright as this young artists pallet. The obscure, incoherent and backward all appear to be the inspirational starting points to Chan's work, delivering a collection of paintings and sketches surrounding the FBI's Ten Most Wanted for his degree show piece. The405 caught up with Nathan to pick his brains a little bit and talk music and art. Check it out!
Why do you think you became an artist?
I decided I want to be an artist or to be creative from an early age. I remember vividly trying to draw the perfect Sonic the hedgehog or making my own Power Rangers chest shield out of cardboard boxes. I think it's the excitement I get out of being creative that has made me pursue this.
What were you doing before all of this?
This is my first year out of university but while studying I worked part time in a sneaker store and I am still working there now as assistant manager while trying to keep up with my illustration work, it sometimes gets difficult to juggle the two but 'you gotta pay the bills!'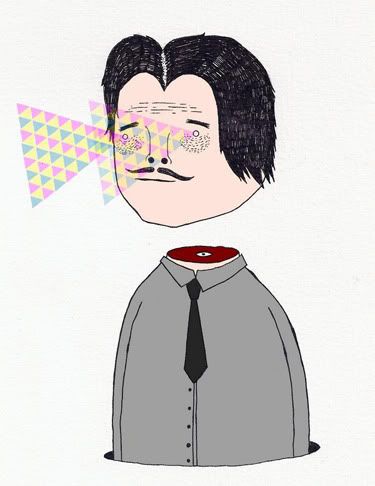 I personally find your art work to be very happy, chirpy and docile, as apposed to being incredibly dark or grim. Would you say that Is this a reflection on your own life?
Yes, I would agree with that as I try and have a positive outlook on life. There are times when I've tried to draw something that looks darker and grim but it always comes back to having a more light hearted feel to it. Going through uni, most of my work was issue based and no matter how serious the issue was I still managed to bring a bit of humour to the work. Life shouldn't be serious all of the time.
You've probably created thousands of different characters, each one more unique then the next. Summarize the process you go through in order to make a new one?
Most of my characters I create are loosely based on someone or something that I will have seen that day/week that has really caught my attention. So I could have walked past a guy in the street who had bright red hair and that would be my starting point. I get a lot of people asking me to do portraits for them and that is something that I am trying to work my way into but keeping as close to the style in which I draw as possible.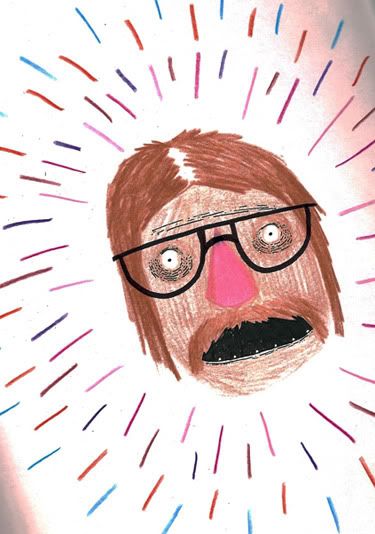 Does music influence you creativeness at all?
I'm always listening to music and I think it does have an influence on my creativeness. Whilst at uni me and one of my friends had a little playlist of songs we would listen to over and over again. So now if I'm ever struggling with a piece or if I'm taking too long on something I'll listen to some of the songs from the playlist to get me going.
What have you been listening to a lot of on your Ipod/mp3 player recently?
I've been listening to the new Jack Penate album recently and I'm really enjoying that. Other than that I've also been listening to the most recent Maccabees record.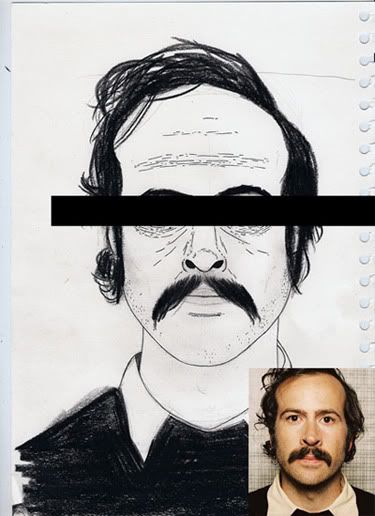 Do you ever see the possibility of our work appealing to a younger audience because of your drawing style? Was this a conscious decision or have you always made artwork with the intention of it being for all age groups of people to enjoy?
I've never had any intention of appealing to a specific age group, though I can see why my work would appeal to a younger group. I've always tried to create something that everyone will enjoy, something that anyone can look at and appreciate.
What is the key to keeping your work fresh and not getting mentally/physically burnt out by what you do?
For me it's about subject matter and medium. Recently I've started introducing more colour into my work using crayons and also using the computer. Also by being in a collective like 'Them Lot' and having friends who are creative in different ways that pushes me to try different things.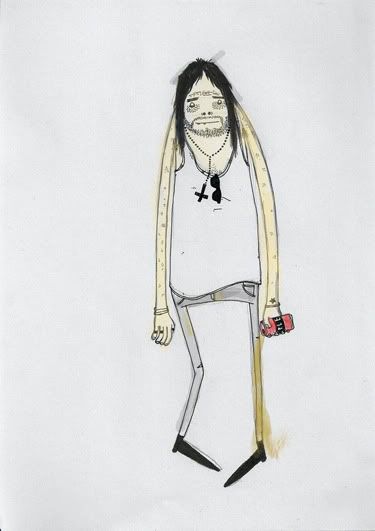 Have you ever considered doing your own comic book or working as a comic book illustrator?
I have indeed. I have done some zine work before just doing a couple of panels with bits of narrative and also worked on some children's book ideas. It is definitely something that interests me and is one in a number of options that I have as to where I can go with my work.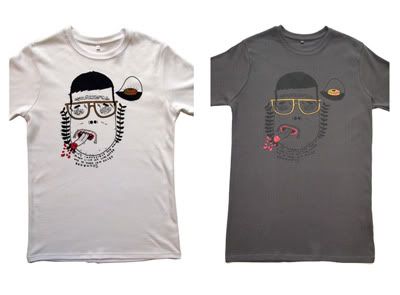 Nathan's art work graces a number of T-shirts over at Mouldy Louf (
found here
)
And finally, what does the future hold for you? In regards to your work, new projects and any other personal aspirations you have in life. Is there anyone you'd like to give a shout out to?
At the moment i am just enjoying drawing and doing whatever work comes my way as well as working to pay back some of my student debts! (Totally worth it!) As for the future I will see where that takes me, I'm going to work hard and hopefully it will pay off. A new project for me will be a book that I'm going to fill with things from my trip to LA and NY, it will have tickets, wrappers, receipts and drawings of my time spent there. There's also going to be a few things going on with 'Them Lot' Collective, a few festivals with live painting and some group shows penned in for later in the year. Shout outs to; Them Lot, Back to Paper, Mouldy Loaf and whoever has purchased any of the t-shirts I designed for them, cheers! Be sure to check out more of Nathan's work by visiting his Official Website
here
If you would like your art work to be featured in the next Roundup, then send a message to us at - The405arthouse@googlemail.com