With the Tate Modern putting on a collection of street art pieces outside their museum last summer and with the Bristol Museum letting Banksy take over for a few months this year, street art culture is taking definite steps in the right direction, but
The Thousands
attempts to show the art world and the public that there are great works of art within the sphere of "street art" and that street artists deserve a place in art history at least equal to that of The Young British Artists or the great pop artists.
The Thousands
will feature original work by some of the top names in street art: Faile, Banksy, KAWS, Shepard Fairey, Swoon, Herakut, Barry McGee and many more. Most of the work will come from private collections, but there will be a few brand new pieces direct from the artists. In the run up to the exhibit
The405
has been interviewing a number of artists involved in the project. Today we speak to founder and creator of
The Thousands
RJ Rushmore. Check it out!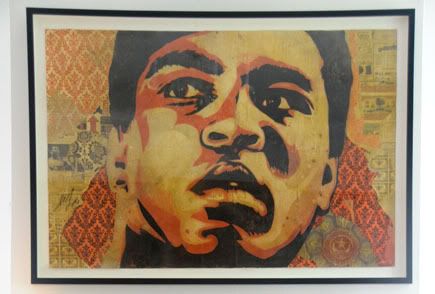 Just for our readers at home, can you tell us who you are, where you're from and what your involvement in The Thousands is?
I'm RJ Rushmore, and I blog about street art at Vandalog.com. I started Vandalog a little over a year about and I've been involved in the London and international street art "scene" for a little under 2 years when my dad and I started collecting together. While I've got an amazing support team backing me up, I'm the guy curating and organizing just about every aspect of The Thousands.


It's not every day that an 18 year-old art collector or fan gets the chance to put on his very own art exhibition, let alone one that has some pretty famous artists involved in it! How did the idea to create The Thousands come about? Did you ever have doubts in whether it was possible to actually pull off in the early stages?


 Thanks. The Thousands, or something like it, was an idea that had been in the back of my mind for a while, as part of a 5-year plan. Then I met with another street at blogger and he'd had a similar idea. That gave me the confidence to get started, but it was a while before I really thought it was going to happen. In May I sent a letter to my university and committed to taking a gap year with The Thousands as a highlight of the year, but I still wasn't entirely sure it would happen. Then I met with Paulo from Drago about publishing a book, and I could tell he believed in me. I know that sounds really cheesy, but it was easy enough for my parents to say they believed in me and Paulo was the first adult who I could tell actually thought The Thousands would happen.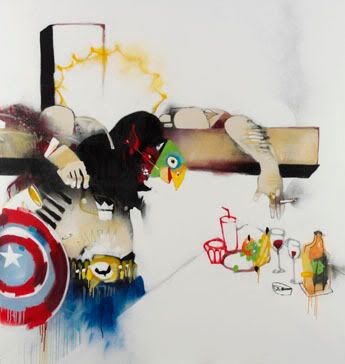 What is the significance of the name "The Thousands" ?
The Thousands is the title of short story by Daniel Alarcón. In the story, this semi-mystical society pops up on the outskirts of city and thousands of people are squatting on this land in houses made of discarded materials, but it's not a slum, more like people who have rejected society and are there willingly to make a better life for themselves and their children. Those people, living at odds with society and banding together in a unique way, reminded me a lot of how I see the street art community.


Tell us a little about your art website Vandalog.
Primarly, Vandalog is a blog about street art. I post something at least once a day, so it's always being updated. Unlike a lot of art blogs that focus just on photos of artwork or reviewing shows or interviews, I try to mix it up and do a little bit of everything. Elisa Carmichael from the Carmichael Gallery in LA and the street artist Gaia also write on Vandalog from time to time. I've also expanded the site a bit beyond the blog. I have a flickr page for photos, a twitter and I've recently started working on a video series with Babelgum.com. Is Vandalog the best street art website in the world? Probably not, but I do think it's one of the best and one of the only ones of its size with an accessible human being running the thing.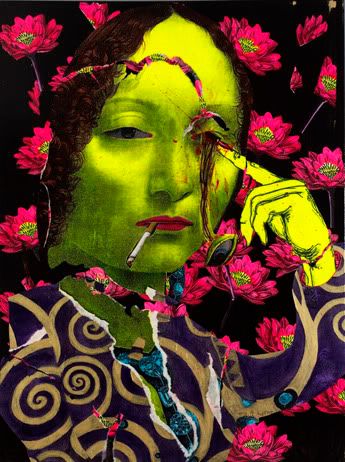 How did you go about deciding which artists work you wanted to exhibit? Does the exhibit mainly focus around artists that you've always been familiar with and been a fan of or are there some that you've only just recently came across or have never seen before?
Selecting the art was not an easy process. There are so many talented artists in the world, and I have only so much space. My first requirement was that the artists had to be "street artists" or graffiti artists/writers and that influence still had to be visible in their work. Then I wrote a list of all the artists I might want to include and started searching for paintings. In the end, I wasn't able to include everybody, but I was able to find some amazing pieces from most of the artists.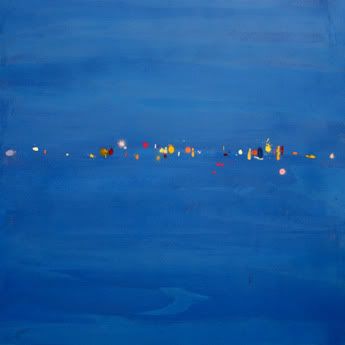 Almost all of the artists in The Thousands are ones that I knew of when I started the project. The entire Burning Candy crew are painting a mural outside of exhibition space, and so that project has introduced me to Gold Peg and LL Brainwash, but I think everybody else was on the original list that I wrote up. That's not to say I haven't discovered anybody new along the way though. Lots of collectors wanted me to include their favorite artists that might be big names in LA or Berlin but complete unknowns here, so even though I didn't use those pieces in the end, it was great to hear about some new artists like Retna and Mac.
In some cases a few of the artists will be showing brand new pieces for the first time at the exhibition. You must obviously feel quite honored to have been able to see these before any one else?


 I've been really lucky in that regard. There is some brand new artwork from artists like Herakut, Roa and Tek33, and work by the likes of Judith Supine and Swoon that, while not specifically made for The Thousands, has never been seen publicly. All that has been due to a combination of amazing collectors and artists who have all been extremely helpful and generous.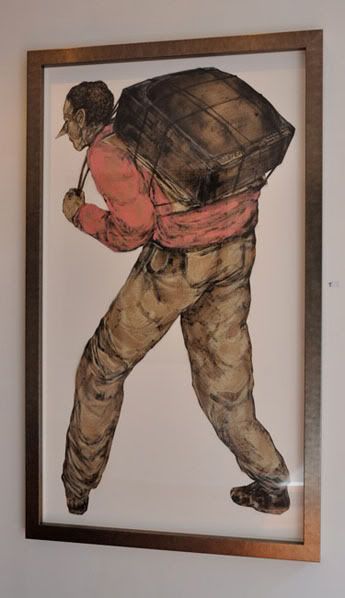 Obviously this isn't the first ever street art exhibition that's ever been. What do you think The Thousands has that will make it an exhibition to contend with those that have been done before it? Is there more to this exhibit then just simply showing art work?
Honestly, no marketing bull, I think that The Thousands might be the most important street art exhibition in London in 2009. Until a museum such as MoMA or Tate Modern puts on a street art retrospective, you're probably not going to find all of these artists in the same room together. By organizing this mostly with private collectors, I've been about to bypass the politics that surround the art world at the gallery level. The only other time you will get names like Os Gêmeos and Kaws showing together are for a major charity (in fact, they are part of the Nike/Livestrong Stages exhibition currently in NYC) or maybe at an art fair like Art Basel. So The Thousands is really the only place, for now, that you're going to see so many top tier names in street art having their best work shown in one room. Also, because the majority of the artwork isn't for sale, I'm not trying to go around and spread hype about this artist or that artist. The artists in The Thousands are the artists that I genuinely love and feel are important. So I guess what The Thousands has is a no bs attitude and top notch line up. In the literal sense, The Thousands is also a book launch for my book The Thousands: Painting Outside, Breaking In, which features some of the artists in The Thousands as well as some that I couldn't include in the exhibition for whatever reason.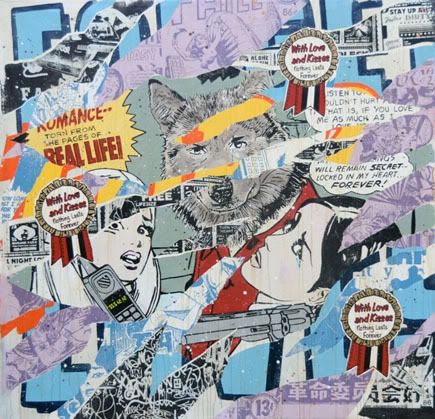 In a more metaphorical sense, and while I know for a fact that not all the artists in the show would agree with me, I see The Thousands as a bit of a declaration of war against much of contemporary art. This is me saying, "Bring it." to Damien Hirst. My friends couldn't care less about another spot painting or unmade bed, they want to see what Shepard Fairey or Banksy come up with next. Street art has been around for a long time, but it is finally ready to become the next generation of mainstream art.
Are there any artists you're looking forward to seeing exhibit? Were there any artists you couldn't get to show their work that you would've liked to.
While it's exciting to be able to show Faile next to Os Gêmeos, I'm particularly excited to see two pieces. First, whatever it is that Roa sends me. As I'm writing this, I haven't even seen an image of his painting, but his street work never ceases to amaze me, and I think he's extremely underappreciated solely because he lives in Belgium instead of a street art hub like London or New York City. Second, the Burning Candy crew's mural. These guys (and girl) are bridging the gap between graffiti and street art and shaking up the UK scene. There are definitely a few artists though that I just couldn't locate the right artwork for. A few of those artists are Keith Haring, Blu and JR.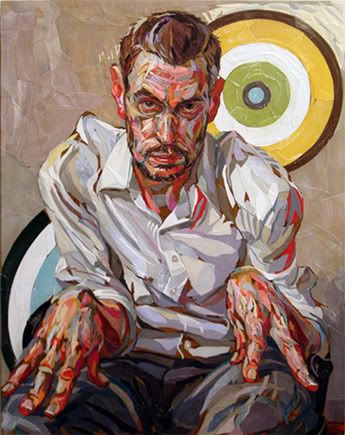 Im sure this has been an incredibly learning experience. If anyone out there reading this wanted to do something like this, what piece of advice would you give them?


 Like anything, there are 1000 things I would change if I do this again, but here's one simple piece of advice: Don't try and put on something like this alone. I've had an amazing support team of friends and family, without whom The Thousands just would not have been possible. If it's 30 minutes to the opening and I've forgotten to buy corkscrews for the wine, I can call half a dozen people and they can find me a corkscrew.
And finally, whats next? in terms of any new projects you have or any aspirations you have in life that you would still like to work toward and achieve. Is there anyone you'd like to give a shout out to?
Almost immediately after The Thousands I'm headed to the USA for almost a month to check out Basel Miami, see friends in NYC, visit my grandmother in Tusla and snowboard in Colorado. I'm going to need that vacation. Then I really have no idea. I'd like to continue working in the street art world for as long as it's still fun, and maybe I'll curate some more exhibitions or get a job at an art gallery after I finish university. I just want to say thank you everybody who has helped out with The Thousands, especially my mom, who doesn't even really like street art. And of course, a big thanks to The 405 for covering The Thousands. Be sure to check out more from RJ by visiting his official website
here
.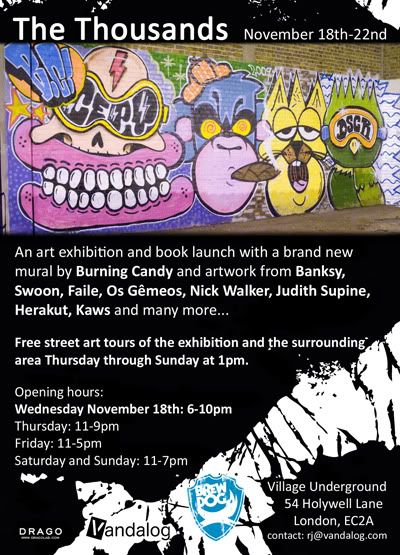 The Thousands will be open from TOMORROW - November 18th through the 22nd of November at Village Underground in London (54 Holywell Lane, London, EC2A 3PQ). A companion book will be published by Drago Lab to commemorate the event.