Hope For Children's
Live Art is a charity fundraiser, showcasing some of the UK's most exciting up and coming artists. Whether you have a passion for photography or illustration, abstract painting or realism, there will be something for everyone.Hope For Children are aiming to raise enough money to set up an intervention center for street children in Uganda that could change their lives forever. 100% of the money raised on the night will go directly to this project. The 405 were lucky enough to interview partaking Illustrator
Sam Bevington
in the run up to the show. Check it out!
Why do you think you became an artist?
I don't know really, I've always drawn since I was very young - my dad was a product designer so I always had a lot of encouragement with creative stuff. I've found that I cant really do a 'proper' job - I get bored and frustrated really quickly.
What were you doing before all of this?
I've always done it. I guess the difference is I wasn't getting payed for it haha.
I personally find your art work to be very happy, chirpy and docile, as apposed to being incredibly dark or grim. Would you say that Is this a reflection on your own life?
I think its because I'm quite a cynical person when it comes down to it. I suppose the way I draw kind of represents how I would like to see the world.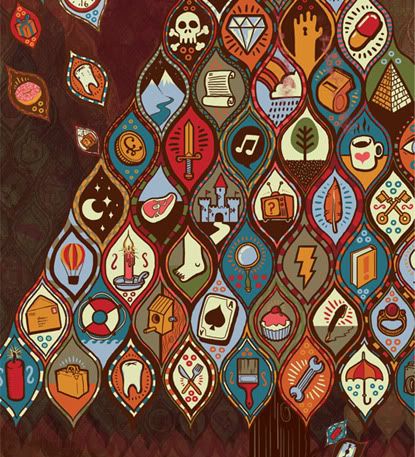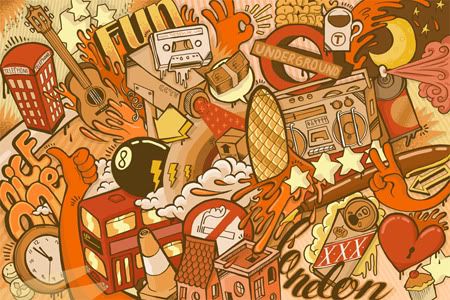 You've probably created thousands of different illustrations, each one more unique then the next. Summarize the process you go through in order to make a new one?
Being an illustrator I'm usually working to a brief, so first of all I read the brief a few times and write it down into bullet points. Once that's done, basically it involves lots of cigarettes and cups of tea and muttering to myself while staring blankly out the window until an idea pops into my head. When this happens I start to sketch - sometimes on paper, sometimes straight into photoshop using a graphics tablet. I start with colouring the background in a base colour then put outlines on top of this then build the colours up. Photoshop allows you a lot of flexibility with colour and being able to change and replace elements quickly, but I still draw things by hand.
Does music influence you creativeness at all? What have you been listening to a lot of on your Ipod/mp3 player recently?
Dutch gabber mainly. No not really I listen to all sorts of stuff - depends on my mood. Sometimes I get distracted by music though so I've got some audio books on iTunes that are good when I'm trying to get on with a big project.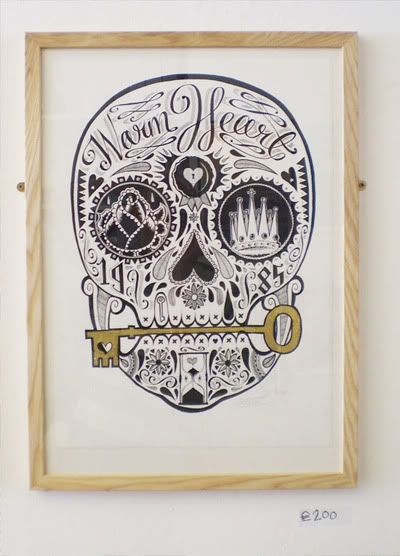 Do you ever see the possibility of our work appealing to a younger audience because of your drawing style? Was this a conscious decision or have you always made artwork with the intention of it being for all age groups of people to enjoy?
I like images that anyone can relate to at face value. I suppose that's why I didn't take fine art at uni, I prefer images that can be appreciated without and art history degree and a 10 page explanation of why it's been made. I am a very impatient person so instant gratification always appeals to me.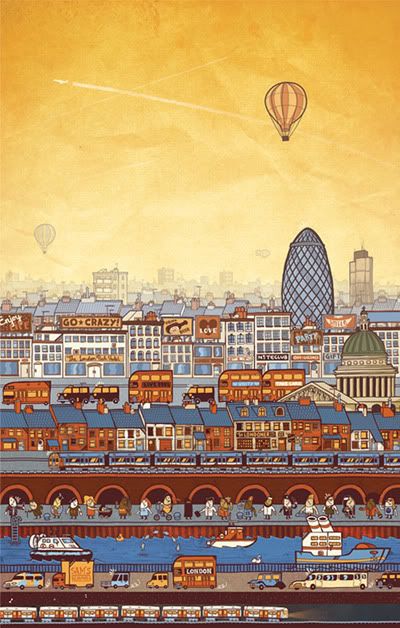 What is the key to keeping your work fresh and not getting mentally/physically burnt out by what you do?
Haha when I find out I'll let you know - I was screen printing til 6am on tuesday...
And finally, what does the future hold for Sam Bevington? In regards to your work, new projects and any other personal aspirations you have in life. Is there anyone you'd like to give a shout out to?
Personally I'd just like to be able to keep doing what I'm doing and getting payed for it. Drawing for a living is the best job in the world if you can squeeze a living out of it, as long as it pays my rent im happy. In the near future I've got an exhibition of my work coming up at Flaxon Ptootch in kentish town on the 8th April - I've made a facebook event for it
here
The opening night will have music and beer and all the work is for sale - it'll be a good night so please come if you have the night free everyones welcome. I'd also like to give a shout out to my girlfriend for putting up with me this month and finding us a cool flat! Be sure to check out more from Sam by visiting his Official Website
here
For more info please visit
www.hopeforchildren.org