The following interview was put together by the amazing
Charlotte Raffo
over at
Amsterdam Event Guide
. Catching up with the members of experimental garage rock group
The Moi Non Plus
, other wise known as the founders of
Subbacultcha!
, otherwise known as organisers of great music and film events, otherwise known as all round extraordinaires of many a music and art scene .. it can be a little intimidating, completely fascinating and ultimately shocking at the amount of work they can fit in one week. Collaborating with our friends over at The 405 in the UK, we sat down with Bas and Leon just before the recent (Subbacultcha! curated) Health, Fuck Buttons and Picture Plane gig at the Melkweg.
405 - As a band you have a lot of creativity outside of the music you play (Subbacultcha! Magazine/Subba Events. How do you juggle what you do (time wise) and which side of things do you prefer?
Bas – It all links together pretty well so it's pretty efficient. It seems like a lot but everything is connected. They're not separate things, it's sort of one
405 - What about band practice?
Leon – We don't need practice (laughs) B – We do occasionally practice on Monday mornings at 10 o'clock L – We try or incorporate it into our working week B – It's a good way of starting a week L – And we have projects. A couple of weeks ago we were in France in a rehearsal room there and wrote songs for a whole week, that was really nice
405 – So does that mean there's a new record coming out?
L – Early stages
405 – Will people be able to hear them on your upcoming tours?
B – Yeah probably. We play a mix of older stuff and new stuff
405 – So for an English audience; what is the Dutch music scene like?
B – It's quite interesting. I mean Amsterdam is a small city, it's not like Berlin or New York so that limits the amount of venues and bands. And with Subbacultcha!, because of that also, after about 5 years now, the scene has become more connected and more visible as well. There are some bands which are OK, sometimes you can think that it could be a bit more challenging L – In any case there's an audience for this kind of music. With the shows we promote there's always a lot of people showing up. There is a base for a scene to grow beyond what it is now
405 – Do you feel it's harder to be a massively successful band when you don't come from America or the UK? Or does it not matter?
B – I actually have no idea. I don't know how hard it is to become a successful band in America. It seems like it's easy to become successful if you're from Brooklyn right now for instance, but I don't know how many bands are playing in the bowels of Brooklyn. A lot of bands come out of there but maybe its only 1% of the people playing L - A lot of the bands that we're interested in that are coming from the States, they're really really good. The quality of bands are really high and if the same quality bands come from here there would be a decent chance of them getting the same results
405 – So what bands then, from Holland or Amsterdam are you listening to and that you really like?
B – I think zZz are quite a nice band and that's about it maybe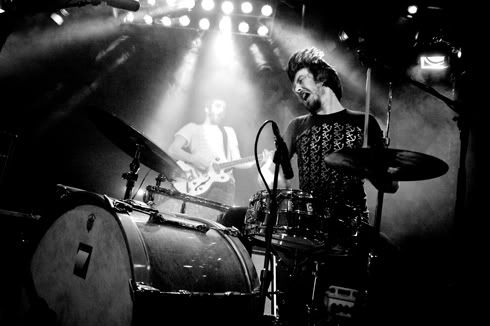 405 – aren't you putting out a record by Hospital Bombers?
B – Yeah and Hospital Bombers, that's a nice band as well. But going back to what Leon said, in that sense it might be harder for bands to be here because the level of bands of bands here is quite low. People seem to be quite easy satisfied. If a band makes sort of alright music and has a certain quality then immediately they get a booker and then maybe a record label and that's quite easily done. So maybe bands don't develop so much L – The climate here in Holland is that a lot of people really want bands to become successful. We have all these competitions and magazines writing about the local heroes; then there's subsidized practice spaces and venues. In a way it's really nice to be in a band in Holland, it's quite easy to get something done but the edge might be missing
405 – Do you think then that Dutch bands are publicised well outside of Holland?
B – I think that there isn't so much interest here apart from Bon Apart, from the north of Holland and around that scene there is some interesting stuff. But in general I don't think there are so many bands of interest to go abroad. So maybe there is a press effort to export the music, there's even money available for that and it happens but it's often done without the quality and often without some sort of a vision. For us, of course, it's maybe easier because we are operating in the structure of booking bands from abroad, making a magazine, you know, having connections with bookers and promoters. So for us it's easy to put our band out in the right position L – Also the people that we work with are interested in the kinda music we play because it's all part of a similar scene and that way we can out our selves in the right context
405 - Originally your album was self released. How do you feel about it being released again through someone else (Small Town America)?
L – It's really nice. Up until now we've always done everything ourselves so it's really nice to see other people being enthusiastic about what we do and making an effort to get it heard by the right audience. I'm really excited about it B - It's a true effort as well, they're really working hard and it's really nice; very good to see.
405 – Where does the name come from?
L – It's from the song by Serge Gainsbourg called 'Je T'aime... Moi Non Plus' which means 'I love you, neither do I'. It's an old sentence B – It's quite a famous song. There's a lot of moaning in it L – A lot of sensual moaning. Our music has a kind of sensual moaning to it B – You can call it that (laughs) L – Sensual moaning by bearded men in their thirties!
405 – The latest debate we're running on our site is 'Who would play you in a movie about your life?' Who would play you?
B – As in a character? Or an actor? That's a nice question L – There's this one actor that people always say I look like but I don't remember who he is. Apparently he's pretty famous B – It's you man, like a David Lynch moment L – Exactly! B – You are that actor and your life is the movie L – What's the name of that guy who plays Agent Cooper? B – He plays in Desperate Housewives as well L – Ah man B – You wouldn't want to be that guy. He was cool when he played Agent Cooper L – What sort of answer are you looking for?
405 – Well it's a big question, I guess some people have often thought about it
L– I have never thought about it B – My Mum maybe, I would find it interesting to see my Mum play me L – That's some deep shit. This guy, who I look like, he would play me. I think he plays in Leon which is funny 'cos that's my name
405 – Is it an English actor? Is it Gary Oldman?
L – Yeah, I think it's Gary Oldman! B – Maybe Burt Reynolds for me L – (laughs) B – But doesn't Gary Oldman and Burt Reynolds play in that film..? L – That film about that band? (laughs)
405 - We like the Subba way of getting a band to interview themselves, so with that said, what question would you like to ask yourselves and what would the answer be?
L – Well that's the thing, I got the idea once off a documentary on this really weird television channel and Tom Waits was being interviewed by a young guy at his house but he was asking him questions Tom Waits had thought of. It was the most random questions about the speed of ostriches and stuff. B – Wasn't there one question about a frog as well? Because that's what I want to know, is it really true that, like in the movie Magnolia that frogs can actually fall from the sky. Apparently there's a myth and it talks about raining frogs L – Is that a question? B – Yeah, is it possible that there are raining frogs? L – Yeah, I think it's a ridiculous myth B – This is a hard question L – But that's what I was going to explain. That's what I like about it, that he asks really strange questions that he actually had really good answers to. Right now I don't know if I have a question that's both odd and interesting and that I would have the full answer B – I know something. The other day I saw some documentary about Stephen Hawkins and he's looking for the final, you know, particle; the final formula that explains the existence of our Universe. Would you want to know the answer? L – The answer to what? B – Well Stephen Hawkins is looking for the ultimate answer that defines the existence of our Universe L – Is he close? B – Would you want to know? Would it be a satisfactory knowledge to have? Where it all came from L – Yeah, I would like to know. I don't think I would understand it, but I would like to know (laughs) B – Apparently the big bang was totally silent (laughs)
405 - Finally, what does the rest of 2009 have in store for you?
L – The years almost over. Well, we're playing in the UK next weekend then we're going to New York for the Subba Cultcha showcase with three Dutch bands; Bon Apart, zZz and Hospital Bombers and a whole bunch of international bands as well. Then we're going to stick around in New York and play some more shows. We're doing a semi-acoustic set for radio which could be interesting B – Could be very interesting L – Could be the end of the band (laughs) B – Or the end of their sound-system L – And then when we come back we have a whole month of anniversary parties for 5 years of Subba Cultcha; a festival in the Melkweg with 15 bands. We're releasing an art book with all kinds of artists we really like. We're hosting shows by Scout Niblet and Banjo Freakout, guy from London. B – Another night in Utrecht, small festival type thing L – Then I think December we're going to be completely.. B – Drained, heavy or super hyped up. The we're making the gift issue and we're going to give away so much stuff L – That's it, pretty much. We try to write new songs in between
405 – On a Monday morning
L – Yeah 'cos we were excited about the stuff we came up with so we want to move forward with that. We're making a dance record B – It's quite different. I mean it has the same sort of energy that the record had but it's also quite different as well, which is good. It's more dance-y
405 – And people can hear that on your tour?
L – Yeah people can hear that
405 - Great, looking forward to it.
You can catch The Moi Non Plus on tour in London/Manchester this week and be sure to check out their online magazine Subbacultcha! for great music, cool art work and news for their international events.