It always happens at a gig. Suddenly some of them come on stage and you just hold your breath during the entire set. A noise hurricane. Stormy guitars. They shake you until the end, and way after. That's the way it goes.
King Of Conspiracy
are three people like you and me. But when they put a foot on stage, they're more than that. They're French, but you can't guess it. Their sound is influenced by the US post-hardcore and noise scene (
ATDI, Sonic Youth, Shellac
…), yet terribly unique. They look possessed, totally taken under their 'Noisy Sounds'. Nothing else counts, it's just them. Drums, guitar & bass.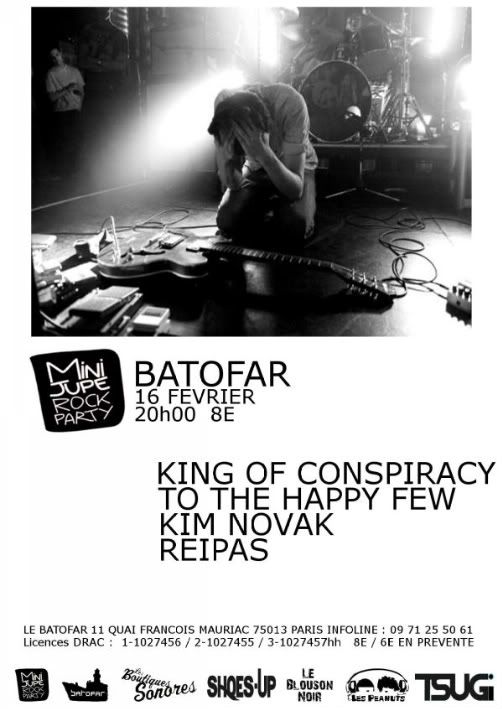 MP3:
King Of Conspiracy - Stay In Line
This is a band with a unique style, and an ethic we thought was lost ages ago. No label yet, no booker. Their van, their self released albums (an LP released in 2007, the powerful
Noisy Sounds & Heartbeats
, and the new EP
We'll See If The Arrogant Lasts
, released in June 2009).They've toured endlessly since 2006 and have a growing army of friends and fans, all of whom are amazed by this prescense, throughout London, Paris, Berlin. All with a life on the road as evidence. It always happens at a gig. They're in Paris tonight, some night organised by a missing promoter. 'Thanks for not showing up' says Michael (vocals/guitars) before playing 'Bside', an epic ten minutes track that usually closes their set. The battle started thirty minutes before, and the crowd was, once again, beaten up by this Molotov rock&roll cocktail. This was an explosion, from the opening song 'We Know The Enemy' to brand new track 'Minutemen'. No rest. No compromise. This spring, KOC will play SXSW (Austin, Texas), and then some shows in NYC, before coming back to Europe to share some special shows with
Blood Red Shoes
and
Pulled Apart by Horses
in France. A brand new album is about to be recorded too. They confess 'we love to cloud the clues '. No doubt you'll love being in their blur. KOC are : Michael Destouches (vocals/guitars), Ronan Tatibouet (Bass/vocals), Franck Couillard (drums/voacls) You can visit the band by clicking
here!
Header photo by Gary Keenan
(
http://www.​cut-​out-​and-​keep.​com
)