Today's 'Introducing' band hail from Portugal, which I'm sure is a first for this series. The band in question is
Youthless
, a two piece rock 'n' roll band with a long and drawn out history. Not in the romantic sense but more the 'chance meeting' sort of way. It involves University and all the kind of stories you might find boring, so let's just get on with the music.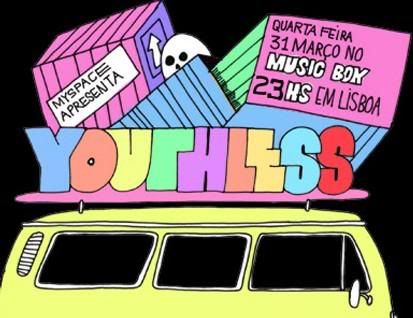 MP3:
Youthless - Golden Age
They create frantic-garage with a dirty DFA or MGMT vibe, minus the massive layers of synths. Instead, the vocals take the music to that grimey-sweaty club level. These are the guys you need at your house party. Unless you're there with your girlfriend. I have a feeling you wouldn't leave with her. Recently they've recorded a bunch of covers and have gone on to receive a lot of praise in Portugal, as well as our fine capital. The future is very bright for these two!
Hooting and Howling (Wild Beasts Cover) -YOUTHLESS by YOUTHLESS
You can visit the band by going here
www.myspace.com/youthless