Occasionally we post something along the lines of 'Recommend us a band' on our twitter page and nine times out of ten the response is pretty high, with the results are a solid mix of bands promoting themselves, friends of the bands or PR companies. I can't remember which camp
run,WALK!
fall into but I guess that doesn't matter.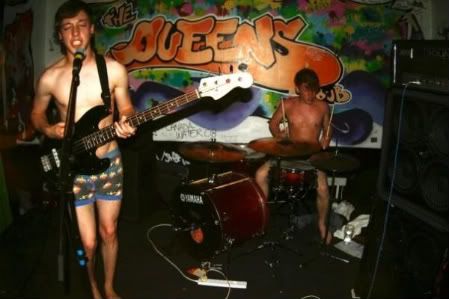 MP3:
run,WALK! - Trees Are Raw
Every so often a band will come along and inject a new energy into the scene in which they've entered and run,WALK! are certainly that band. They're not new though by any stretch of the imagination. This band have been around for a few years now, touring with the likes of This Town Needs Guns/Rolo Tomassi/Pulled Apart By Horses, released a 7 track mini-album through Holy Roar and amassed plays on Radio 1, XFM, BBC Radio 6, BBC Introducing & many more. Sounding like a lovely mix between fugazi and the thickness of HEALTH, these guys have certainly put something special together.
The band are set to play the following shows:
28th May- The Underworld, London w/ Rolo Tomassi, Three Trapped Tigers 31st May - New Heavy Sounds (Artrocker) @ The Gaff, London w/ Castrovalva 2nd June - The Boileroom, Guildford 10th June – The Cellar, Oxford 14th June- Goblets, Southampton w/ Tall Ships, Men 3rd July- Taylor Johns House, Coventry w/ Great Ancestors 8th- July stereo, York 9th July Bannermans Bar, Edinburgh 18th july- The Roadhouse, Manchester 19th July- Royal Park Cellars, Leeds w/ BATS 20th July, Head Of Steam, Newcastle w/ BATS 21st July The Old Blue Last, London w/ BATS 22nd July The Pav Tav, Brighton w/ BATS 23rd July The Chameleon, Nottingham w/ BATS 24th July, Off The Cuff Festival, Birmginham You can visit the band by going to
www.myspace.com/runwalk