Supporting The Ruby Suns I was pleasantly surprised to find Draw Me Stories, a broadly 'indie rock' band based in Cardiff that I had never heard of – and they were good!
"€œIt'€™s strange actually€," lead-singer and guitarist Carl replies to me after I stupidly ask them why I had never heard of them. "We gig quite a lot outside of Cardiff now, we do quite a lot in London€", he continues.
It was indeed a stupid question to ask, yet at the same time it is odd that I'd never heard of them. Draw Me Stories have plenty of releases under their belt, including EP The Sky and the Mirror and new double A-side Becomes the Hunted/Oars, which are both available on Spotify and, again, they're good!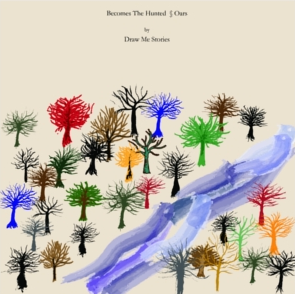 Live (well, and recorded), Draw Me Stories range from post-punk sounding indie rock, to acoustic driven folk – both of which they do very well indeed. "We all listen to different things. I listen to quite a lot of traditional folk stuff, experimental rock things" Carl says, when I ask the sort of music they're influenced by. "€œThe Grates, a lot of 70s rock," drummer Samuel continues. "€œIt's just a shit question" bassist Matt, who completes the three-piece, replies in a French accent that suits the bluntness well. To be fair, it is, but it was improv and it was about all I could muster.
Thankfully, they bear with my ramblings and tell me a little about how playing in Cardiff compares to their gigs away from the band's hometown, which includes a tour of France and regular gigs in the likes of Swansea, Bath and London. "To be honest, we find Cardiff'€™s not great in terms of promotion. It'€™s quite depressing to play in the Union Chapel and come back here and there'€™s 2 people,"€ Carl says, as Samuel adds: "We did a gig in Buffalo a month, two months ago and there were literally four people there, so tonight was actually quite a good turnout for Buffalo!"
So they don'€™t find Cardiff that great, but they get a fair amount of success outside of Wales. But will they be sticking around to see The Ruby Suns? "We wouldn'€™t mind seeing The Ruby Suns,"€ says Carl, "€œbut, you know, early starts and all that!"€ "€œWe've got day jobs€," Samuel tells me. "We love Excel. That'€™s our biggest influence! Plus€, €œMatt has to go and make love to the women of Cardiff". Figures.
And that was that. Draw Me Stories play Bath's Moles on June 18th, and Swansea'€™s Uplands Tavern on July 2nd. More stuff and that can be found at their MySpace (head to www.myspace.com/drawmestories), and you can listen to some of their music both on Spotify and iTunes.