Today we dispense with the traditional 'Introducing' template and bring you a mini interview with the experimental and awesome
Moneytree
.
urrent=Headertop.jpg" target="_blank">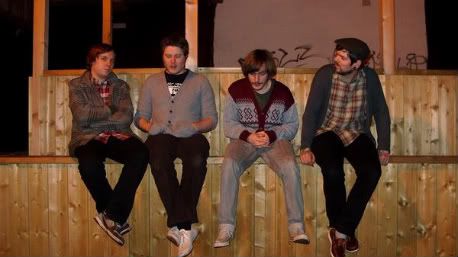 Hello! Could you introduce yourselves to our readers?
Hello! We are Jimmy Hatherley on Guitar, Lewis Wrenshaw on Bass, Ollie Austin on Drums and Campbell Austin on Vocals and Guitar. We are all from Southampton and up until recently all lived in London (until job losses and other misdemeanours rendered the Austin brother's nomads once more).
Musically speaking you're pretty diverse. What drives that way of creating music for you guys? Do you all have pretty diverse music tastes? It is quite a diverse mix that makes up our sound but we try to stick by some running themes: drawing on music which we feel has honesty, longevity and also striving to carve out a sound which is our own. Because of this there is a constant war going on between the need to be both retro and progressive. The last thing we want to make is music to ignore on the way to work-even in the unlikely event that that meant success. We have always felt the easiest way to attempt originality is to draw on disparate sources and the easiest way to be honest is to allow our sound to be in a constant state of flux reflecting the way we are feeling at that moment. We are similar in our tastes in that all of our individual tastes are quite diverse. American independent rock between 1981-1991 and from about 2000-2004 form the core of our influences instrumentally although we are keen to reflect our Englishness in our vocals and sensibilities. We share a love of Warp records, Anticon records and early seventies Jazz fusion also.
MP3:
Moneytree - Wake Up Pay Your Overheads
As band that is constantly evolving, especially when it comes to collaborations, do you find it difficult to stay true to a particular sound you have in mind?
The core of our sound (made up of the above influences) stays the same but the ideal situation is for that sound to be having constant dialogue with the various different people, places and musical landscapes that it comes into contact with.  
Where did the idea come about to do 'The Great Indoors' trilogy? And what should we expect for part 3?
After recording one EP we felt we had a lot to learn as people, song writers and musicians before we were worthy of releasing the all important debut album. We had always been big fans of the original Star Wars trilogy and so it seemed a fun way to experiment and develop our sound before taking that leap. Part III is raw and less jazzy; this is because of the line up of the band for this record and perhaps the times we're living in. Like Part II the core of it was tracked live and there are still a lot of other instruments besides guitars involved like cello, organ, accordion and even the saw! However, it is very different in terms of its themes. Part II was essentially a break up record and was very introspective. This is a much more circumspective political affair.  
You've got a new single coming out in June called 'Wake Up Pay Your Overheads', which lyrically is pretty apt considering the latest political happenings in our country. What was the inspiration behind that song and do you feel nervous when you release new material?
The inspiration for that song was having to work to do music which is pretty tiring. Largely, it's simply about the UK; its unreasonable cost of living, its scandalous treatment of musicians despite having the largest musical export in Europe by a country mile and its drinking culture as one of the only available anaesthetics for the afore-mentioned problems.  
Going back to collaborations, if you could work with anyone in the world, who would it be?
The Kinsella brothers (of Joan of Arc, Owls, Owen, American Football, Make Believe, Cap n' Jazz fame). Their music is singular, brave and painstakingly honest. It seems that every time they have a new idea they don't just make a new song or album, they start an entirely new band; but there are running themes through all these diverse inimitable projects which means you can recognise them as theirs.
 
Your live shows look like a lot of fun. What has been the most enjoyable gig you have ever done?
Probably at the Liverpool Barfly on tour with old friends the Beaux Hardts. They were on stage with us miming with instruments through our entire set, pulling all kinds of goofy moves. I honestly don't think anyone noticed. We then let them play their own stuff for the last ten minutes as they weren't booked for that particular show. They are a much more handsome band than us which came in handy after the show as they then proceeded to collect young ladies in a trolley which they were dragging around Liverpool and delivered them to the van that we were sharing. Lovely girls. Great town. That was also the only show where someone in the audience broke a major bone during our set (I'm not saying that's a plus but the paramedics certainly added to the drama).  
Lastly, what does the rest of 2010 have in store for you?
We will be releasing Part III and doing a UK tour. We should probably release some videos also as we're told that videos are more important than songs. Oh well. Look out for releases by our other projects such as the Moullettes and Niggle this year also. You can visit the band by going to
www.myspace.com/moneytreeband
Images by Fran Hatherley and Madeline Moores