If you live on this planet, you probably already know about Islet. The Cardiff four-piece make noises unlike most others. Their live shows are energetic and fluid, and they've been called the best live band in the world a fair few times, too. They had gained quite an incredible amount of press before having even recorded a track. Tracks have been recorded now, though. And good tracks they are too. I caught up with Islet in a small café in Cardiff to have a chat about things.
Hello all of Islet. I was only expecting half of you. I was going to start by asking which instruments you each play in the band, but it's probably easier to ask what instruments you don't play.
JT: I don't pay the bass guitar. Alex: I don't pay the drums sitting down. Emma: I don't play keyboard or guitar. Mark: I think I play everything? JT: Yeah. Keyboard, check. Guitar, check. Bass, check. Emma: You can work out what we actually do from that. You can make it out of what everyone else doesn't play, so we know we've got bass, guitar, drums, and keyboard.
Celebrate This Place is out soon. What should buyers expect from it that they might not expect from seeing you live?
Mark: A colourful sleeve. Well actually you do [see that live] now, because we've started taking them to gigs, but only if you look on the merch table. JT: Vocals on mic's. Like, sometimes we're not always on the mic. Alex: We tried on the record to try and get all the sounds audible all of the time, which is impossible isn't it. Mark: Possibly more special FX. Alex: Yeah, more special effects.
Cheating?
Mark: We have loads more cheats on it, yeah. Emma: We're a group of illusionists... It's always difficult to contain energy onto record but then you've got to try to see it differently and not think the record of like being a recording. Mark: There's more potential energy, less than kinetic energy.
Was it difficult to get all of your live energy into a recording studio, then?
Mark: No… When we kind of started we always said we'll practice and record as we play live, so that's kind of how we practice as well. There's generally a lot of energy flicking around. Alex: And because the place we recorded [Celebrate This Place], it wasn't like a big fancy recording studio, feeling all silly for jumping on the wall or something like that. We did it in our own circumstances in a place where we feel comfortable. Emma: So if you feel a bit silly about it, or feel a bit self-conscious maybe, then you can do it on your own or you can switch all the lights off, stuff like that.
It's already got some pretty good reviews. Do you pay much attention to reviews or the press?
Mark: I think Emma and I do. Emma: I don't know about paying attention. It's nice to know if people like things, but I actually quite like it if you get bad reviews because you have something to rail against, and you can feel even more like your own kind of group. Everyone in the band can say "hey, sod you! That's not what it is. You're rubbish, go listen to your rubbish music". JT: I like to listen to reviews from friends quite a lot really. Like, when we first did it, particularly our housemates, because they'd hear it all the time because we played it a lot, and hearing their reviews was good. Alex: Totally. Absolutely, yeah. They talk about things that you want to hear about. A lot of time reviews can be really frustrating because they don't talk about anything that you find interesting about the record at all. It's about what the band is or that kind of thing.
Or your lack of MySpace.
Alex: Yeah, totally. Exactly. I think reviews in general, even the really good publications, people just get side-tracked. Some people naturally because of the way that their brain works aren't interested in the same things as what I'm interested in. Mark: It depends on the type of reviews you like reading as well. Emma: We like to review ourselves, I guess. Because part of the excitement in a band is that you do your gig and stuff and you might be driving for 4 hours or something afterwards, and you have a little chat. Finding out about things that other people do that I don't notice if I'm sitting and playing the drums or something; I find out that other people did other things.
One thing that people don't shut up about is your lack of web presence, but you do now have a website. Was that as much to shut people up as it was to serve a function?
Mark: No. Emma: Its purpose is so that you can see all the gigs that we're paying and if you're interested you can come and see us play, and you can also listen to our music. Mark: That's not factual at this moment, though. Emma: But it will be factual on Sunday or whenever we get around to putting up the music. Mark: It wasn't to shut anyone up as we always planned to have a website, it's just it got a bit carried away. JT: Before we had a website or whatever we wanted some actual substance to show. Emma: If we didn't have loads of gigs or music recorded then as we didn't then why would you make a website? Mark: We did want to put it to bed a little as well though, because it was a little annoying. [laughs]
How come 'Sign For Home', which was obviously included on the Turnstile Bento, wasn't included on Celebrate This Place?
Mark: I dunno! Good question though! I don't know! Alex: That song wasn't on the record!? Mark: What idiots! [laughs] Emma: When we recorded that batch of songs for that mini album, we'd done some other songs and some other bits of songs and things, but those ones that we chose to put on [Celebrate This Place] were the ones that kind of worked as a unit. But afterwards we'd realised it was the same six that we'd been playing on the Los Campesinos! tour!
So people may not even hear 'Sign For Home' if they don't go on to Turnstile?
Emma: Yeah, we haven't played it much live, but it's totally different. It's kind of one that we use different instrumentations and stuff like that. Mark: What made you ask?
I'm not sure… I was just interested to see if you didn't like it any more, or..?
Mark: Oh. No, no! I think we're going to release lots of songs over the course of time, and in different ways. [Turnstile] is a nice way of putting it there, and it's nice to have exclusive things, because the people who released it at Turnstile, they do a Bento Box which is what it's part of, and it was nice to give something exclusively to that. And it's still technically being released all the time because people can still download it, I do believe. Emma: It's free and it's there if people want it and if they know where to get it.
How did all the things between you and Turnstile start out? Obviously they have had some success recently with Girls and Swanton Bombs and other things.
Mark: I already knew them. I drove a van for them quite regularly. I picked up producers for Los Campesinos! and took Los Campesinos! to Manchester, and just general driving van duties. [laughs] Mark: It is though! I'm going to make up the story that they then saw us in the NME!
You're all involved or have been involved in lots of other musical things. How does Islet compare? Is it more stressful; is there more expectation because of the popularity?
Emma: In terms of time, it's the main thing that we're doing. We do this quite a lot. That's how it compares. Alex: It's just very fun. Because of the way that it is and the way that we approach things it's not like we get bothered by any of the expectation, because that doesn't really exist. The point of it is just fun, and you can't have fun if you're worrying about labels not liking the record and stuff like that, so we don't pay attention to that type of stuff really. We just go for it. Mark: I think we've got a big focus on enjoying each other's company at all times, really; after a gig, or during a gig, or before a gig - just enjoying the whole thing of doing it. Alex: It's a blast!
I read in another interview that you spoke about Them Squirrels and Attack + Defend possibly both getting another release at some point this year. Will Islet go on the back burner during that time?
Mark: No, I don't think Islet will go on the back burner. I think those things will happen… Emma: … Simultaneously. Mark: Yeah. Islet's kind of… JT: … The focus. Mark: Yeah. Well actually we do more than that. We've all got little bits and bobs that we do, haven't we? Alex is playing a gig on Sunday? Alex: Indeed! Emma: Where is it Alex, so we can promote it? Alex: It's in the Cardiff Arts Institute, is what it is. That Lego Land place.
You mentioned the NME thing. Did that surprise you as much as it did everyone else?
JT: It was a surprise, yeah. We knew, though, because… Emma: … They phoned us up and said "can we take a photo of you?" Mark: We didn't really put that much weight on it, though. We kind of just went "Oh, right". Not in a… It was just like a picture of us and a bit of writing. Emma: If you do a band, at some point you're going to be in the NME. Alex: I think it was a really good purpose. We'd just played a show in Swansea and people were talking about it because we were at a music conference. Someone came down and was going to chat about how to get your band in magazines, and everyone was chatting about us playing last night just because the other two bands weren't very good. It was just from a good source and people were saying nice things about us.
And on the back of that some guys made a website about you as well?
Alex: Yeah, that evening! It was the same show. We didn't know them. They came to the show and about an hour later they were all there… Mark: Saying "we've set you up a website"… Emma: … "Because you haven't got one so you'll be really grateful because we've made you one!" Mark. And then we kind of said "okay…". I made sure I said "that isn't our website, though, that's your website and you have to write than on it!"
You talked about the Los Campesinos! tour. You also played a headline Cardiff gig. How did you manage to get someone like Yuck to support you?
Mark: We were generally looking for someone who hadn't played in Cardiff before to play with us to make it a good bill. Emma: We'd just heard of them because they had a free download of a song called "Automatic" and Mark found it. Mark: … Through Turnstile. Emma: And we just loved that song, so we had them come and play. Mark: It's a weird one with gauging how "big" everyone is or isn't. I was really chuffed when they said they'd play, but they were equally really chuffed to play, so it was lovely.
Talk us through The Isness [I pronounce it incorrectly as eye-ness, Mark corrects me to the pronunciation is-ness and reassures me it's an easy mistake to make].
Emma: It's a way of us communicating with people who are interested in what we are doing and our music, and you don't need the internet to do it. You just post us your address and we send you things whenever we get around to it. We've had four. It kinds of happens sporadically when we've collated enough things that we think sum up that moment in time. It's kind of like a zine or… Mark: But it's also kind of, or maybe in the future, like a blog…
An offline blog?
Mark: Yeah, in a sense. Emma: Or like a tour diary or literally a diary. And it doesn't have any kind of set format, other than it involves paper and that it comes in the post.
Are they going all across the country?
Emma: The world!
Talking of the world, you have a fan who is a cat which has its own Twitter profile named after Eddie Argos, from Baltimore, USA.
Mark: Wow! Emma: Hello!
On Twitter, the cat [@KittyArgos] wanted to know: "why you are so fantastic?"
Emma: Say "it's because of the fine Portuguese lager that we're drinking that we like to drink in this lovely café [The Sugar Shaker on Crwys Road]. That's why we're fantastic". Alex: And egg sandwiches, as well.
Eddie the cat also wanted to know: "when do you plan your epic North American tour?"
Mark: We've got a timeline but I don't remember exactly when it is. JT: Hopefully at some point next year!
Are you going to head to Baltimore to meet the cat?
Mark: Yes.
I'm now going to ask you, Mark, some of the interview questions that you, with Shape Records, have asked other bands. Extra points for guessing who you asked it to… [queue much excitement, naturally. The band also did try to guess who the questions were at, but the comedy was lost through the transcription]
Do you prefer the World Cup of the Olympics?
Mark: I prefer the World Cup. By miles. Alex: Definitely.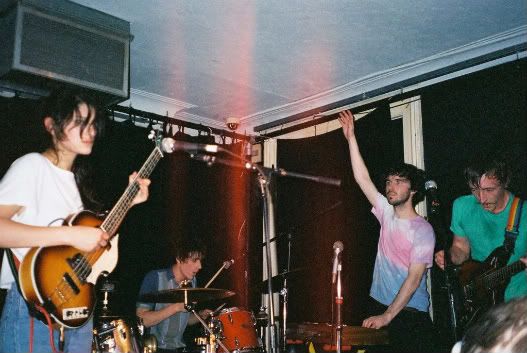 You asked somebody: "do you drink enough water"?
Mark: No. Emma: I think I'm quite sensible. I drink enough. Alex: I substitute it with coffee. So I drink enough coffee but there's not enough H2O in it. JT: I don't. Mark: Not the recommended daily allowance!
You asked somebody else: "what is your favourite website in the world"?
Mark: shaprerecords.co.uk [laughs] Emma: I think I know what your favourite website is, Mark. Mark: Yeah, football365.com! I have lots of favourite websites though. I love Wikipedia, I was on there just before I came here. I was looking at previous world cup squads from 2006 and comparing them to 2010, and thinking "Torres is 26?" Alex: Wikipedia is amazing.
Who are you following this World Cup?
Alex: I'm following fair play, goals. JT: Goals. Football will be the real winner. Emma: The best team is going to win!
The other question: "would you prefer to be able to jump high or run fast?"
Alex: Jump high. Mark: Run fast. Emma: Run fast. You can jump really high anyway, Alex. Alex: I want to jump higher! Emma: You would be like a flea! Alex: Yeah, imagine it! They're well fast because they can jump real high!
And the last question: "do you like Wales?"
Emma: Wales is good enough to live in! Mark: Wales is brilliant. JT and I have lived in Wales all of our lives, and Emma and Alex have not. Alex: I've got a Welsh name though… 'Williams'.
We'll finish up with the generic interview end question. What does the future hold for Islet?
Mark: Another mini album. Emma: Having a nice time. Mark: The World Cup… Trying to record the next mini album whilst the World Cup's on. As you can hopefully tell, Islet are very nice folk. The new website can be found at isletislet.com. Here you can find out live dates, how to become involved with Ths Isness, as well as getting info on debut mini-album
Celebrate This Place
, due out today (June 14th) through Mark's own Shape Records, or how to download 'Sign For Home' through Turnstile's Bento series. I recommend you do all of the following, and I hope that you don't regret it. It's unlikely.
Islet play:
16th July – Latitude Festival, Suffolk 25th July – Truck Festival, Oxfordshire 21st August – Greenman Festival, Powys 26th September – Guildhall, Gloucester (Underground Festival)